Greg, 66, Männlich, Vereinigte StaatenZuletzt gesehen: vor 8 Stunden
3

4

7

9

5

4

gespielte Titel seit 21. Sep. 2008
2.169 Lieblingslieder | 18 Beiträge | 6 Playlisten |

1.133 Shouts

Feeds
| | | | | |
| --- | --- | --- | --- | --- |
| 1 | | | | |
| 2 | | | | |
| 3 | | | | |
| 4 | | | | |
| 5 | | | | |
| 6 | | | | |
| 7 | | | | |
| 8 | | | | |
| 9 | | | | |
| 10 | | | | |
| 11 | | | | |
| 12 | | | | |
| 13 | | | | |
| 14 | | | | |
| 15 | | | | |
| 16 | | | | |
| 17 | | | | |
| 18 | | | | |
| 19 | | | | |
| 20 | | | | |
| 21 | | | | |
| 22 | | | | |
| 23 | | | | |
| 24 | | | | |
| 25 | | | | |
| 26 | | | | |
| 27 | | | | |
| 28 | | | | |
| 29 | | | | |
| 30 | | | | |
| 31 | | | | |
| 32 | | | | |
| 33 | | | | |
| 34 | | | | |
| 34 | | | | |
| 36 | | | | |
| 37 | | | | |
| 38 | | | | |
| 39 | | | | |
| 40 | | | | |
| 41 | | | | |
| 42 | | | | |
| 43 | | | | |
| 44 | | | | |
| 45 | | | | |
| 46 | | | | |
| 47 | | | | |
| 47 | | | | |
| 49 | | | | |
| 50 | | | | |

Feeds
| | | | | | |
| --- | --- | --- | --- | --- | --- |
| 1 | | | | | |
| 2 | | | | | |
| 3 | | | | | |
| 4 | | | | | |
| 5 | | | | | |
| 5 | | | | | |
| 7 | | | | | |
| 8 | | | | | |
| 9 | | | | | |
| 10 | | | | | |
| 11 | | | | | |
| 12 | | | | | |
| 13 | | | | | |
| 14 | | | | | |
| 14 | | | | | |
| 16 | | | | | |
| 17 | | | | | |
| 18 | | | | | |
| 18 | | | | | |
| 18 | | | | | |
| 18 | | | | | |
| 18 | | | | | |
| 18 | | | | | |
| 18 | | | | | |
| 25 | | | | | |
| 25 | | | | | |
| 27 | | | | | |
| 28 | | | | | |
| 28 | | | | | |
| 30 | | | | | |
| 30 | | | | | |
| 30 | | | | | |
| 30 | | | | | |
| 34 | | | | | |
| 34 | | | | | |
| 34 | | | | | |
| 34 | | | | | |
| 34 | | | | | |
| 34 | | | | | |
| 40 | | | | | |
| 41 | | | | | |
| 41 | | | | | |
| 41 | | | | | |
| 44 | | | | | |
| 44 | | | | | |
| 44 | | | | | |
| 44 | | | | | |
| 44 | | | | | |
| 44 | | | | | |
| 44 | | | | | |
Über mich
"Peace of mind is not the absence of conflict from life, but the ability to cope with it." ~Unknown
"I am a pessimist because of intelligence, but an optimist because of will." -Antonio Gramsci
"Don't walk behind me; I may not lead. Don't walk in front of me; I may not follow. Just walk beside me and be my friend."
~ Albert Camus
"The saddest aspect of life right now is that science gathers knowledge faster than society gathers wisdom."
― Isaac Asimov
Peace. It does not mean to be in a place where there is no noise, trouble, or hard work. It means to be in the midst of those things and still BE CALM in your HEART.
"The meaning of life is to find your gift. The purpose of life is to give it away."
― Pablo Picasso
"You don't stop having fun because you get old, you get old because you stop having fun."
Methods vs Principles
As to methods there may be a million and then some, but principles are few. The man who grasps principles can successfully select his own methods. The man who tries methods, ignoring principles, is sure to have trouble.
–Ralph Waldo Emerson
The Problem Is Not The Needy... The Problem Is The Greedy.
"Man is born free, and everywhere he is in chains." - Jean-Jacques Rousseau
A man is only old when regrets take the place of his dreams
Try to become not a man of success, but rather a man of value. ~Albert Einstein
The question is not how to survive, but how to thrive with passion, compassion, humour and style. ~Maya Angelou
America is now under assault by a political philosophy known as conservatism. Conservatism has never been successful in this country. It has only led to some of the darkest periods in American history. The Civil War, the Great Depression, and now this last decade are all due to rampant conservatism. The cause of the situation today can be traced all the way back to a day in January 1981, when a man named Ronald Reagan took office and began a slow and systematic purge of liberal policies and programs that built this nation. For the last thirty years, the infrastructure and foundation of America has been taken apart brick by brick. And now, conservatives are poised to use a wrecking ball to bring the remainder of the house down. America needs a strong liberal President once again to rebuild what the conservatives have torn down to suit their own personal and monetary interests. Being liberal is an American tradition. Liberals have always looked forward. They are men and women of vision who seek to make the government work for everyone. Liberals give a voice to those who previously had none. They give people hope and dare to dream of things that could be. And it's time to return to that tradition before all is lost.
People who dismiss the unemployed and dependent as "parasite" fail to understand economics and parasitism.A successful parasite is one that is not recognized by its host,one that can make its host work for it without appearing as a burden.Such is the ruling class in a capitalist society.-Jason Read
"We have every right, and indeed an obligation, to fight evil; but in fighting evil, we must not let ourselves become evil."
Remember when teachers, public employees, Planned Parenthood, NPR and PBS crashed the stock market, wiped out half of our 401Ks, took trillions in TARP money, spilled oil in the Gulf of Mexico, gave themselves billions in bonuses, and paid no taxes? Yeah, me neither
Every moment has it's music.
We baby boomers have got the music inside of us. We can get iPhones, update our Facebook pages, but what truly gets us off is music. Spinning a record, going to the show. We enjoy the one hit wonders. But when we hear the legends, we're returned to who we used to be. Suddenly, there are more doors open than shut. We still feel there are possibilities. Nothing the President, nothing Congress says can make us feel this way. Our bank accounts won't keep us warm at night. But when we hear the music, we're set free. With our brothers. The so-called Woodstock generation. Which realized that music truly could make a difference, truly could save the world. That musicians were not the tools of corporations, to play music and sing songs you wrote was the highest calling on earth. The music came first. The money was a result of the pursuit of greatness. Now it's the reverse. But not for us.
Bob Lefsetz
Music is what feelings sound like.
To stop the flow of music would be like the stopping of time itself, incredible and inconceivable.
Me, behave? Seriously? As a child I saw Tarzan almost naked, Cinderella arrived home after midnight, Pinocchio told lies, Aladdin was a thief, Batman drove over 200 miles an hour, Snow White lived in a house with 7 men, Popeye smoked a pipe and had tattoos...
I was there to see:
Al Hibbler
Al Kooper
Albert Lee
Alice Cooper,
Allison Moorer
Allman Bothers before and after Duane died
America
Asleep at the Wheel
The Band
B.B. King
Big Joe Turner
Bill Kirchen
Bill Monroe
Blackie & The Rodeo Kings
Blasters[2014]
Blasters w/ Hollywood Fats on guitar
Blood Sweat & Tears
Blues Project
Bo Diddley
Bob Dylan
Bonnie Raitt [w/just Freebo],
The Bottle Rockets
Boz Scaggs [Boz and Band tour]
Buddy Guy
Buffalo Springfield
Buffy St. Marie
Byron Berline
Candye Kane w/ Laura Chavez
Canned Heat
Cat Mother & The Allnight Newsboys
Chamber Brothers
Chicago Transit Authority
Chuck Berry
Commander Cody
Count Basie
Country Gentlemen
Dan Baird & Homemade Sin
Dave Alvin
Dave & Phil Alvin
Deep Purple
Della Mae
Dirt Band
Dizzy Gillespie
Doug Kershaw
Earl Scruggs
Eilen Jewell
Elvis Presley
Emerson Lake & Palmer
Emmylou Harris
Eric Clapton
David Grisman
Delaney & Bonnie
Doors
Dr John
Doug Kershaw
Ellen McIlwaine
Fabulous Thunderbirds
Faces
Fairport Convention
Fleetwood Mac [original]
Foghat
Frank Zappa
Freddie King
Gene Vincent
George Thorogood
Gordon Lightfoot
Graham Parker
Grateful Dead
Howlin' Wolf
James Gang
James McMurtry
Janis Joplin w/ Big Brother
Janiva Magness
Johnny Winter
Jefferson Airplane
Jerry Lee Lewis
Jimmie Vaughan with Lou Ann Barton
Jimmy Smith
Joe Williams
John Hammond
John Lee Hooker
John Lennon & Plastic Ono Band
John Mayal
John Nemeth
Johnny Winter
Junior Parker & the All Stars
Junior Wells
Doc & Merle Watson
Kinks
Jackson Browne
Jethro Tull
Jim Croce
Jim Lauderdale
Joe Cocker w/the Grease Band
John Hiatt
John Prine
Jonathan Edwards
Led Zeppelin
Leon Redbone
Leon Russell
Lindisfarne
Little Richard
Loggins & Messina
Long John Baldry
Lou Reed
Lovin' Spoonful
Lydia Loveless
Lynyard Skynard[college gym!]
Mark Hummel's Golden State-Lone Star Revue [Little Charlie & Anson Funderburg]
Mary Gauthier
Milt Jackson
Miriam Makeba
Moody Blues
Mose Allison
Mother Earth w/ Tracy Nelson
Muddy Waters
Neil Young [Massey Hall 1971]
The Nylons,
The Osborne Brothers
Paul Butterfied Blus Band
Paul Thorn
Paula Lockheart
Pete Rowan
Peter, Paul & Mary
Poco
Procul Harem
Ray Charles
Ray Wylie Hubbard
Red Molly
Rick Nelson
Rodney Crowell
Roy Buchanan
Ry Cooder
Sam the Sham and the Pharaohs
Samantha Fish
Savoy Brown
Seldom Scene
Simon & Garfunkel
Slaid Cleeves
Sly and the Family Stone
Spider Martin [a great friend, R.I.P.]
Spirit
Spyro Gyra
Stéphane Grappelli
Steppenwolf
Steve Goodman
Stevie Wonder
Steve Young
Taj Mahal
Temptations
Ten Years After
The Lone Bellow
Tommy Castro Band
Tony Joe White
Vassar Clements
Rascals
Rolling Stones [2x same day!!]
Woody Herman
Tom Petty
Tom Rush
Turnpike Troubadours
Wes Montgomery
Wet Willie
Zoe Muth & The Lost High Rollers
The Zombies
ZZ Top
These are the ones that I clearly remember ;-)) I just can't remember everyone, especially some of the multiple day festivals. There was so much great music that I think that we took it for granted.
[
[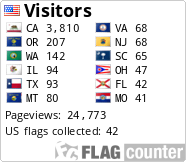 wilburfan48's top albums (overall)
1. Blackie & The Rodeo Kings - Kings Of Love (417)
2. Eilen Jewell - Boundary County (315)
3. Joan Osborne - Pretty Little Stranger (294)
4. Houston Marchman - Blue Cadillac (289)
5. Janiva Magness - Blues Ain't Pretty (287)
6. Paul Thorn - Ain't Love Strange (269)
7. Greg Trooper - Make It Through This World (267)
8. Janiva Magness - Do I Move You (260)
9. Beth Rowley - Little Dreamer (260)
10. Mark Selby - More Storms Comin' (242)
11. Janiva Magness - What Love Will Do (239)
12. Paul Thorn - Mission Temple Fireworks Stand (238)
13. Gregg Allman - Low Country Blues (Deluxe Version) (237)
14. Jesse Winchester - Gentleman of Leisure (233)
15. Paul Thorn - A Long Way From Tupelo (233)
16. Eilen Jewell - Sea Of Tears (232)
17. Sharon Little - Perfect Time for a Breakdown (227)
18. Eilen Jewell - Letters From Sinners & Strangers (226)
19. Amy Black - One Time (225)
20. Lauren Marie - Introducing Miss Lauren Marie (223)
"Who is wise? He that learns from every One.
Who is powerful? He that governs his Passions.
Who is rich? He that is content.
Who is that? Nobody."
-Benjamin Franklin-
"No man is an island, entire of itself...any man's death diminishes me, because I am involved in mankind; and therefore never send to know for whom the bell tolls; it tolls for thee."
-John Donne-
<a href="
http://s06.flagcounter.com/more/rQCm"><img
src="
http://s06.flagcounter.com/count/rQCm/bg_FFFFFF/txt_000000/border_CCCCCC/columns_5/maxflags_248/viewers_0/labels_0/pageviews_1/flags_1/&quot
; alt="free counters" border="0"></a>
http:
[url=http://s05.flagcounter.com/more/Iu71 nofollow=yes][img=http://s05.flagcounter.com/count/Iu71/bg=FFFFFF/txt=000000/border=F5F5F5/columns=3/maxflags=248/viewers=0/labels=1/pageviews=1/]
Create your own visitor map
"To laugh often and much; To win the respect of intelligent people and the affection of children; To earn the appreciation of honest critics and endure the betrayal of false friends; To appreciate beauty, to find the best in others; To leave the world a bit better, whether by a healthy child, a garden patch or a redeemed social condition; To know even one life has breathed easier because you have lived. This is to have succeeded." -Ralph Waldo Emerson
Generated on 18 Feb 2012
Get yours here
Get yours here
wilburfan48's top 50 albums (overall):
1. Greg Trooper - Make It Through This World (205)
2. Joan Osborne - Pretty Little Stranger (187)
3. Greg Trooper - Floating (176)
4. Greg Trooper - Popular Demons (171)
5. Fayssoux - Early (169)
6. Greg Trooper - Between a House and a Hard Place (163)
6. Houston Marchman - Blue Cadillac (163)
8. Eilen Jewell - Boundary County (159)
9. Eilen Jewell - Letters From Sinners & Strangers (149)
10. Lynn Miles - Night in a Strange Town (147)
11. Matraca Berg - Sunday Morning To Saturday Night (140)
12. Paul Thorn - Ain't Love Strange (138)
13. Lucinda Williams - Lucinda Williams (137)
14. Greg Trooper - The Backstop - Live (136)
15. Greg Trooper - Straight Down Rain (134)
16. Blackie & the Rodeo Kings - Kings of Love (131)
16. Lynn Miles - Slightly Haunted (131)
18. Elvis Presley - Elvis Is Back! (130)
19. Grace Potter & the Nocturnals - This Is Somewhere (129)
20. Lyle Lovett - Pontiac (127)
21. Paul Thorn - Mission Temple Fireworks Stand (125)
21. Martha Scanlan - The West Was Burning (125)
23. Kelly Willis - What I Deserve (122)
23. Lauren Marie - Introducing Miss Lauren Marie (122)
23. Matraca Berg - Lying to the Moon & Other Stories (122)
23. Greg Trooper/The Flatirons - Everywhere (122)
27. Patricia Vonne - Guitars & Castanets (119)
27. Kimmie Rhodes - West Texas Heaven (119)
29. Neko Case - Blacklisted (117)
30. Benny Joy - Rockin' & Rollin' With Benny Joy (116)
31. Butch Hancock - Eats Away the Night (114)
32. Emmylou Harris - Last Date [Bonus Tracks] (113)
32. Elvis Presley - Elvis' Golden Records (113)
34. Hem - Rabbit Songs (112)
35. Emmylou Harris - Portraits [Box Set] (111)
36. Grace Potter & the Nocturnals - Nothing But the Water (110)
37. Angela Strehli Band - Soul Shake (108)
38. Greg Trooper - Noises in the Hallway (107)
39. Tift Merritt - Tambourine (104)
40. Buddy Holly - Memorial Collection (102)
40. The Felice Brothers - The Felice Brothers (102)
40. Delbert McClinton - Room to Breathe (102)
43. Delbert McClinton - Nothing Personal (101)
43. Renee Olstead - Skylark (101)
45. Mark Selby - more storms comin' (100)
46. Lynn Miles - Love Sweet Love (99)
46. k.d. lang - Shadowland (99)
46. The Mavericks - Trampoline (99)
49. Lucinda Williams - Essence (98)
50. Janiva Magness - Blues Ain't Pretty (97)
generated 01.12.2009
generated 25.10.2009
Letzte Aktivitäten