RSS
Weiterleiten
27. Dez. 2010, 10:15
1 Miles Davis - Kind of Blue
(1959)
Kind of Blue isn't merely an artistic highlight for Miles Davis, it's an album that towers above its peers, a record generally considered as the definitive jazz album, a universally acknowledged standard of excellence. Why does Kind of Blue posses such a mystique? Perhaps because this music never flaunts its genius. It lures listeners in with the slow, luxurious bassline and gentle piano chords of "
So What
". From that moment on, the record never really changes pace -- each tune has a similar relaxed feel, as the music flows easily. Yet Kind of Blue is more than easy listening. It's the pinnacle of modal jazz -- tonality and solos build from the overall key, not chord changes, giving the music a subtly shifting quality. All of this doesn't quite explain why seasoned jazz fans return to this record even after they've memorized every nuance. They return because this is an exceptional band -- Miles, Coltrane,
Bill Evans
, Cannonball Adderley,
Paul Chambers
,
Jimmy Cobb
-- one of the greatest in history, playing at the peak of its power. As Evans said in the original liner notes for the record, the band did not play through any of these pieces prior to recording. Davis laid out the themes before the tape rolled, and then the band improvised. The end results were wondrous and still crackle with vitality. Kind of Blue works on many different levels. It can be played as background music, yet it amply rewards close listening. It is advanced music that is extraordinarily enjoyable. It may be a stretch to say that if you don't like Kind of Blue, you don't like jazz -- but it's hard to imagine it as anything other than a cornerstone of any jazz collection.
2 Chuck Berry - Chuck Berry Is On Top
(1959)
Of all the early breakthrough rock & roll artists, none is more important to the development of the music than Chuck Berry. He is its greatest songwriter, the main shaper of its instrumental voice, one of its greatest guitarists, and one of its greatest performers. Quite simply, without him there would be no Beatles, Rolling Stones, Beach Boys, Bob Dylan, nor a myriad others. If you had to sweat all of Chuck Berry's early albums on Chess (and some, but not all, of his subsequent greatest-hits packages), this would be the one to own. The song lineup is exemplary, cobbling together classics like "
Maybellene
", "
Carol
", "
Sweet Little Rock & Roller
", "
Little Queenie
", "
Roll over Beethoven
", "
Around and Around
", "
Johnny B. Goode
", and "
Almost Grown
". With the addition of the Latin-flavored "
Hey Pedro
", the steel guitar workout "
Blues for Hawaiians
", "
Anthony Boy
", and "
Jo Jo Gunne
", this serves as almost a mini-greatest-hits package in and of itself. While this may be merely a collection of singles and album ballast (as were most rock & roll LPs of the 1950s and early '60s), it ends up being the most perfectly realized of Chuck Berry's career.
3 The Dave Brubeck Quartet - Time Out!
(1959)
Dave Brubeck's defining masterpiece, Time Out is one of the most rhythmically innovative albums in jazz history, the first to consciously explore time signatures outside of the standard 4/4 beat or 3/4 waltz time. It was a risky move -- Brubeck's record company wasn't keen on releasing such an arty project, and many critics initially roasted him for tampering with jazz's rhythmic foundation. But for once, public taste was more advanced than that of the critics. Buoyed by a hit single in altoist Paul Desmond's ubiquitous "
Take Five
", Time Out became an unexpectedly huge success, and still ranks as one of the most popular jazz albums ever. That's a testament to Brubeck and Desmond's abilities as composers, because Time Out is full of challenges both subtle and overt -- it's just that they're not jarring. Brubeck's classic "
Blue Rondo à la turk
" blends jazz with classical form and Turkish folk rhythms, while "Take Five," despite its overexposure, really is a masterpiece; listen to how well Desmond's solo phrasing fits the 5/4 meter, and how much Joe Morello's drum solo bends time without getting lost. The other selections are richly melodic as well, and even when the meters are even, the group sets up shifting polyrhythmic counterpoints that nod to African and Eastern musics. Some have come to disdain Time Out as it's become increasingly synonymous with upscale coffeehouse ambience, but as someone once said of Shakespeare, it's really very good in spite of the people who like it. It doesn't just sound sophisticated -- it really is sophisticated music, which lends itself to cerebral appreciation, yet never stops swinging. Countless other musicians built on its pioneering experiments, yet it's amazingly accessible for all its advanced thinking, a rare feat in any art form. This belongs in even the most rudimentary jazz collection.
4 Frank Sinatra - In the Wee Small Hours
(1955)
Expanding on the concept of Songs for Young Lovers!, In the Wee Small Hours was a collection of ballads arranged by Nelson Riddle. The first 12" album recorded by Sinatra, Wee Small Hours was more focused and concentrated than his two earlier concept records. It's a blue, melancholy album, built around a spare rhythm section featuring a rhythm guitar, celesta, and Bill Miller's piano, with gently aching strings added every once and a while. Within that melancholy mood is one of Sinatra's most jazz-oriented performances -- he restructures the melody and Miller's playing is bold throughout the record. Where Songs for Young Lovers! emphasized the romantic aspects of the songs, Sinatra sounds like a lonely, broken man on In the Wee Small Hours. Beginning with the newly written title song, the singer goes through a series of standards that are lonely and desolate. In many ways, the album is a personal reflection of the heartbreak of his doomed love affair with actress Ava Gardner ("
When Your Lover Has Gone
"), and the standards that he sings form their own story when collected together. Sinatra's voice had deepened and worn to the point where his delivery seems ravished and heartfelt, as if he were living the songs.
5 Cannonball Adderley - Somethin' Else
(1958)
It isn't too difficult to understand why MFSL considered this album to be a worthy candidate for an Ultradisc reissue -- aside from Cannonball Adderley, you have a lineup that includes Miles Davis,
Hank Jones
,
Sam Jones
, and Art Blakey. This is a group that could take on a Barry Manilow number and turn it into a jazz masterpiece. MFSL have done the purchaser a favor, too, by including an additional track that was left off the original album. This sixth track, "
Alison's Uncle
", closes out Somethin' Else on a high note, changing the flow of energy in an interesting way (purists can still finish up on a quieter note, as with the original, by programming "
Dancing in the Dark
" as the final track). In many ways it's a surprise that this track was left off originally -- it's an excellent piece, with Adderley and Davis trading licks and solos while Jones and Blakey keep pace. Blakey also takes some terrific solos. The remastering job is the usual superb MFSL effort, producing clear sound with almost no background noise. Due to the original recording (made in 1958), Davis' trumpet sometimes seems a little shrill and metallic, but it's not an overwhelming problem -- certainly not when you consider Davis' style. Altogether, an excellent addition to any jazz collection.
6 Bo Diddley - Bo Diddley
(1957)
For anyone who wants to play rock & roll, real rock & roll, this is one of the few records that you really need. Along with Chuck Berry, Elvis, Little Richard, Jerry Lee Lewis, Muddy Waters, B.B. King, and a few select others, Bo Diddley was one of the founders of the form -- and he did it like no other. Diddley had only one real style, that being the Bo Diddley beat: a syncopated, rhythmic drive, loaded with tremolo. There are 12 examples of it on this record, and that is about all you need. Contains many many Diddley classics that have been redone countless times over the years: "
Who Do You Love?
", "
Diddy Wah Diddy
", "
I'm a Man
", "
Bo Diddley
", "
Dearest Darling
", "
Pretty Thing
". It's one of those records that, after listening to just a few cuts, will find you tapping the beats on every available surface. Diddley's guitar and vocals have a gruff feeling that recalls bluesmen such as Waters, yet he has his own style. Buttressed by drums, funky piano, and usually maracas, it's absolutely infectious. This is one of the greatest rock sounds that you're likely to hear, and it's all on this one record, too.
7 Charles Mingus - Mingus Ah Um
(1959)
Charles Mingus' debut for Columbia, Mingus Ah Um is a stunning summation of the bassist's talents and probably the best reference point for beginners. While there's also a strong case for The Black Saint and the Sinner Lady as his best work overall, it lacks Ah Um's immediate accessibility and brilliantly sculpted individual tunes. Mingus' compositions and arrangements were always extremely focused, assimilating individual spontaneity into a firm consistency of mood, and that approach reaches an ultra-tight zenith on Mingus Ah Um. The band includes longtime Mingus stalwarts already well versed in his music, like saxophonists
John Handy
,
Shafi Hadi
, and
Booker Ervin
; trombonists
Jimmy Knepper
and
Willie Dennis
; pianist
Horace Parlan
; and drummer
Dannie Richmond
. Their razor-sharp performances tie together what may well be Mingus' greatest, most emotionally varied set of compositions. At least three became instant classics, starting with the irrepressible spiritual exuberance of signature tune "
Better Get It in Your Soul
" taken in a hard-charging 6/8 and punctuated by joyous gospel shouts. "
Goodbye Pork Pie Hat
" is a slow, graceful elegy for Lester Young, who died not long before the sessions. The sharply contrasting "
Fables of Faubus
" is a savage mockery of segregationist Arkansas governor Orval Faubus, portrayed musically as a bumbling vaudeville clown (the scathing lyrics, censored by skittish executives, can be heard on Charles Mingus Presents Charles Mingus). The underrated "
Boogie Stop Shuffle
" is bursting with aggressive swing, and elsewhere there are tributes to Mingus' three most revered influences: "
Open Letter to Duke
" is a suite of three tunes; "
Bird Calls
" is inspired by Charlie Parker; and "
Jelly Roll
" is an idiosyncratic yet affectionate nod to jazz's first great composer, Jelly Roll Morton. It simply isn't possible to single out one Mingus album as definitive, but Mingus Ah Um comes the closest.
8 Sonny Boy Williamson - Down And Out Blues
(1959)
Retaining photographer Don Bronstein's cover shot of a disheveled bum lying on the sidewalk (some former Chess artist, perhaps?) Sonny Boy Williamson's original 1959 album made it to digital reissue but has now been supplanted by MCA's exhaustive The Essential Sonny Boy Williamson. Still, for a budget price, there are a dozen unforgettable tracks: "
Don't Start Me to Talkin'
", and his Checker debut; "
All My Love in Vain
", "
Wake up Baby
", "
99
", "
Cross My Heart
", "
Let Me Explain
", and "
The Key (To Your Door)
" offering of the wizened harmonica genius' best efforts for the Chess brothers, this is the best domestic Williamson package you'll find. With Robert Jr. Lockwood and Luther Tucker peeling off sizzling guitar riffs behind him, Williamson always had a trick or two up his sleeve until the end.
9 Sonny Rollins - Saxophone Colossus
(1956)
Sonny Rollins recorded many memorable sessions during 1954-1958, but Saxophone Colossus is arguably his finest all-around set. Joined by pianist
Tommy Flanagan
, bassist
Doug Watkins
, and drummer
Max Roach
, Rollins debuts and performs the definitive version of "
St. Thomas
", tears into the chord changes of "
Mack the Knife
" (here called "Moritat"), introduces "
Strode Rode
", is lyrical on "
You Don't Know What Love Is
", and constructs a solo on "
Blue Seven
" that practically defines his style. Essential music that, as with all of Rollins' Prestige recordings, has also been reissued as part of a huge "complete" box set; listeners with a tight budget are advised to pick up this single disc and be amazed.
10 Louis Prima - The Wildest!
(1957)
A tireless showman and an underrated musical talent, Louis Prima swung his way to icon status thanks to an irresistible, infectious sound whose appeal translated across generations. Nominally a swing artist, Prima's distinctive sound also encompassed New Orleans-style jazz, boogie-woogie, jump blues, R&B, early rock & roll, and even the occasional Italian tarantella. Regardless of what form his music took, it swung hard and fast, with a rolling, up-tempo shuffle beat that helped some of his earlier material cross over to R&B audiences (his songs were also covered by jump blues artists from time to time). A veritable greatest-hits album, The Wildest! is the gem of Louis Prima's catalogue. None of his other efforts transcend its raunchy mix of demented gibberish, blaring sax, and explosive swing, which rocked as hard as anything released at the time. Almost all of Prima's signature songs are found here: "
Just a Gigolo/i Ain't Got Nobody
", "
Oh Marie
", "
Jump, Jive, an' Wail
", and "
Buona Sera
", to name a few. A plethora of greatest-hits packages (especially Capitol's Collectors Series) may offer wider song selection and greater value, but the reissue of Prima's masterpiece is a welcome event that's been a long time coming.
11 Charlie Parker Septet - Jazz at Massey Hall
(1953)
The music on this CD features the famous Massey Hall concert which teamed together (for the last time on records) the unbeatable team of altoist Charlie Parker and trumpeter Dizzy Gillespie along with pianist
Bud Powell
, bassist Charles Mingus, and drummer
Max Roach
. The full quintet performs six of their standards. Although each participant is a band leader, composer, and groundbreaking stylist on his instrument, the performance demonstrates that Parker remained first among equals. Compositionally, Jazz at Massey Hall leans heavily on the bebop book developed by Gillespie, and includes "
Wee
", "
A Night in Tunisia
" and "
Hot House
". Also listen to Bird burn on "
Salt Peanuts
" as a reaction to Gillespie's clowning. This is timeless and highly recommended music.
12 Odetta - Odetta Sings Ballads and Blues
(1956)
One of the strongest voices in the folk revival and the civil rights movement. Odetta's debut album was a strong, confident effort featuring just her and her guitar on 16 tracks, most of which were traditional in origin. In its day, it was quite an influential recording; Bob Dylan, in fact, once cited this record in particular as the one that made him decide to trade in his electric guitar and amplifier for an acoustic guitar. Several of the songs would find their ways into the repertoires of subsequent folkies, and even some folk-rock bands. There's no way of knowing whether they heard the tunes first on this release, but it's entirely possible, as it was one of the first strong traditional folk LPs. Contains "
Another Man Done Gone
", "
Jack O' Diamonds
", "
Santy Anno
" and "
God's Gonna Cut You Down
".
13 Elvis Presley - Elvis Presley
(1956)
Today it all seems so easy -- RCA signs up the kid from Memphis, television gets interested at around the same time, and the rest is history. The circumstances surrounding this album were neither simple nor promising, however, nor was there anything in the history of popular music up to that time to hint that Elvis Presley was going to be anything other than "Steve Sholes' folly," which was what rival executives were already whispering. So a lot was unsettled and untried at the first of two groups of sessions that produced the Elvis Presley album -- it wasn't even certain that there was any reason for a rock & roll artist to cut an album, because teenagers bought 45s, not LPs. The first of Elvis' RCA sides yielded one song, "
Heartbreak Hotel
", that seemed a potential single, but which no one thought would sell, and a few tracks that would be good enough for an album, if there were one. But no one involved knew anything for sure about this music. Seventeen days later, "Heartbreak Hotel" was released, and for about a month it did nothing -- then it began to move, and then Elvis appeared on television, and had a number one pop single. The album Sholes wanted out of Elvis came from two groups of sessions in January and February, augmented by five previously unissued songs from the Sun library. This was as startling a debut record as any ever made, representing every side of Elvis' musical influences except gospel -- rockabilly, blues, R&B, country, and pop were all here in an explosive and seductive combination. Elvis Presley became the first rock & roll album to reach the number one spot on the national charts, and RCA's first million dollar-earning pop album.
14 Duke Ellington - Ellington At Newport
(1956)
Duke Ellington's appearance at the 1956 Newport Jazz Festival has long been famous, and justifiably so. Paul Gonsalves' 27-chorus tenor solo on "Diminuendo in Blue and Crescendo in Blue" practically started a riot at Newport and made headlines around the world. The momentum generated by this concert led to Ellington's comeback and never let up during his 18 remaining years. A double CD put out in 1999 presents the entire concert performance, previously unheard material, and a few revelations. After a brief truncated set that was cut short because four of Ellington's musicians could not be found, the Ellington Orchestra returned to the stage three hours later. They played "
Take the 'A' Train
", "
Newport Jazz Festival Suite
", a showcase for Harry Carney on "
Sophisticated Lady
", and a so-so Jimmy Grissom vocal outing on "
Day In, Day Out
". Then came "
Diminuendo in Blue and Crescendo in Blue
". The saxophone interlude caused crazed dancing, and soon the crowd was as loud as the band. When the crowd would not quiet down, Ellington saved the day by closing with a long version of "Skin Deep." But unknown to most people is that on July 9, the orchestra went to the studios to reproduce the program. The earlier version of the "Newport Jazz Festival Suite" had been a bit sloppy and Gonsalves' famous tenor solo on "
Diminuendo
" had actually been played into the wrong microphone. Ellington's band therefore performed the entire "Newport Jazz Festival Suite" again and it was issued (with phony applause, introductions, and crowd noises) on the original LP. Happily, a second version of the Newport concert had since been discovered so Gonsalves' solo is a bit louder here than on the LP. And by combining the two tapes, one can hear the Duke Ellington Orchestra in stereo in 1956. Highly recommended.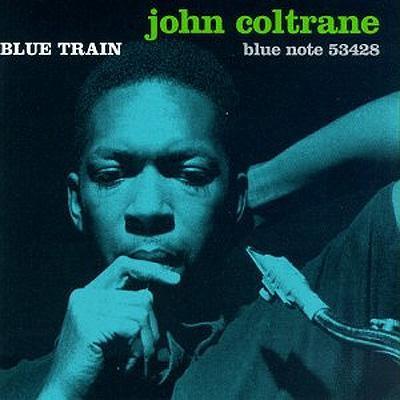 15 John Coltrane - Blue Train
(1957)
Although never formally signed, an oral agreement between John Coltrane and Blue Note Records founder Alfred Lion was indeed honored on Blue Train -- Coltrane's only collection of sides as a principal artist for the venerable label. The disc is packed solid with sonic evidence of Coltrane's innate leadership abilities. He not only addresses the tunes at hand, but also simultaneously reinvents himself as a multifaceted interpreter of both hard bop as well as sensitive balladry -- touching upon all forms in between. The personnel on Blue Train is arguably as impressive as what they're playing. Joining Coltrane (tenor sax) are
Lee Morgan
(trumpet),
Curtis Fuller
(trombone),
Kenny Drew
(piano),
Paul Chambers
(bass), and
Philly Joe Jones
(drums). The triple horn arrangements incorporate an additional sonic density that remains a trademark unique to both this band and album. Of particular note is Fuller's even-toned trombone, which bops throughout the title track as well as the frenetic "
Moments Notice
". Other solos include Paul Chambers' subtly understated riffs on "
Blue Train
" as well as the high energy and impact from contributions by Lee Morgan and Kenny Drew during "
Locomotion
". The track likewise features some brief but vital contributions from Philly Joe Jones -- whose efforts throughout the record stand among his personal best. Of the five sides that comprise the original Blue Train, the Jerome Kern/Johnny Mercer ballad "
I'm Old Fashioned
" is the only standard; in terms of unadulterated sentiment, this version is arguably untouchable. Fuller's rich tones and Drew's tastefully executed solos cleanly wrap around Jones' steadily languid rhythms. Without reservation, Blue Train can easily be considered in and among the most important and influential entries not only of John Coltrane's career, but of the entire genre of jazz music as well.
16 Little Richard - Here's Little Richard
(1957)
Little Richard had been making records for four years before he rolled into Cosimo Matassa's J&M Studio in New Orleans and cut the epochal "
Tutti Frutti
" in the fall of 1955, but everything else he'd done -- and much of what others had recorded -- faded into insignificance when Richard wailed "A wop bop a loo mop a lomp bomp bomp" and kicked off one of the first great wailers in rock history. In retrospect, Little Richard's style doesn't seem so strikingly innovative as captured in 1956's Here's Little Richard -- his boogie-woogie piano stylings weren't all that different from what Fats Domino has been laying down since 1949, and his band pumped out the New Orleans backbeat that would define the Crescent City's R&B for the next two decades, albeit with precision and plenty of groove. But what set Richard apart was his willingness to ramp up the tempos and turn the outrage meter up to ten; "Tutti Frutti," "
Rip It Up
" and "
Jenny Jenny
" still sound outrageous a half-century after they were waxed, and it's difficult but intriguing to imagine how people must have reacted to Little Richard at a time when African-American performers were expected to be polite and the notion of a gay man venturing out of the closet simply didn't exist (Richard's songs were thoroughly heterosexual on the surface, but the nudge and wink of "Tutti Frutti" and "
Baby
" is faint but visible, and his bop threads, mile-high process and eye makeup clearly categorized him as someone "different"). These 12 tunes may not represent the alpha and omega of Little Richard's best music, but every song is a classic and unlike many of his peers, time has refused to render this first album quaint -- Richard's grainy scream remains one of the great sounds in rock & roll history, and the thunder of his piano and the frantic wail of the band is still the glorious call of a Friday night with pay in the pocket and trouble in mind. Brilliant stuff.
17 Ornette Coleman - The Shape of Jazz to Come
(1959)
Ornette Coleman's Atlantic debut, The Shape of Jazz to Come, was a watershed event in the genesis of avant-garde jazz, profoundly steering its future course and throwing down a gauntlet that some still haven't come to grips with. The record shattered traditional concepts of harmony in jazz, getting rid of not only the piano player but the whole idea of concretely outlined chord changes. The pieces here follow almost no predetermined harmonic structure, which allows Coleman and partner
Don Cherry
an unprecedented freedom to take the melodies of their solo lines wherever they felt like going in the moment, regardless of what the piece's tonal center had seemed to be. Plus, this was the first time Coleman recorded with a rhythm section -- bassist
Charlie Haden
and drummer
Billy Higgins
-- that was loose and open-eared enough to follow his already controversial conception. Coleman's ideals of freedom in jazz made him a feared radical in some quarters; there was much carping about his music flying off in all directions, with little direct relation to the original theme statements. If only those critics could have known how far out things would get in just a few short years; in hindsight, it's hard to see just what the fuss was about, since this is an accessible, frequently swinging record. It's true that Coleman's piercing, wailing alto squeals and vocalized effects weren't much beholden to conventional technique, and that his themes often followed unpredictable courses, and that the group's improvisations were very free-associative. But at this point, Coleman's desire for freedom was directly related to his sense of melody -- which was free-flowing, yes, but still very melodic. Of the individual pieces, the haunting "
Lonely Woman
" is a stone-cold classic, and "
Congeniality
" and "
Peace
" aren't far behind. Any understanding of jazz's avant-garde should begin here.
18 Jerry Lee Lewis - Jerry Lee Lewis
(1957)
Is there an early rock & roller who has a crazier reputation than the Killer, Jerry Lee Lewis? His exploits as a piano-thumping, egocentric wild man with an unquenchable thirst for living have become the fodder for numerous biographies, film documentaries, and a full-length Hollywood movie. Certainly few other artists came to the party with more ego and talent than he and lived to tell the tale. And certainly even fewer could successfully channel that energy into their music and prosper doing it as well as Jerry Lee. When he broke on the national scene in 1957 with his classic "
Whole Lotta Shakin' Goin' On
", he was every parents' worst nightmare perfectly realized: a long, blonde-haired Southerner who played the piano and sang with uncontrolled fury and abandon, while simultaneously reveling in his own sexuality. He was rock & roll's first great wild man and also rock & roll's first great eclectic. The Killer's original album for Sun Records is a curious mixture, as Sam Phillips pulled songs from all avenues of Jerry Lee's repertoire, everything from handkerchief weepers like "
It All Depends
", "
Fools Like Me
", and a staid "
Goodnight Irene
" to rockers like "
Put Me Down
", "
Matchbox
", "
Ubangi Stomp
", "
Don't Be Cruel
", and "
High School Confidential
". But Jerry Lee even rocks up stuff like Hank Williams' "
Jambalaya
" and "
When the Saints Go Marching in
" making this one terrific debut, even if a great deal of his best material was inexplicably left off. The album made the compact disc sweepstakes with his big hit, "Whole Lotta Shakin' Going On," appended to the original 12-track lineup.
19 Marty Robbins - Gunfighter Ballads and Trail Songs
(1959)
The single most influential album of Western songs in post-World War II American music, Gunfighter Ballads and Trail Songs touched a whole range of unexpected bases in its own time and has endured extraordinarily well across the ensuing four decades. The longevity of the album's appeal is a result of Marty Robbins' love of the repertory at hand and the mix of his youthful dynamism and prodigious talent that he brought to the recordings, and the use of the best music production techniques of the era. Add to that the presence of a pair of killer original songs that were ready-made singles, "
El Paso
" and "
Big Iron
," and a third, "The Master's Call," that was startlingly personal, and the results are well-nigh irresistible. The range of material on this album is extraordinary, from love songs to spirituals, songs so old they have no known author, and originals by the singer, all of which seamlessly fit together. Robbins' subject is mostly the west of myth and movie, which benefits from his ability as a storyteller -- "Big Iron" or "El Paso" may tell tales heard or seen 100 times onscreen, but he makes listeners feel like this is the first time they're hearing them, complete with excitement and anticipation of a poet in the middle of a spellbinding recital. The guitars, played by Robbins, Grady Martin, and Jack Pruett, and Bob Moore's upright bass all have a crisp sound, and the Glaser Brothers' understated vocal accompaniment embellishes the singing in key spots without intruding on the spell cast by Robbins' singing.
20 Ravi Shankar - Three Ragas
(1956)
Perhaps Ravi Shankar's finest World Pacific record, Three Ragas is not only a fantastic artistic statement, but also an excellent introduction to the medium of Indian music itself. Performed by Shankar and a very simple trio, the pieces on this record show the true heart of Indian music at its most intimate. The second side, "
Raga Jog
", will take your breath away. A showcase in Indian ensemble performing as well as in Shankar's own endurance and grace, this side truly shows why he has been called (by David Crosby, no less) the finest musician on the planet. This recording was put together at a time far earlier than Shankar's mass-audience breakthrough, and is an excellent record by a true master.
21 Harry Belafonte - Calypso
(1956)
This is the album that made Harry Belafonte's career. Up to this point, calypso had only been a part of Belafonte's focus in his recordings of folk music styles. But with this landmark album, calypso not only became tattooed to Belafonte permanently; it had a revolutionary effect on folk music in the 1950s and '60s. The album consists of songs from Trinidad, mostly written by West Indian songwriter Irving Burgie (aka Lord Burgess). Burgie's two most successful songs are included -- "
Day O
" and "
Jamaica Farewell
" (which were both hit singles for Belafonte) -- as are the evocative ballads "
I Do Adore Her
" and "
Come Back Liza
" and what could be the first feminist folk song, "
Man Smart (Woman Smarter)
". Calypso became the first million-selling album by a single artist, spending an incredible 31 weeks at the top of the Billboard album charts, remaining on the charts for 99 weeks. It triggered a veritable tidal wave of imitators, parodists, and artists wishing to capitalize on its success. Years later, it remains a record of inestimable influence, inspiring many folksingers and groups to perform, most notably
The Kingston Trio
, which was named for the Jamaican capital. For a decade, just about every folksinger and folk group featured in their repertoire at least one song that was of West Indian origin or one that had a calypso beat. They all can be attributed to this one remarkable album.
22 Sun Ra - Jazz In Silhouette
(1958)
Throughout their mid-to-late-'50s stay in Chicago, Sun Ra (piano) and his Arkestra established themselves as formidable purveyors of a new strain or sub-genre of jazz. Having evolved from elaborate reworkings of familiar standards, Jazz in Silhouette (1959) presents a collection of originals, building upon Ra's abilities as a consummate multi-tasker -- writing, arranging, scoring parts for his band, in addition to performing. He stretches the boundaries of the music to suit the Arkestra, simultaneously progressing his distinct sound. Seminal readings of the quick and complex "
Saturn
" and "
Velvet
" are offered with unmatchable dexterity and precision. The latter title comes off like a confused version of "
Jeepers Creepers
" as Hobart Dotson (trumpet) prominently displays his unquestionable tonality. "
Ancient Aiethopia
" is one of the more involved works, both in terms of length -- running over nine minutes -- and the Arkestra's capacity for Ra's compositions. "
Blues at Midnight
" is another expansive (nearly 12 minutes) outing that, by contrast, is for the soloists rather than full ensemble.
John Gilmore
(tenor sax), Ronnie Boykins (bass), Pat Patrick (baritone sax), and Marshall Allen (alto sax) all shine behind William Cochran's (drums) solid contributions. Equally significant is the running dialogue Ra maintains during other musicians' leads, directing the ebb and flow with an uncanny fusion of melody and rhythm. Undoubtedly, this is a factor in the freshness the material retains. It is also a prime example of Ra and company in a transitional phase, prior to their full-fledged explorations into the avant-garde.
23 The Crickets - The "Chirping" Crickets
(1957)
Buddy Holly
is perhaps the most anomalous legend of '50s rock & roll -- he had his share of hits, and he achieved major rock & roll stardom, but his importance transcends any sales figures or even the particulars of any one song (or group of songs) that he wrote or recorded. Holly was unique, his legendary status and his impact on popular music all the more extraordinary for having been achieved in barely 18 months. The debut album by the Crickets and the only one featuring Buddy Holly released during his lifetime, The "Chirping" Crickets contains the group's number one single "
That'll Be the Day
" and its Top Ten hit "
Oh, Boy!
". Other Crickets classics include "
Not Fade Away
", "
Maybe Baby
", and "
I'm Looking For Someone to Love
". The rest of the 12 tracks are not up to the standard set by those five, but those five are among the best rock & roll songs of the 1950s or ever, making this one of the most significant album debuts in rock & roll history, ranking with Elvis Presley and Meet the Beatles.
24 Lou Donaldson - Blues Walk
(1958)
Lou Donaldson's undisputed masterpiece, Blues Walk, marks the point where the altoist began to decisively modify his heavy Charlie Parker influence and add a smoky, bluesy flavor of his own. The material is still firmly in the bebop vein, and the mellower moments aren't as sleepy as some of Donaldson's subsequent work, so the album sounds vital and distinctive even as it slows down and loosens things up. That makes it the definitive release in Donaldson's early, pre-soul-jazz period, but what elevates Blues Walk to classic status is its inviting warmth. Donaldson's sweetly singing horn is ingratiating and melodic throughout the six selections, making even his most advanced ideas sound utterly good-natured and accessible. The easy-swinging title cut is a classic, arguably Donaldson's signature tune even above his late-'60s soul-jazz hits, and his other two originals -- "
Play Ray
" and "
Callin' All Cats
" -- are in largely the same vein. Elsewhere, Donaldson displays opposite extremes of his sound; the up-tempo bebop classic "
Move
" provokes his fieriest playing on the record, and his romantic version of "
Autumn Nocturne
" is simply lovely, a precursor to Lush Life. The addition of Ray Barretto on conga is a subtle masterstroke, adding just a bit more rhythmic heft to the relaxed swing. There are numerous likable records in Donaldson's extensive catalog, but Blues Walk is the best of them all.
25 John Coltrane - Giant Steps
(1959)
Giant Steps bore the double-edged sword of furthering the cause of the music as well as delivering it to an increasingly mainstream audience. Although this was John Coltrane's debut for Atlantic, he was concurrently performing and recording with Miles Davis. Within the space of less than three weeks, Coltrane would complete his work with Davis and company on another genre-defining disc, Kind of Blue, before commencing his efforts on this one. Coltrane (tenor sax) is flanked by essentially two different trios. Recording commenced in early May of 1959 with a pair of sessions that featured
Tommy Flanagan
(piano) and
Art Taylor
(drums), as well as
Paul Chambers
-- who was the only band member other than Coltrane to have performed on every date. When recording resumed in December of that year,
Wynton Kelly
(piano) and
Jimmy Cobb
(drums) were instated -- replicating the lineup featured on Kind of Blue, sans Miles Davis of course. At the heart of these recordings, however, is the laser-beam focus of Coltrane's tenor solos. All seven pieces issued on the original Giant Steps are likewise Coltrane compositions. He was, in essence, beginning to rewrite the jazz canon with material that would be centered on solos -- the 180-degree antithesis of the art form up to that point. These arrangements would create a place for the solo to become infinitely more compelling. This would culminate in a frenetic performance style that noted jazz journalist Ira Gitler accurately dubbed "sheets of sound." Coltrane's polytonal torrents extricate the amicable and otherwise cordial solos that had begun decaying the very exigency of the genre -- turning it into the equivalent of easy listening. He wastes no time as the disc's title track immediately indicates a progression from which there would be no looking back. Line upon line of highly cerebral improvisation snake between the melody and solos, practically fusing the two. The resolute intensity of "
Countdown
" does more to modernize jazz in 141 seconds than many artists do in their entire careers. Tellingly, the contrasting and ultimately pastoral "
Naima
" was the last tune to be recorded, and is the only track on the original long-player to feature the Kind of Blue quartet.
26 Gene Vincent - Bluejean Bop!
(1956)
Gene Vincent's very first album was a rushed affair -- which is obvious from the haphazard song selection -- but manages to be one of the most exciting LPs to come out of the early rock & roll era, rivaling Elvis Presley's first two albums, which date from the same period. Its virtues, which is to say, the virtues of Gene Vincent and His Blue Caps as high energy rock & rollers, transcend the lack of quality songs on the album -- the title hit is joined by some rocked up standards ("
Lazy River
", "
Peg o' My Heart
", and "
Ain't She Sweet
", which the Beatles picked up in their early repertory by way of Vincent, and made their first vocal recording five years later), a country ballad ("
Wedding Bells
") or two, and some hastily written rave-ups ("
Jumps, Giggles and Shouts
", etc.), little of it high-grade rock & roll material in and of itself. As it turned out, Vincent and his band didn't need first-rate songs to produce great rock & roll -- they rise to the occasion here, throwing the hard rocking numbers into the air like the musical equivalent of jitterbug dancing, or stretching out elegantly on the handful of ballads, and the result is one of the few truly virtuoso rock & roll albums of the era. What sets Bluejean Bop apart from Elvis' albums, in particular, and most other white rock & roll of the period, is that it has the tight sound of an actual working band, where Elvis' (and most other white rock & rollers') albums, in particular, almost inevitably featured session players whose presence helped make for an idealized recording, but not a good representation of how they sounded on stage -- which is what rock & roll was really about. Vincent and company, by contrast, were playing shows virtually every night during the period of these sessions. The sessions themselves were done in a hurry, without any help from studio musicians; and they were conducted with minimal input from producer Ken Nelson, who pretty much let the band do what came naturally. The result is a lean, tight sound, akin to a live recording -- which this practically was -- in terms of minimal retakes, lots of spontaneity, and no overdubbing.
27 Ella Fitzgerald & Louis Armstrong - Ella and Louis
(1956)
Ella Fitzgerald and Louis Armstrong make for a charming team on this CD. Accompanied by pianist
Oscar Peterson
, guitarist
Herb Ellis
, bassist Ray Brown, and drummer Buddy Rich, Fitzgerald and Armstrong perform 11 standards with joy and swing. There are touches of Satch's trumpet, but this is primarily a vocal set with the emphasis on tasteful renditions of ballads. Its follow-up, Ella & Louis Again, is also worth getting.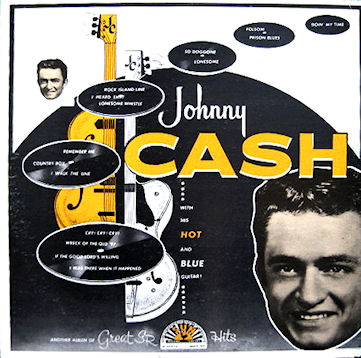 28 Johnny Cash - Johnny Cash With His Hot and Blue Guitar
(1957)
Johnny Cash's first album, released on Sun in 1957, was a little more folkloric and traditional in bent than what he put on most of his singles, though not pronouncedly so. In fact, four of the tracks ("
I Walk the Line
", "
Cry! Cry! Cry!
","
So Doggone Lonesome
", and"
Folsom Prison Blues
") had already been hit singles. For the rest of the set, Cash drew on some older folk ("
Rock Island Line
", "
The Wreck of the Old '97
"), prison ("
Doin' My Time
"), and spiritual ("
I Was There When It Happened
") songs. Filling out the set was a good, rollicking Cash original, "
Country Boy
", and a rather sassy tune by the young Jerry Reed, "
If the Good Lord's Willing
". It's a good, solid record that's very much in the mold of his classic early Sun sound, with spare accompaniment that nevertheless often approaches a rockabilly-country bounce. The album's desirability's a little diminished by the presence of the material on numerous other compilations in the CD era, though it still stands well on its own.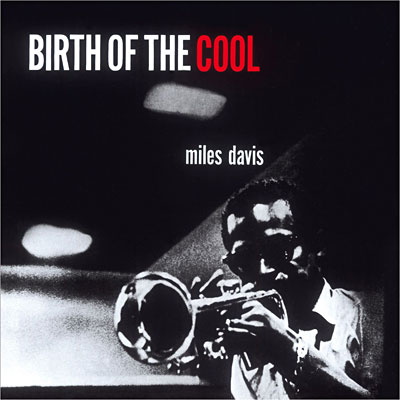 29 Miles Davis - Birth of Cool
(1956)
So dubbed because these three sessions -- two from early 1949, one from March 1950 -- are where the sound known as cool jazz essentially formed, Birth of the Cool remains one of the defining, pivotal moments in jazz. This is where the elasticity of bop was married with skillful, big-band arrangements and a relaxed, subdued mood that made it all seem easy, even at its most intricate. After all, there's a reason why this music was called cool; it has a hip, detached elegance, never getting too hot, even as the rhythms skip and jump. Indeed, the most remarkable thing about these sessions -- arranged by
Gil Evans
and featuring such heavy-hitters as Kai Winding, Gerry Mulligan, Lee Konitz, and Max Roach -- is that they sound intimate, as the nonet never pushes too hard, never sounds like the work of nine musicians. Furthermore, the group keeps things short and concise (probably the result of the running time of singles, but the results are the same), which keeps the focus on the tones and tunes. The virtuosity led to relaxing, stylish mood music as the end result -- the very thing that came to define West Coast or "cool" jazz -- but this music is so inventive, it remains alluring even after its influence has been thoroughly absorbed into the mainstream
30 Elvis Presley - For LP Fans Only
(1959)
OK, to be fair, For LP Fans Only is no more a real Elvis Presley album than, say, Yesterday and Today was a real Beatles album -- Elvis was nine months through his two-year hitch in the army and RCA needed to get something "new" in the way of an LP out on him, so they threw together a quartet of sides from his Sun Records singles that had never been on album, five of his early RCA sides (which don't sound too different from the Sun stuff stylistically) that had similarly missed being put onto long-player, and one odd song off of the Love Me Tender soundtrack EP, and voila -- a new Elvis LP. It doesn't sound like much from that description, but in its time For LP Fans Only was (along with its follow-up, A Date With Elvis) one of the choicest of all Elvis Presley albums. From 1959 until 1976, unless you wanted to try hunting down the original singles, this was the only way that any listeners got to hear the King's Sun Records singles "
That's All Right
", "
Mystery Train
", and "
My Baby Left Me
", and the only album to offer such early RCA sides as "Shake, Rattle & Roll" as well. Maybe it could all have been done better and more coherently, and it would've been nice if the producers had avoided the electronically rechanneled stereo through which the original mono sides were processed, but all RCA was trying to do was get some Elvis Presley material out there -- they didn't get interested in the history or the particulars of the music until about 20 years later, and considering their obliviousness, they did astonishingly well. At least the songs were out there -- a lot of listeners wore out copies of this album just lending them around to the uninitiated -- and taken on its own terms, there weren't five more exciting rock & roll albums than this that you could buy in 1959 (or a lot of years after). It still holds up as one of the best rock & roll albums ever released, and for anyone who wants to remember (or find out) how most listeners discovered Elvis' early stuff during the 1960s and 1970s, this is one place to start.
31 Art Blakey - Moanin'
(1958)
Moanin' includes some of the greatest music Blakey produced in the studio with arguably his very best band. There are three tracks that are immortal and will always stand the test of time. The title selection is a pure tuneful melody stewed in a bluesy shuffle penned by pianist
Bobby Timmons
, while tenor saxophonist Benny Golson's classy, slowed "
Along Came Betty
" and the static, militaristic"
Blues March
" will always have a home in the repertoire of every student or professional jazz band. "
Are You Real?
" has the most subtle of melody lines, and"
Drum Thunder Suite
" has Blakey's quick blasting tom-tom-based rudiments reigning on high as the horns sigh, leading to hard bop. "
Come Rain or Come Shine
" is the piece that commands the most attention, a highly modified, lilting arrangement where the accompanying staggered, staccato rhythms contrast the light-hearted refrains. Certainly a complete and wholly satisfying album, Moanin' ranks with the very best of Blakey and what modern jazz offered in the late '50s and beyond.
32 Billie Holiday - Lady In Satin
(1957)
This is the most controversial of all Billie Holiday records. Lady Day herself said that this session (which finds her accompanied by Ray Ellis' string orchestra) was her personal favorite, and many listeners have found her emotional versions of such songs as "
I'm a Fool to Want You
", "
You Don't Know What Love Is
", "
Glad to Be Unhappy
", and particularly "
You've Changed
" to be quite touching. But Holiday's voice was essentially gone by 1958, and although not yet 43, she could have passed for 73. Ellis' arrangements do not help, veering close to Muzak; most of this record is very difficult to listen to. Late in life, Holiday expressed the pain of life so effectively that her croaking voice had become almost unbearable to hear. There is certainly a wide range of opinion as to the value of this set.
33 Thelonious Monk - Brilliant Corners
(1957)
Although Brilliant Corners is Thelonious Monk's third disc for Riverside, it's the first on the label to weigh in with such heavy original material. Enthusiasts who become jaded to the idiosyncratic nature of Monk's playing or his practically arithmetical chord progressions should occasionally revisit Brilliant Corners. There is an inescapable freshness and vitality saturated into every measure of every song. The passage of time makes it all the more difficult to imagine any other musicians bearing the capacity to support Monk with such ironic precision. The assembled quartet for the lion's share of the sessions included Max Roach (percussion), Sonny Rollins (tenor sax),
Oscar Pettiford
(bass), and
Ernie Henry
(alto sax). Although a compromise, the selection of Miles Davis' bassist,
Paul Chambers
, and Clark Terry (trumpet) on "
Bemsha Swing
" reveals what might be considered an accident of ecstasy, as they provide a timeless balance between support and being able to further the cause musically. Likewise, Roach's timpani interjections supply an off-balanced sonic surrealism while progressing the rhythm in and out of the holes provided by Monk's jackrabbit leads. It's easy to write Monk's ferocity and Forrest Gump-esque ingenuity off as gimmick or quirkiness. What cannot be dismissed is Monk's ability to translate emotions into the language of music, as in the freedom and abandon he allows through Sonny Rollins' and Max Roach's mesmerizing solos in "
Brilliant Corners
". The childlike innocence evoked by Monk's incorporation of the celeste during the achingly beautiful ode "
Pannonica
" raises the emotional bar several degrees. Perhaps more pointed, however, is the impassioned "
I Surrender, Dear
" -- the only solo performance on the album. Brilliant Corners may well be considered the alpha and omega of post-World War II American jazz. No serious jazz collection should be without it.
34 Tito Puente - Dance Mania
(1958)
Dance Mania, Tito Puente's best-known and best-selling album, came ten years into his career, but at a time (1957) when the craze for mambo and Latin music was beginning to crest. (Another landmark LP, Pérez Prado's Havana 3 A.M., had been released the previous year, and Prado's "
Cherry Pink And Apple Blossom White
" had hit number one in 1955.) Recorded as part of a just-signed exclusive contract with RCA and appearing in vibrant sound as part of the label's Living Stereo series, Dance Mania exploded with a series of tight arrangements, propulsive playing, and the features of new additions in vocalist Santos Colón and conguero Ray Barretto (who helped, in part, make up for the recent loss of Willie Bobo and Mongo Santamaria to Cal Tjader's group). Puente didn't dilute his sound for Dance Mania -- unlike the many commercial crossover LPs that were released by both established groups and ad hoc studio collectives -- but his hard mambos here were performed at tempos that encouraged dancing by more staid LP-buyers, slightly slower than the high paces of his Tico sides or Palladium shows. Brassy and swinging, yes, and certainly as precise as a great Latin band could get, but not as torrid as Spanish Harlem dancers would be accustomed to. Most were Puente originals, spanning mambo and cha-cha and guaguanco, and Dance Mania built the foundation for great Latin LPs to come.
35 Huey "Piano" Smith & The Clowns - Having a Good Time with Huey "Piano" Smith & His Clowns
(1959)
Next to
Professor Longhair
and
Fats Domino
, no one better typified the New Orleans piano style than the work of Huey "Piano" Smith. This 24-track, single-disc compilation is the first proposed installment of Huey and the Clowns' tenure with the Jackson, Mississippi-based Ace label, home to his biggest hits. Kicking off with parts one and two of his first hit, "
Rockin' Pneumonia and the Boogie Woogie Flu
" (although the second part used here seems one overdub away from the single version issued), more obscure but equally worthwhile items like "
Little Liza Jane
", "
Just A Lonely Clown
", "
Would You Believe It (I Have A Cold)
" and "
She Got Low Down
" sit comfortably next to the hits ( "
High Blood Pressure
", "
Don't You Just Know It
", "
Tu-Ber-Cu-Lucas and the Sinus Blues
", "
Don't you Know Yockomo
" and "
Pop-Eye
"), making this volume a perfect introduction to the music of this Crescent City genius. Transfers are as crisp as you could ask for, and the packaging and liner notes are equally fine.
36 Jimmy Smith - The Sermon
(1958)
The seven sides on The Sermon! (1958) come from a pair of studio dates, the first of which was held August 25, 1957 and includes Jimmy Smith (organ),
Lee Morgan
(trumpet), George Coleman (alto sax), Curtis Fuller (trombone), Eddie McFadden (guitar), Kenny Burrell (guitar) and Donald Bailey (drums). This was followed by a second exactly six months (to the day) later on February 25, 1958. Along with Smith, present and accounted for during the session were Lou Donaldson (alto sax) replacing Coleman in addition to contributions from Tina Brooks (tenor sax) and the ubiquitous Art Blakey (drums). From the '57 confab are the popular music standards "S'Wonderful" and "Blue Room". The former is given an unhurried mid-tempo workout as Morgan banters sublime licks with McFadden. Fuller's full round tones effortlessly manoeuvre "
Blue Room
" with the intimate trio of Bailey and Smith in support. The real essence can be heard in the variety of styles utilized in the latter gathering. An emotive "
Lover Man
" is punctuated by Donaldson's fluid leads behind Smith's heartfelt changes. This is sharply distinguished by the longer jams featuring Burrell, Blakey and mighty impressive blows throughout from Morgan and Brooks. They ride hard on the Bird classics "
Confirmation
" and an intense "
Au Privave
". Brooks' solos are much of the reason why each excels with such bop finesse and are best experienced rather than simply read about. "
Flamingo
" is a sumptuous ballad that allows Morgan and Burrell to trade some laid back lines within the context of an unencumbered rhythm section. Whether upgrading the mid '80s CD or discovering the platter for the first time, The Sermon! is a prime example of Smith and company's myriad of talents.
37 Sabu - Palo Congo
(1957)
Louis "Sabu" Martinez was one of the most prolific conga players in the history of Afro-Cuban music. Sabu Martinez's debut as a leader mostly features percussionists (other than bassist Evaristo Baro), including the leader, Arsenio Rodriguez (who doubles on the tres), Cesar Travieso, Quique Travieso, and Ray "Mosquito" Romero. Martinez, Rodriguez, and Travieso also join Willie Capo and Sarah Baro in singing and chanting. Six of the eight songs are Martinez's originals, although the most memorable cut is the opening "
El Cumbanchero
", which has a catchy melody and a Martinez vocal that in tone sounds surprisingly like
Cab Calloway
in spots. Intriguing African-oriented music.
38 The Everly Brothers - The Everly Brothers
(1958)
The Everly Brothers were not only among the most important and best early rock & roll stars, but also among the most influential rockers of any era. They set unmatched standards for close, two-part harmonies and infused early rock & roll with some of the best elements of country and pop music. Their legacy was and is felt enormously in all rock acts that employ harmonies as prime features, from the Beatles, Simon & Garfunkel, and legions of country-rockers to modern-day roots rockers like Dave Edmunds and Nick Lowe. Although the Everlys hadn't quite fully matured as artists in 1958, their debut is a fine, consistent effort divided between original material and respectably energetic covers of early rockers by Little Richard, Gene Vincent, and Ray Charles. Besides their first few hits, it includes some superb, underappreciated tracks that are nearly as good, like "
Should We Tell Him
" and "
I wonder if i cared as much
".
39 Screamin' Jay Hawkins - I Put A Spell On You
(1957)
Screamin' Jay Hawkins was the most outrageous performer extant during rock's dawn. Prone to emerging out of coffins on-stage, a flaming skull named Henry his constant companion, Screamin' Jay was an insanely theatrical figure long before it was even remotely acceptable. I Put a Spell on You is Screamin' Jay's landmark Epic album from the '50s. His wild-ass reinventions of old, staid standards like "
I Love Paris
," "
Deep Purple
, and "
You Made Me Love You (I Didn't Want to Do It)
" must be heard to be believed, but for surrealism at it best, check out "
Take Me Back to My Boots and Saddle
and a dead straight reading of "
Swing Low, Sweet Chariot
" in the middle of all of it. The perfect opening shot from this one-of-a-kind artist.
40 Sonny Rollins - Way Out West
(1957)
The timeless Way out West established Sonny Rollins as jazz's top tenor saxophonist (at least until John Coltrane surpassed him the following year). Joined by bassist Ray Brown and drummer Shelly Manne, Rollins is heard at one of his peaks on such pieces as "
I'm an Old Cowhand (From the Rio Grande)
", his own "
Way Out West
", "
There Is No Greater Love
", and "
Come, Gone
" (a fast stomp based on "After You've Gone"). The William Claxton photo of Rollins wearing Western gear (and holding his tenor) in the desert is also a classic.
41 Machito - Kenya
(1958)
Classic Afro-Cuban jazz albums are not so plentiful that any can escape being called "essential." By 1958 the idiom had lost its original spontaneity and excitement, but new life had come from the recording possibilities of high-fidelity stereo. Kenya belongs to the style typified by Tito Puente's great work for Victor in this period. There are colorful African masks on the jacket, the obligatory dozen tight arrangements, three first-call percussionists, and a horn section guaranteed to be heard at least from one edge of Manhattan to the other. While Kenya can be thought of as formulaic, at least the formula was still relatively fresh and highly desirable. For all its homegrown, New York credibility, Kenya sounds very much like 1950s Hollywood. Television and film crime dramas of the period relied heavily on Latin and jazz, which helped to popularize Afro-Cuban jazz. The bombastic horns created suspense and excitement, while the bongos and congas signaled the exoticism and feverishness of a world slipping out of control. But the old complaint about Afro-Cuban jazz is the same as for other Hollywood jazz and even standard pop albums of the period: The tight arrangements and rhythm are fine for ensemble playing, but the horn solos fail to communicate the individualism and passion one expects from jazz. Consequently the most successful pieces, such as "
Manteca
", have a live, gritty sound, like a riot in an old New York nightclub. Kenya ranges in tempo from a Cuban blues "
Blues á La Machito
", to a fast rumba "
Wild Jungle
". Everything else falls between these, but mostly on the upbeat side. "
Congo Mulence
" is played in the "bata" style (though probably without bata drums), and "
Tin Tin Deo
" is the Chano Pozo classic. "
Minor Rama
" and "
Tuturato
" are the most adventurous pieces. Overall, the Kenya powerhouse falls just short of being fantastic by sounding hurried, as if the studio clock was ticking. Perhaps too, a sense of anachronism (even in 1958) affected the recording. In any case, it could have been produced as two very welcome albums, if not several.
42 Ray Charles - The Genius of Ray Charles
(1959)
Some players from Ray Charles' big band are joined by many ringers from the
Count Basie
and Duke Ellington bands for the first half of this program, featuring Charles belting out six songs arranged by
Quincy Jones
. "
Let the Good Times Roll
" and "
Deed I Do
" are highlights, and there are solos by tenorman David "Fathead" Newman, trumpeter Marcus Belgrave, and (on "Two Years of Torture") tenor Paul Gonsalves. The remaining six numbers are ballads, with Charles backed by a string orchestra arranged by Ralph Burns (including "
Come Rain or Come Shine
" and "
Don't Let the Sun Catch You Cryin'
"). Charles' voice is heard throughout in peak form, giving soul to even the veteran standards.
43 Snooks Eaglin - New Orleans Street Singer
(1959)
Ford "Snooks" Eaglin's first released recordings, the ones collected here, suggested to the world that Eaglin was a great lost country blues player when he was, in fact, an excellent electric guitar player and a gospel-influenced singer who much preferred playing R&B with a band. When folklorist Harry Oster heard Eaglin busking with his guitar on a street in the French Quarter in 1958, he whisked him over to Louisiana State University and recorded the tracks collected here, either assuming that Eaglin was a folk artist or possibly even asking him to portray one for the sake of the recording. Either way, New Orleans Street Singer was a revelation when it was released by Folkways Records a year later in 1959, presenting to the world a gifted guitar player and a naturally soulful singer who brought a kind of jazzy New Orleans feel and groove to the folk-blues standards he was covering. The album is no less a revelation in the 21st century, although hindsight allows listeners to realize that the folk stance was probably more Oster's preference than Eaglin's. The guitar work is quick and fluid, with lead bursts that surprise and delight, continually settling on unexpected but highly effective chordal resolves, and the singing throughout is steady and informed, sounding a bit like Ray Charles, with tinges of both gospel and jazz phrasing. In Eaglin's hands traditional fare like "
Mama, Don't You Tear My Clothes
" (a variant of "Baby, Let Me Follow You Down") become reborn and re-formed into definitive versions.
44 James Brown - Please Please Please
(1959)
Though James Brown and His Famous Flames had scored an R&B Top Ten hit in 1956 with "
Please Please Please
", and Brown's next nine singles for Federal Records flopped but the next, "Try Me," his third single of 1958, scored. That was when King Records (Federal's parent label) assembled this, Brown's debut album, out of some of those singles sessions. You can hear the sound of a group and its enthusiastic singer looking for a hit, sometimes in the rock & roll of "
Chonnie-On-Chon
" (1957) or the 1956 B-side "
I Feel That Old Feeling Coming On
", sometimes by remaking "Please, Please, Please" under another name, such as "
I Don't Know
" (1956), sometimes by tackling Coasters-like novelty material such as "
That Dood It
" (1958), sometimes by aping the smooth Sam Cooke, as on the 1958 B-side "
That's When I Lost My Heart
", and once by rewriting "My Bonnie (Lies over the Ocean)" as the 1958 B-side "
Baby Cries Over the Ocean
". Only the two hits were really memorable, but the album presented the sound of a major star-to-be in search of his sound.
45 Stan Kenton - New Concepts of Artistry in Rhythm
(1952)
Stan Kenton's 1952 Orchestra was a very interesting transitional band, still performing some of the complex works of the prior Innovations orchestra but also starting to emphasize swing. This CD contains the rather pompous "
Prologue
" and Bill Holman's complex "
Invention for Guitar and Trumpet
" (starring guitarist
Sal Salvador
and trumpeter Maynard Ferguson) but also Gerry Mulligan's boppish "
Young Blood
" and Bill Russo's features for trumpeter Conte Candoli ( "
Portrait of a Count
"), trombonist Frank Rosolino ( "
Frank Speaking
") and altoist Lee Konitz ( "
My Lady
").
46 Little Willie John - Fever
(1958)
Little Willie John was among the dominant R&B vocalists of the late '50s and early '60s, and one of those best equipped to make the transition to soul. His dramatic style, passionate delivery, and gospel/blues-tinged approach were ideal for the types of anguished, personalized songs that became the hallmark of the soul era. While "
Fever
" did well for John, it was a huge hit for
Peggy Lee
. "
Need Your Love so Bad
" became a huge succes for
Peter Green
and
Fleetwood Mac
. It and everything else on the album was done in magnificent fashion by John. His albums were briefly available again during the early '70s in a Gusto/King reissue line, but have since disappeared again.
47 Buddy Holly - Buddy Holly
(1958)
When Buddy Holly & the Crickets broke through nationally in 1957, they were marketed by Decca Records as two different acts whose records were released on two different Decca subsidiaries -- Brunswick for Crickets records, Coral for Holly records. But there was no real musical distinction between the two, except perhaps that the "Crickets" sides had more prominent backup vocals. Nevertheless, coming three months after The "Chirping" Crickets, this was the debut album credited to Buddy Holly. It featured Holly's Top Ten single "
Peggy Sue
" plus several songs that have turned out to be standards: "
I'm Gonna Love You Too
", "
Listen To Me
"," "
Everyday
" and "
Rave On
". The rest of the 12 tracks weren't as distinctive, though Holly's takes on such rock & roll hits as "
Ready Teddy
" and "
You're so Square (Baby I Don't Care)
" provide an interesting contrast with the more familiar versions by Elvis Presley. This was the final new album featuring Holly to be released during his lifetime. Every subsequent album was an archival or posthumous collection.
48 Frank Sinatra - Songs for Swingin' Lovers!
(1954)
After the ballad-heavy In the Wee Small Hours, Frank Sinatra and Nelson Riddle returned to up-tempo, swing material with Songs for Swingin' Lovers!, arguably the vocalist's greatest swing set. Like Sinatra's previous Capitol albums, Songs for Swingin' Lovers! consists of reinterpreted pop standards, ranging from the ten-year-old "
You Make Me Feel so Young
" to the 20-year-old "
Pennies from Heaven
" and "
I've Got You Under My Skin
". Sinatra is supremely confident throughout the album, singing with authority and joy. That joy is replicated in Riddle's arrangements, which manage to rethink these standards in fresh yet reverent ways. Working with a core rhythm section and a full string orchestra, Riddle writes scores that are surprisingly subtle. "I've Got You Under My Skin," with its breathtaking middle section, is a perfect example of how Sinatra works with the band. Both swing hard, stretching out the rhythms and melodies but never losing sight of the original song. Songs for Swingin' Lovers! never loses momentum. The great songs keep coming and the performances are all stellar, resulting in one of Sinatra's true classics.
49 Blue Mitchell - Blue Soul
(1959)
Trumpeter Blue Mitchell left his home in Miami for a short stint in New York City, headed back to Florida, and then to Los Angeles before his brief but vital career as a jazz trumpeter ended. This sojourn identified his sound, initially branded by the warmth of the Southeast, burnished by the hustle and bustle of the Big Apple, and polished by the West Coast cool school demeanor. In 1959, as Mitchell returned to Miami, he connected with Detroit trombonist Curtis Fuller and Philadelphia tenor saxophonist Jimmy Heath to form one of the most potent three-horn front lines in jazz history. Few knew how good they were until after the fact, but this recording, the third album for Mitchell as a leader, has him and his mates in full flight. Drummer Philly Joe Jones has a lot to do with the solid booster rocket-like propulsion on this primarily hard bop date, and check out his calypso variations on the second chorus of the otherwise easy blues swing and ultra melodic "
Waverley Street
". Credit Mitchell's street smarts and highly developed melodic inventiveness as the focal point for this definitive session. In many ways, this is a parallel album to the Miles Davis classic Kind of Blue, with subtle undertones driven by fourth-gear swing. The CD kicks off with the famous "
Minor Vamp
", of which Fuller's original take for the Savoy label has been remixed and layered, and is heard in the acid jazz dancehalls. It's a familiar sparse line, a two-note vamp tacked onto a lithe, perky melody that needs no critique -- it's simply great! More concisely rendered hard bop follows on "
The Head
", not complex by any means, but filled with plenty o' soul. The hardest line crops up during "
Top Shelf
", featuring a memorable, cutting, precise solo by Heath. Fuller and Heath lay out so you can hear in full dimension the cozy and warm persona of Mitchell on the ballad "
Park Avenue Petite
", but especially on the bright, easy swinger "
Blue Soul
", which most accurately approaches Kind of Blue. In tribute to his then boss,
Horace Silver
, "
Nica's Dream
" features Mitchell's muted trumpet over an underlying fresh bed of trombone and tenor sax. Even more so, Mitchell's deep blue horn shines on the standard "
Polka Dots And Moonbeams
", an organ of sheer beauty and one to be studied for those who need to learn that playing fewer notes more musically is an admirable quality. This is one of the most precious jazz recordings of a year that would soon give sway to the Blue Note sound, and is in many real and important ways as much of a prelude as any other statement. It's a must-have for all serious mainstream jazz fans.
50 Billie Holiday - Songs for Distingué Lovers
(1957)
During the six days and four sessions covered by this 1997 CD (which in its original form consisted of six songs), Billie Holiday recorded 18 titles; a dozen of the best are here, although "
Comes Love
" is unaccountably missing. This were the last series of extensive small-group recordings that Lady Day would make in the studios. Although her voice was largely shot at this point, she puts so much feeling into some of the lyrics that one can often overlook her dark sound. The all-star band (trumpeter Harry "Sweets" Edison, tenor saxophonist
Ben Webster
, pianist Jimmie Rowles, guitarist Barney Kessel, bassist Red Mitchell, and Alvin Stoller or Larry Bunker on drums) is a major asset, and there are plenty of short solos for Edison, Webster and Kessel. Holiday does her best on such numbers as "
A Foggy Day
", "
One for My Baby
", "
Just One of Those Things
" and "
I Wished on the Moon
", and there are plenty of haunting moments, even if one could tell (even at the time) that the end was probably drawing near for the singer. The music is still well worth having, although completists will prefer a collection with all 18 songs, while beginners should sample Holiday's Columbia and Decca output first.
Kommentare