RSS
Weiterleiten
26. Nov. 2010, 20:51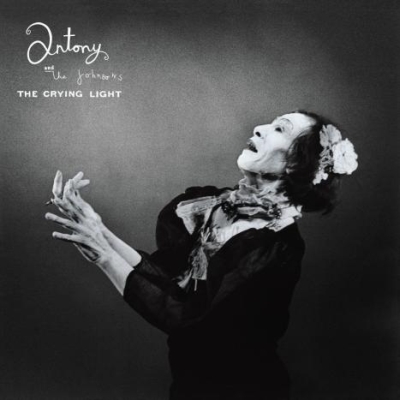 1 Antony and the Johnsons - The Crying Light
(2009)
The black-and-white image of legendary Butoh dancer Kazuo Ohno that adorns the cover of The Crying Light, the third full-length by Antony and the Johnsons, seems to offer a view of a being enveloped in both ecstasy and agony -- or does it? The songs contained here offer something else: a glimpse of a universe beyond the pale of vision, seen only by the individual experiencing it. Neo-classical underpinnings are entwined lovingly with broken pop songs and secretive after-hours cabaret poems. Check the opener, "
Her Eyes Are Underneath the Ground
". The piano and cello fall together as one slow dancer, alone in the spotlight, keeping memory as time: "In the garden, with my mother/I stole a flower/With my mother, in her power/I chose a flower/I saw six eyes glistening in my womb/I felt you calling me in the gloom/Rest assured your love is pure...." The power of Mother Nature as it echoes inside the individual with all of its power and impersonal tenderness is embraced, accepted for what it teaches as well as what it offers. Elsewhere, on the gorgeous chamber pop of "
Epilepsy Is Dancing
", terror, power, and beauty are wrapped as one entity: "Epilepsy is dancing/She's the Christ now departing/And I'm finding my rhythm/As I twist in the snow...Cut me in quadrants/Leave me in the corner/Oh now it's passing/Oh now I'm dancing." Curse and blessing, sacrament and damnation. Other standouts, including the utterly gorgeous, elliptical "
One Dove
" and the single "
Another World
", reflect similar themes, though always from the projection of the most hidden flicker that seeks union with a larger illumination. Certainly this is spiritual, but it is not limited to that because it also exists in the physical world. Death is the constant undercurrent, but it's not so much morbid as another shade of the verdant universe. "
Kiss My Name
" is the hinge track, in waltz time with lovely reeds and violins, skittering with a drum kit -- it is both an anthem of love to life itself and a self-penned epitaph in advance. "
Aeon
" sounds like
Brian Ferry
over a loop from
Otis Redding
´s I´ve Been Loving You Too Long. Whatever hopes you held in the aftermath of I Am a Bird Now, they have been exponentially exceeded in poetry, music, and honesty here.
2 Nick Cave and the Bad Seeds - No More Shall We Part
(2001)
Two musical directors -- the ubiquitous Mick Harvey and Dirty Three violinist Warren Ellis -- craft a sonic atmosphere whose textures deepen and widen Cave's most profound and beautiful lyrics to date. The ballads have the wide, spacious, sobering ambience one has come to expect from the Bad Seeds. There is an ethereal change in sound in the up-tempo numbers, which are, for lack of better terminology, musical novellas. They plumb the depths of blues, yet contain glissando and crescendos from the orchestral music of composers such as Fartein Valen and Olivier Messiaen. "God Is in the House"; songwriters, poets, story tellers, film makers - pay attention....this is how you do it! There are places, such as in "Oh My Lord," where rock & roll is evoked as a device, but this isn't rock music. A listen to "As I Sat Sadly by Her Side","Hallelujah," and the aforementioned track (the most "rock" song here) will attest that it is merely one color on a musical palette that is more expansive now than at any time in the band's history. Also in the band's musical treasure trove is the addition of Kate & Anna McGarrigle on backing vocals - nowhere is their contribution more poignant than on the tenderly daunting, haunted house that is "Love Letter," Lyrically, and as a vocalist, Cave has undergone a startling, profound metamorphosis. Gone is the angry, humorous cynic whose venom and bile touched even his lighter moments. His deep taunting ambivalence about Jesus Christ and Christianity in general is gone, vanished into a maturity that ponders spiritual things contemplatively. Humor that pokes fun "churchianity" remains, but not as a source of its inspiration. If this album is about anything, it is about love's ability to survive in the world. It is examined concretely and abstractly; to the point where it meditates on this theme even cinematically. His methodology for the listener is, even though these are intimate conversations, the effect is illustrated in widescreen. In this way, Cave touches the heart in the same way Andrei Tarkovsky's films Stalker and The Sacrifice and Wim Wenders' Wings of Desire do.
3 The White Stripes - Elephant
(2002)
It's the first album they've recorded for a major label, and it sounds even more pissed-off, paranoid, and stunning than its predecessor. Darker and more difficult than White Blood Cells, the album offers nothing as immediately crowd-pleasing or sweet as "
Fell in Love With a Girl
" or "
We´re Going To Be Friends
", but it's more consistent, exploring disillusionment and rejection with razor-sharp focus. Chip-on-the-shoulder anthems like the breathtaking opener, "
Seven Nation Army
", which is driven by Meg White's explosively minimal drumming, and "
The Hardest Button to Button
", in which Jack White snarls "Now we're a family!" -- one of the best oblique threats since
Black Francis
sneered "It's educational!" all those years ago -- deliver some of the fiercest blues-punk of the White Stripes' career. "
there´s no home for you here
" sets a girl's walking papers to a melody reminiscent of "
Dead Leaves and the Dirty Ground
" (though the result is more sequel than rehash), driving the point home with a wall of layered, Queen-ly harmonies and piercing guitars, while the inspired version of "
I Just Don´t Know What To Do With Myself
" goes from plaintive to angry in just over a minute, though the charging guitars at the end sound perversely triumphant. At its bruised heart, Elephant portrays love as a power struggle, with chivalry and innocence usually losing out to the power of seduction. "
I Want To Be The Boy
" tries, unsuccessfully, to charm a girl's mother; "
You´ve Got Her in Your Pocket
", a deceptively gentle ballad, reveals the darker side of the Stripes' vulnerability, blurring the line between caring for someone and owning them with some fittingly fluid songwriting. The White Stripes know the difference between fame and success; while they may not be entirely comfortable with their fame, they've succeeded at mixing blues, punk, and garage rock in an electrifying and unique way ever since they were strictly a Detroit phenomenon. On these terms, Elephant is a phenomenal success.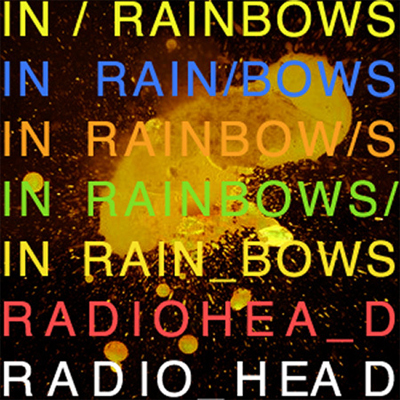 4 Radiohead - In Rainbows
(2007)
In Rainbows, as a title, implies a sense of comfort and delightfulness. Symbolically, rainbows are more likely to be associated with kittens and warm blankets than the grim and glum circumstances Radiohead is known for soundtracking. There's a slight, if expected, twist at play. The band is more than familiar with the unpleasant moods associated with colors like red, green, and blue -- all of which, of course, are colors within a rainbow -- all of which are present, and even mentioned, during the album. On a couple levels, then, In Rainbows is not any less fitting as a Radiohead album title than "Myxomatosis" is as a Radiohead song title. Despite references to "going off the rails," hitting "the bottom," getting "picked over by the worms," being "dead from the neck up," and feeling "trapped" (twice), along with Radiohead Wordplay Deluxe Home Edition pieces like "comatose" and "nightmare" -- in the same song! double score! -- the one aspect of the album that becomes increasingly perceptible with each listen is how romantic it feels, albeit in the way that one might find the bioport scenes in David Cronenberg's eXistenZ to be extremely hot and somewhat unsettling. "I'm an animal trapped in your hot car," from "
All I Need
," has to be one of the saddest, most open-hearted metaphors used to express unrequited love. "
House of Cards
" begins with "I don't want to be your friend/I just want to be your lover/No matter how it ends/No matter how it starts," and the one with the worms includes "I'd be crazy not to follow/Follow where you lead/Your eyes/They turn me." This effective weaving of disparate elements -- lyrical expressions commonly associated with the band, mixed in with ones suited for everyday love ballads -- goes for the music as well. The album is very song-oriented, with each track constantly moving forward and developing, yet there are abstract electronic layers and studio-as-instrument elements to prevent it from sounding like a regression. In Rainbows will hopefully be remembered as Radiohead's most stimulating synthesis of accessible songs and abstract sounds, rather than their first pick-your-price download.
5 Outkast - Speakerboxxx/The Love Below
(2003)
It was hard to imagine where the duo was going to go next, but one possibility that few entertained was that
Big Boi
and
Andre 3000
would split apart, each recording an album on his own and then releasing the pair as the fifth OutKast album. By isolating themselves from each other, Big Boi and Andre 3000 diminish the idea of OutKast slightly, since the focus is on the individuals, not the group. From the moment Speakerboxxx kicks into gear with "
Ghettomusick
" and its relentless blend of old-school 808s and breakneck breakbeats, it's clear that Boi is ignoring boundaries, and the rest of his album follows suit. It's grounded firmly within hip-hop, but the beats bend against the grain and the arrangements are overflowing with ideas and thrilling, unpredictable juxtapositions, such as how "
Bowtie
" swings like big-band jazz filtered through
George Clinton
, how "
The Way You Move
" offsets its hard-driving verses with seductive choruses, or how "
The Rooster
" cheerfully rides a threatening minor-key mariachi groove, salted by slippery horns and loose-limbed wah-wah guitars. It's a hell of a ride, reclaiming the adventurous spirit of the golden age and pushing it into a new era. By contrast, The Love Below isn't so much visionary as it is unapologetically eccentric. And as the cocktail jazz pianos that sparkle through the first few songs indicate, it's not much of a hip-hop album. Instead, Andre 3000 has created the great lost [artsit]Prince album, it's that Dre disregards any rules on a quest to create his own interior world, right down to a dialogue with God. The difference between Andre 3000 and Prince is in that dialogue, too: Prince was tortured; Andre is trying to get laid. That cheerfully randy spirit surges through The Love Below, even on the spooky-serious closer, "
A Life In The Day Of Benjamin Andre
", and it gives Andre the freedom to try a little of everything, from mock crooning on "
Love Haters
" to a breakbeat jazz interpretation of "
My Favorite Things
" to the strange one-man funk of "
Roses
" and the incandescent "
Hey Ya!
", where classic soul and electro-funk coexist happily. So, both records are very different, but the remarkable thing is, they both feel thoroughly like OutKast music. Big Boi and Andre 3000 took off in different directions from the same starting point, yet they wind up sounding unified because they share the same freewheeling aesthetic, where everything is alive and everything is possible within their music. That spirit fuels not just the best hip-hop, but the best pop music, and both Speakerboxxx and The Love Below are among the best hip-hop and best pop music released this decade. Each is a knockout individually, and paired together, their force is undeniable.
6 U2 - All That You Can't Leave Behind
(2000)
The title signifies more than it seems, since the group sifts through its past, working with
Daniel Lanois
and
Brian Eno
, all in an effort to construct a classicist U2 album. Thankfully, it's a rock record from a band that absorbed all the elastic experimentation, studio trickery, dance flirtations, and genre bending of Achtung, Zooropa, and Pop -- all they've shed is the irony. U2 choose not to delve as darkly personal as they did on Achtung or Zooropa, yet they also avoid the alienating archness of Pop, returning to the generous spirit that flowed through their best '80s records. On that level, All may be reminiscent of The Joshua Tree, but this is a clever and craftsmanlike record, filled with nifty twists in the arrangements, small sonic details, and colors. U2 take subtle risks, such as their best pure pop song ever with "
Wild Honey
"; they're so self-confident they effortlessly write their best anthem in years with "
Beautiful Day
"; they offer the gospel-influenced "
Stuck In A Moment You Can´t Get Out Off
," never once lowering it to the shtick it would have been on Rattle and Hum.
In a Little While
refer to a hangover which describes a person trying to get home drunk. However, Bono has noted in live performances that it became a gospel song after he heard that
Joey Ramone
, the iconic front man of the legendary punk band,
The Ramones
, listened to this song as his final one on his deathbed. In the gorgeous "
Kite
" Bono sings with powerful emotion on his voice "The last of the rockstars, when hip hop drove the big cars...In the time when new media, was the big idea". The closing track "
Grace
is a mellow and sweet dripping with soul track. Like any work from craftsmen, All That You Can't Leave Behind winds up being a work of modest pleasures, where the way the verse eases into the chorus means more than the overall message, and this is truly the first U2 album where that sentiment applies -- but there is genuine pleasure in their craft, for the band and listener alike.
7 Animal Collective - Merriweather Post Pavilion
(2009)
Animal Collective have brought the celestial down to earth with each record, but they've never sounded simultaneously otherworldly and approachable quite like they do on Merriweather Post Pavilion. Their eighth studio LP, it finds them at their best -- straining farther away from conventional song structure and accompaniment, even while doubling back to reach lyrical themes and modes of singing at their most basic or child-like. Where before AC expertly inserted experimental snippets into relatively straight-ahead songs, Merriweather Post Pavilion sees them reach some kind of denouement where pop music ends and pure sonic experience begins -- the sound is the only structure. Dismantling the framework of a pop song almost entirely (but using recurring passages in a very poppy way), the group offer a series of overlapping circular elements, all of which occasionally come together for a chorus but then break apart just as quickly. The music itself, at least what's describable about it, consists of deep bass pulses and art-damaged guitars with overlapping vocal harmonies that rise in a holy chorus. This may sound much like previous Animal Collective highlights, but where those records seemed like a series of accidental masterpieces -- the type of work that sounds brilliant only because it's been culled from hundreds of hours of tape -- Merriweather Post Pavilion is a perfectly organized record, not a note out of place, not a second wasted. It has the excitement and energy of Sung Tongs, the ragged sonic glory of Feels, and Strawberry Jam's ability to make separate parts come together in a glorious whole. Like the best experimental rockers surging toward nirvana -- from
The Beach Boys
to
Mercury Rev
-- Animal Collective have not only created a private soundworld like none other, they've also made it an inviting place to visit.
8 LCD Soundsystem - Sound Of Silver
(2007)
Compared to the first LCD Soundsystem album, Sound of Silver is less silly, funnier, less messy, sleeker, less rowdy, more fun, less distanced, more touching. It is just as linked to James Murphy's record collection, with traces of post-punk, disco, Krautrock, and singer/songwriter schlubs, but the references are evidently harder to pin down; the number of names dropped in the reviews published before its release must triple the amount mentioned throughout "Losing My Edge." There's even some confusion as to which version of
David Bowie
is lurking around. One clearly evident aspect of the album is that Murphy has streamlined his sound. All the jagged frays have been removed, replaced by a slightly tidier approach that is more direct and packs more punch. Murphy comes across as a fully naturalized producer of dance music -- especially on "
Get Innocuous!
" -- as opposed to a product of '90s indie rock who has made a convincing switch-up. And yet, the album's best song is sad, should not be played in any club, and it at least matches the work of any active songwriter who has been praised. "
Someone Great
", a bittersweet pop song built on swelling synthesizers and a dual vocal-and-glockenspiel melody, could definitely be about a devastating breakup ("To tell the truth I saw it coming/The way you were breathing"), at least until "You're smaller than my wife imagined/Surprised you were human," which could mean the song either took a turn for the absurd or is about the death (and funeral) of a loved one. Either way, it is the most moving song Murphy has made, and it only helps further the notion that he should be considered a great songwriter, not simply a skilled musician with a few studio tricks and the occasional clever quip. The closer, "
New York, I Love You But You're Bringing Me Down
", seals it: "New York, you're perfect, oh please don't change a thing/Your mild billionaire mayor's now convinced he's a king/And so the boring collect -- I mean all disrespect/In the neighborhood bars I'd once dreamt I would drink." If he keeps it up, he'll be writing songs for Pixar by 2020.
9 Portishead - Third
(2008)
Their cold, stark uniqueness isn't due to a continuing reliance on the cinematic textures of Dummy, although there are echoes of that here on the slow-crawling album openers "
Silence
" and "
Hunter
", songs just familiar enough to act as reminders of how Portishead are special, yet just different enough to serve notice that the trio is engaged with the present, even if they've happily turned into isolated recluses, working at a pace utterly divorced from the clattering nonsense of the digital world. Third is resolutely not an album to be sampled in 30-second bites or to be heard on shuffle; a quick scan through the tracks will not give a sense of what it's all about. It demands attention, requiring effort on the part of the listener, as this defies any conventions on what constitutes art pop apart from one key tenant, one that is often attempted yet rarely achieved: it offers music that is genuinely, startlingly original. Surprises are inextricably intertwined throughout Portishead. There are jarring juxtapositions and transitions, as how the barbershop doo wop of "
Deep Water
" sits between those twin towers of tension of "
We Carry On
" and "
Machine Gun
," the former riding an unbearably relentless two-chord drone while the latter collapses on the backs of warring drum machines. Echoes of Krautrock and electronica can be heard on these two tracks, but that very description suggests that Third is conventionally experimental, spitting out the same hipster references that have been recycled since 1994, if not longer. As thrilling as it is to hear the past and present collide when "
Plastic
" is torn asunder by cascading waves of noise, Third doesn't linger in these clattering corners, as such cacophony is countered by the crawling jazz of "Hunter" and the sad, delicate folk of "
The Rip
," but a marvelous thing about the album is that there's no balance. There is a flow, but Portishead purposely keep things unsettled, to the extent that the tonal shifts still surprise after several listens.
10 Ray LaMontagne - 'Till The Sun Turns Black
(2006)
If it weren't for his singing voice, so full of smoke and ether, one would be hard-pressed to believe that Till the Sun Turns Black was made by the same man who recorded Trouble just two years prior. Ray LaMontagne takes a brave leap from the rootsy singer/songwriter material of his debut album and does a 180. All the grit and earth in LaMontagne's voice on Trouble, and the basic country-folk and R&B has been swept out like ashes in the morning here. This new set is startling. The reliance on skeletal, delicate string arrangements adds much to the interior nature of these songs. LaMontagne has used the projection in his lyrics and his voice and turned them inside out. He's slower, more subtle, more restrained everywhere here. His lines are economical, full of space and tension, as if they were being performed alone in a room in the middle of the night. Check LaMontagne's opener, "
Be Here Now
" with the guitar finding its way toward the singer as a quartet of violins, two cellos, and a bowed bass emerge to support his voice in the void of silence Johns creates around it. Johns' piano fills in odd spaces. They don't seem to add up, but they do when LaMontagne's vocal whispers its way forward into that small swelling shadow. On the bluesy "
You Can Bring Me Flowers
" a horn section is used to highlight and extol LaMontagne's tough lyrics; but there is more Tim Buckley and Tom Rush here than Otis Redding or Sam Cooke, but it's all LaMontagne. The jazzy flute and funky dobro don't sound like country, but more like country-blues from an earlier time. By contrast, the whispering acoustic guitars and strings in the title cut are frames to fit a voice inside, and LaMontagne's does; then shatters it when confessed emotion blurs then shatters the edges. These are songs no one else can sing. LaMontagne's sense of phrase and rhyme are idiosyncratic, never overbearing; he allows the listener into his world, slowly, deliberately; his observations and nearly overwhelming emotion are too big to keep to himself -- as the strings swell, all he can do is moan, then nearly growl, wordlessly. Till the Sun Turns Black is a giant leap forward. LaMontagne reveals himself to be a sophisticated pop artist who can find in simple forms something utterly engaging and communicative. This record could have been made 20 years ago but in another two decades will still sound fresh.
11 Johnny Cash - American III: Solitary Man
(2000)
The Man In Black shows hints of gray on American III: Solitary Man, his first studio album since being diagnosed with Parkinson's disease in 1997. While the inevitability of aging has been the downfall of many of his contemporaries, ending usually in dismissal and often in death, Johnny Cash's dark convictions and powerful presence have gone from rough hardwood to solid stone. The stark beauty of his 1994 release American Recordings and the warm, friendly collaborations on 1996's Unchained combine on this album to create two distinct moods: one of living room jam sessions with invited friends, and another of stark solo (and near-solo) songs highlighting Cash's years and stories. Like his two previous studio albums, Solitary Man is sparsely produced by Rick Rubin, and continues the themes of love, faith, and loneliness that their previous collaborations have chillingly embraced. Partnering once again with
Tom Petty
, the two join together on Petty's own "
I Won't Back Down
" and the
Neil Diamond
-penned title track. Cash also lays his lonesome hands on U2's "
One
" and reunites with fellow outlaw
Merle Haggard
on the stubborn "
I'm Leavin' Now
", which could serve as the soundtrack for the notorious photo of Cash's sneering middle finger published in Billboard after his Grammy award. These duets and well-known covers show an inviting side of Johnny Cash. But the real highlights of the album are those reminiscent of his American Recordings songs; they feature just the man and his guitar, with nothing else to clutter the story. The creaks and despair of the vaudeville song "
Nobody
" tell of a man who has become hardened by his solitude, while the
Palace
hymn "
I See a Darkness
" soars with the passion of a thousand gospel choirs, even though there are only two men singing.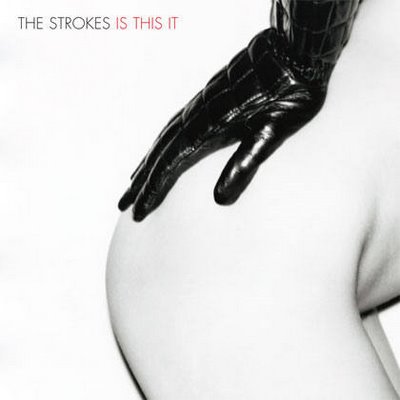 12 The Strokes - Is This It
(2000)
Blessed and cursed with an enormous amount of hype from the British press, the Strokes prove to be one of the few groups deserving of their glowing reviews. Granted, their high-fashion appeal and faultless influences --
Television
,
The Stooges
, and especially
The Velvet Underground
-- have "critics' darlings" written all over them. But the Strokes don't rehash the sounds that inspire them -- they remake them in their own image. On Is This It, the N.Y.C. group presents a pop-inflected, second-generation take on late-'70s New York punk, complete with raw, world-weary vocals, spiky guitars, and an insistently chugging backbeat. However, their songs also reflected their own early-twenties lust for life; singer/songwriter/guitarist
Julian Casablancas
and the rest of the band mix swaggering self-assurance with barely concealed insecurity on "
The Modern Age
" and reveal something akin to earnestness on "
Barely Legal
" -- a phrase that could apply to the Strokes themselves -- in the song's soaring choruses. The group combines their raw power and infectious melodies on "
Hard to Explain
", arguably the finest song they've written in their career. Nearly half of Is This It consists of their previously released material, but that's not really a disappointment since those songs are so strong. What makes their debut impressive, however, is that the new material more than holds its own with the tried-and-true songs. "
Is This It
" sets the joys of being young, jaded, and yearning to a wonderfully bouncy bassline; "
Alone Together
" and "
Trying Your Luck
" develop the group's brooding, coming-down side, while "
Soma
", "
Someday
" and "
Take It or Leave It
" capture the Strokes at their most sneeringly exuberant. Able to make the timeworn themes of sex, drugs, and rock & roll and the basic guitars-drum-bass lineup seem new and vital again, the Strokes may or may not be completely arty and calculated, but that doesn't prevent Is This It from being an exciting, compulsively listenable debut when those are few and far between.
13 Nick Cave and the Bad Seeds - Abattoir Blues/The Lyre of Orpheus
(2004)
Abbatoir Blues/The Lyre of Orpheus is a double CD or, rather, two completely different albums packaged in one very handsome box with a stylish lyric booklet and subtly colored pastel sleeves. "
Cannibal's Hymn
" begins as a love song musically; it's chocked with Cave's dark wit and irony and ends far more aggressively while retaining its melody. The single, "
Nature Boy
", finds itself on Jim Scalvunos' big beat. Cave and his piano use love's irony in contrast with cheap innuendo as underlined by the choir in their best soul croon. "
Let Them Bells Ring
" is a most dignified and emotionally honest tribute to Johnny Cash and the world he witnessed. The Western wrangle of "
There She Goes, My Beautiful World
" references
Ennio Morricone
's desert cowboy groove against a swirling cacophony of drums, bashing piano, and the chorus swelling on the refrain, while Cave name drops
Johnny Thunders
and poet Philip Larkin. The pace is fantastic; its drama and musical dynamics are pitched taut, with lulls in all the right places. The Lyre of Orpheus, by contrast, is a much quieter, more elegant affair. It is more consciously restrained, its attention to craft and theatrical flair more prevalent. But that doesn't make it any less satisfying. The title track, "
The Lyre of Orpheus
", tells the myth's tale in Cave's ironical fashion, where God eventually throws a hammer at the subject and Eurydyce threatens to shove his lyre up his nether orifice.
Warren Ellis
' swampy bouzouki and Thomas Wydler's more stylized drumming move the band in the tense, skeletal swirl where chorus and Cave meet the music in a loopy dance. But in "
Breathless
" the bard of the love song emerges unfettered at the top of his poetic gift. On "
Babe you turn me on
" he wraps a bawdy yet tender love song in a country music waltz to great effect. But on this album, along with the gentleness, is experimentation with textures and wider dimensions. The sparser sound is freer, less structured; it lets time slip through the songs rather than govern them -- check the wall of Ellis' strings married to a loping acoustic guitar on the moving "
Carry Me
" as an example. Cave's nastiness and wit never remains absent for long, however, and on "
O Children
", the album's closer, it returns with this skin-crawlingly gorgeous ballad of murder and suicide. This set is an aesthetic watermark for Cave, a true high point in a long career that is ever looking forward.
14 Jill Scott - Who Is Jill Scott?
(2000)
Though start-up label Hidden Beach and its manufacturer/distributor Sony may have been hoping for another
Lauryn Hill
in this eloquent young African-American from a Middle Atlantic state, Jill Scott turns out to be something of a hip-hop
Patti Smith
, a street poet who, on her first album, hasn't quite made the transition from spoken word performances to music, despite an excellent singing voice. With any luck, she will retain her sense of the power of words, since the best parts of this album are the ones when she lets fly, drunk on her verbal virtuosity. Producer Jeff Townes (of
Dj Jazzy Jeff and The Fresh Prince
fame) and his team of associates from the A Touch of Jazz production company set up sympathetic musical backgrounds for Scott that support her without requiring her to fit her spoken and sung excursions into strict meter. That gives her range to pursue her interests, which include a strong sense of her north Philadelphia neighborhood and such idiosyncratic concerns as food, with many meals listed in detail. But the album has a story to tell, and for the most part it is a love story. Scott describes a relationship from many different angles, including an encounter with her boyfriend's ex in a super market ("
Exclusively
") and her warnings to that girl (or some other) to stay away ("
Gettin' in the Way
"). She also breaks painfully from an old boyfriend in favor of the new one ("
I Think It's Better
"), but mostly she celebrates the relationship ("
A Long Walk
," "
He Loves Me (Lyzel In E Flat)
," "
It's Love
," "[track artist=Jill Scott]The Way]/track]"). This narrative structure gives Scott ample room to express a variety of emotions and to display her "verbal elation." Like many poets, she sometimes delights in a torrent of words for their own sake, but it's hard to fault her when the result is such a fully articulated world view.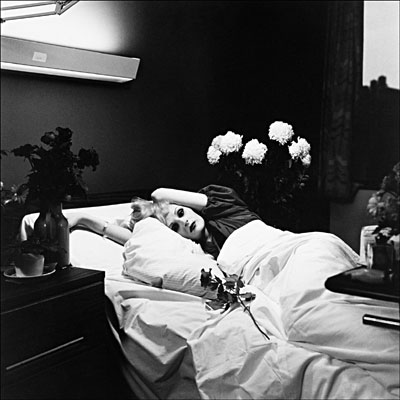 15 Antony and the Johnsons - I Am a Bird Now
(2005)
Antony and the Johnsons' second full-length recording, the haunting and affecting I Am a Bird Now, is a far more intimate affair than their debut. Antony's bluesy parlor room cadence is more upfront here, resulting in a listening experience that's both exhilarating and disquieting. "Hope There´s Someone" is a somber opener, and its plea for companionship, augmented by a sparse piano/vocal arrangement that rises into the air by song's end in a swirl of multi-tracked harmonies, is ultimately uplifting. This formula is applied to much of the record and never ceases to elicit honest emotion from either Antony or his numerous guests. Rufus Wainwright takes the lead on "What Can I Do?" a languid meditation on death that conjures up images of rainy streets, lonely lampposts, and cigar smoke -- it's brief (under two minutes) but alluring like the cover of a Raymond Chandler novel. Boy George joins Antony for a duet on the soulful and empowering "You Are My Sister", Devendra Banhart lends his warbly tenor to the lush "spiraling" and Lou Reed plays noodly guitar and recites an anonymous poem on the mischievous "Fistfull Of Love". It's a testament to Antony's skill as a writer and arranger that these guest appearances are completely devoid of pretense, and while each artist is reverent to the source material, it's still Antony's show, as the most powerful moments on I Am a Bird Now are his.
16 Wilco - Yankee Hotel Foxtrot
(2002)
The long-anticipated Yankee Hotel Foxtrot continues their genre-jumping and worthwhile experimentation. The sprawling, nonsensical "
I Am Trying to Break Your Heart
" is as charmingly bleak as anything Tweedy has written to date, while the positively joyous "
Heavy Metal Drummer
" jangles through bright choruses and summery reminiscences. Similarly, "
Kamera
" dispels the opening track's gray with a warm acoustic guitar and mixer/multi-instrumentalist/"fifth Beatle" Jim O'Rourke's unusual production. The true high points of the album are when the songwriting is at its most introspective, as it is during the heartwrenching "
Ashes of American Flags
", which takes on an eerie poignancy in the wake of the attacks at the World Trade Center. "All my lies are always wishes," Tweedy sings, "I know I would die if I could come back new." As is the case with many great artists, the evolution of the band can push the music into places that many listeners (and record companies for that matter) may not be comfortable with, but, in the case of Wilco, their growth has steadily led them into more progressive territory. While their songs still maintain the loose intimacy that was apparent on their debut A.M., the music has matured to reveal a complexity that is rare in pop music, yet showcased perfectly on Yankee Hotel Foxtrot.
17 Andrew Bird - The Mysterious Production of Eggs
(2005)
As always, Bird has enlisted the help of drummer Kevin O'Donnell and vocalist Nora O'Connor (the remnants of Bird's backing band
Andrew Bird´s Bowl of Fire
) throughout, as well as a few guests here and there, but as stated, Mysterious Production of Eggs does reinstate some of the full-band feel showcased on Swimming Hour. The majority of this comes from Bird's exploration of the guitar, an instrument until now he had yet to record himself playing. The most noticeable influence of this is the opening vocal track, "
Sovay
" which contains almost no violin adornment at all in exchange for a pair of finger-picked acoustic guitars, Rhodes, vibraphone, and drums. For the most part Mysterious Production of Eggs remains as a very laid-back affair, save the few explosive moments of tracks like"
Fake Palindromes
" and "
Opposite Day
" both ultra-compressed and urgent numbers alluding to something the
The Flaming Lips
could have stumbled across at a practice session. Also exciting about Mysterious Production of Eggs is Bird's first hearty employ of vocal multi-tracking, an unsurprising update considering Bird's and O'Connor's amazing vocal abilities and instinctive interplay. The result is an utterly mesmerizing and magnetic album, almost unfair in how incredibly ambitious and impressively pulled off the whole thing is. Of course, the release of Mysterious Production of Eggs brings to mind the unfair question, "What could possibly come next?" before the album has had the chance to even completely sink into its own place in Andrew Bird's baffling catalog.
18 Sigur Rós - Takk...
(2005)
A strange thing happens before the two-minute mark in "
Saeglopur
". All the twinkling and cooing erupts, at what might seem like eight minutes earlier than normal, into a cathartic blast of tautly constructed group noise -- or, as those who prefer songs and motion over moods and atmospheres might say, "The good part comes." "Saeglopur" is emblematic of Sigur Rós' fourth album, released nearly three years (!) after ( ). Nothing resembles a drone, and no part of it could be described as funereal. Even so, Takk... is still very much a Sigur Rós album, due in large part to the ever-present otherworldly vocals, but also because the only real changes are the activeness of some arrangements -- arrangements that deploy a familiar combination of bass, drums, piano, vocals, lots of strings, and some horns -- and some of the colors that are used. Despite opening with what sounds like a happy walk through a snow bank, the album is just as suited for a sunlit spring morning as ( ) was suited for a winter trudge across a foggy moor, so in that sense, it isn't a repeat and is more tactile than illusory, but it's not likely to win over anyone who suddenly felt an index finger push against the back of his throat while hearing "Svefn-G-Englar" for the first time. And it's not as if the band is suddenly writing three-minute pop songs, either. Half of the album's tracks are longer than six minutes, with extended cresting, sudden bursts of action, and a couple particularly fragile moments that seem to be on the brink of melting away. One thing to consider when wondering whether or not this band has changed in any way: they've gone from providing the background music to death announcements to "
Sé Lest
", a fluttering children's lullaby that is briefly crashed by an even more gleeful oom-pah-pah brass band.
19 Bonnie 'Prince' Billy - The Letting Go
(2006)
Will Oldham
has usually preached the gospel of less-is-more, but after an own-covers record that emanated from the belly of Nashville itself (Bonnie Prince Billy Sings Greatest Palace Songs), followed by a collaboration with guitarist
Matt Sweeney
and a churning live record (Summer in the Southeast), his work began to seem positively indulgent. The Letting Go is not quite as far a stretch, but it is yet another intriguing departure. Granted, its approach would strike most bands as skeletal, but compared to his last solo album of originals, 2003's
Master and Everyone
, it sounds downright gaudy. It was recorded in Iceland with a producer, Valgeir Sigurosson, who gets more out of Oldham's voice and songs than has ever been heard on record. Oldham's harmony companion,
Dawn McCarthy
from
Faun Fables
, takes a much larger role than her predecessor on Master and Everyone, and her credit for harmony arrangements tells you everything you need to know about how important she is to the success of this album. Oldham's songwriting is breathtaking, close to the best of his career, although little changed from the norm -- his surreal, fatalistic take on Americana Gothic. "
Cursed Sleep
" is especially wonderful, with a string arrangement that harks back to
Nick Drake
's "Way to Blue," haunted vocals from McCarthy the chanteuse far in the background, and a set of lyrics that build up to a tragic peak ("Cursed love is never ended, cursed eyes are never closing, cursed arms are never closing, cursed children never rising, cursed me never despising"). To the other extreme is "
Cold & Wet
", a downright jaunty (despite the lyrics), fingerpicked blues of the type that
Mississippi John Hurt
would have recorded for Vanguard in the mid-'60s, and percussion from
Dirty Three
drummer Jim White that could be confused with electric drums or the worst recorded organic drum set ever heard. Truth to tell, since the quality of Oldham's songwriting has rarely wavered, the excellent arrangements and McCarthy's contributions make The Letting Go the best of his career to this point.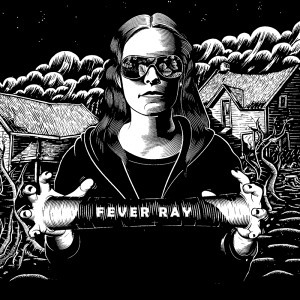 20 Fever Ray - Fever Ray
(2009)
At first, it's a little difficult to determine where
The Knife
ends and Fever Ray begins. On paper, it's clear -- the Knife is the project of Karin Dreijer and her brother Olof, while Fever Ray is Karin with co-producers Christoffer Berg, Van Rivers, and the Subliminal Kid -- but the differences aren't as distinct when listening to Fever Ray the first few times. Initially, the album's dark, frosty atmosphere feels like a continuation of the Knife's brilliant
Silent Shout
, and the oddly bouncy rhythms on songs like "
Triangle Walks
" and "
Coconut
" recall the duo's exotic-yet-frozen Nordic/Caribbean fusion. Eventually, though, Fever Ray reveals itself as far darker and more intimate than anything by the Knife. The Knife's spooky impulses are usually tempered by vivid pop instincts that Fever Ray replaces with a consistently eerie mood, particularly on "
Concrete Walls
". However, Fever Ray's mix of confessional lyrics and chilly, blatantly synthetic and often harsh sounds make this album as successful an electronic singer/songwriter album as Björk's Homogenic. These are some of the most alluring and disturbing songs Dreijer has been involved in making: the excellent album opener "
If I Had a Heart
" explores possibly inhuman need with a churning, almost subliminal synth and murky bass driving Dreijer's pitch-shifted vocals; when her untreated voice comes in, keening "will I ever ever reach the floor?" she sounds even more frail and desperate by comparison. Dreijer further expands on the storytelling skills she developed on Silent Shout: the characters in her songs feel even more resonant and unique, especially on "
When I Grow Up
", which is as fascinatingly fragmented as a child's train of thought, skipping from sentiments like "I'm very good with plants" to "I've never liked that sad look by someone who wants to be loved by you." At times, Fever Ray threatens to become a little too mysterious, but it never sounds less than intriguing, from the layers of claps and castanets that make up the beat on "
I´m Not Done
" to "
Keep the Streets Empty for Me
"´s almost imperceptible guitars. With almost tangible textures and a striking mood of isolation and singularity, Fever Ray is a truly strange but riveting album.
21 Tinariwen - Aman Iman: Water Is Life
(2007)
Hand it to Tinariwen. Like the nomads they are, they don't stand still musically. On their third album (the title translates as Water Is Life), they keep the root intact, the desert blues still at the heart of all they do, but this builds upon what they achieved on their superb sophomore disc, happily restless and unafraid of walking down new paths. However, although they're rightly lauded for their widescreen blues sound, what emerges most here is something they hinted at on the last record -- they're a remarkable rock & roll band, too. The guitars, locked together in rhythm and lead, create a glorious syncopated noise that puts most rockers to shame. But there's a wonderful looseness to the sound (kudos to producer Justin Adams), in part due to the fact that these tracks were all recorded over just two weeks, a tiny time frame by today's standards. Recorded in the Malian capital of Bamako, these songs arrive with dust on their boots and a little thirsty. The studio touches are subtle, a little on the effects here and there, but never detract from the music -- which even features old member
Mohammed Ag Itlale
, whose voice and guitar can be heard on several tracks.
22 Ricardo Villalobos - Alcachofa
(2003)
It's wholly appropriate that this album is titled Alcachofa (Spanish-to-English translation: artichoke). If the kind of vivid house you hear blaring in the hip clothing store is an apple, giving the mouth an instant burst of flavor the moment the teeth puncture its skin, then the microhouse of Ricardo Villalobos is more like an artichoke -- a more subtle fruit that's consumed by peeling off its fleshy leaves and delicately skimming the pulp off the inner surface. Out of all the microhouse producers, Villalobos is the one who has thrived the most on skeletal structures and the slight but all-important subtleties that accompany them. That continues here, with burbling, spacious constructs swarming all throughout your headspace. The best example of his rank as a supreme sound designer is the opening "
Easy Lee
", the faintly claustrophobic ten-minute opener. The manner in which the pattering percussion and queasy vocal refrain are treated is likely to make you feel as if you're being held in a sac that stores some sort of viscous fluid. Unlike most house, there isn't a great sense of redemption, spirituality, or joy in Villalobos' productions. In fact, the overriding moods are slightly nervous and pensive more than anything else, despite the elongated grooves and absence of agitations. And while these tracks fall in line with the remainder of his discography, as tracks that are destined to be caned during DJ sets, they are also more likely to be utilized in home-listening settings. Villalobos could've easily thrown together a compilation of previously vinyl-only highlights that would've made for one of the best dance full-lengths of 2003. Instead, he came up with this almost entirely new set, and the result is exactly the same. He is in complete control of his machines at all times, and he makes them do strange things that no one else can.
23 Amy Winehouse - Back to Black
(2006)
The story of Back to Black is one in which celebrity and the potential of commercial success threaten to ruin Amy Winehouse, since the same insouciance and playfulness that made her sound so special when she debuted could easily have been whitewashed right out of existence for this breakout record. Although Back to Black does see her deserting jazz and wholly embracing contemporary R&B, all the best parts of her musical character emerge intact, and actually, are all the better for the transformation from jazz vocalist to soul siren. With producer
Salaam Remi
returning from
Frank
, plus the welcome addition of
Mark Ronson
, Back to Black has a similar sound to Frank but much more flair and spark to it. Winehouse was inspired by girl group soul of the '60s, and fortunately Ronson and Remi are two of the most facile and organic R&B producers active. As before, Winehouse writes all of the songs from her experiences, most of which involve the occasionally riotous and often bittersweet vagaries of love. Also in similar fashion to Frank, her eye for details and her way of relating them are delightful. She states her case against "
Rehab
" on the knockout first single with some great lines: "They tried to make me go to rehab I won't go go go, I'd rather be at home with Ray" (
Ray Charles
, that is). As often as not, though, the songs on Back to Black are universal, such as "
Love Is a Losing Game
" or the title song
Back to Black
("We only said good bye with words, I died a hundred times/You go back to her, and I go back to black").
24 Devendra Banhart - Cripple Crow
(2005)
Cripple Crow marks a departure for Devendra Banhart. It's obvious from the faux Sgt. Pepper-meets-Incredible String Band freak scene cover photo that something is afoot. The disc is Banhart's first foray from Michael Gira's Young God label, and it's more adventurous than anything he's done before. This is not to imply that the set is a slick, over-produced affair, but it is a significant change. The instrumental, stylistic, and textural range on this 23-song set is considerably wider than it's been in the past. Working with Noah Georgeson and Thom Monahan, a backing band of friends known as "the Hairy Fairies", Banhart's crafted something expansive, colorful, and perhaps even accessible to a wider array of listeners. There are layered vocals and choruses of backing singers, as well as piano and flutes on the gorgeous "
I Heard Somebody Say
", while the electric guitar and drums fuelling "
Long Haired Child
", with its reverb-drenched backing vocals, is primitive, percussive, and dark. There is also the 21st century psychedelic jug band stomp of the second single, "
I Feel Just Like a Child
", that crosses the nursery rhyme melodics of Mississippi John Hurt with the naughty boy swagger of Marc Bolan. There are also five songs in Spanish, Banhart's native tongue, in a style that's a cross between flamenco and son. The title cut, "
Cripple Crow
", is one of the most haunting anti-war songs around. In it, Banhart places a new generation in the firing line, and urges them to resist not with violence, but with pacifistic refusal. A lone acoustic guitar, hand drums, a backing chorus, and a lilting, muted flute all sift in with one another to weave a song that feels more like a prayer. The lone cover here, of Simon Diaz's "
Luna De Margaerita
," drips with the rawest kind of emotion. Ultimately, Cripple Crow is a roughly stitched tapestry; it is rich, varied, wild, irreverent, simple, and utterly joyous to listen to.
25 Bon Iver - For Emma, Forever Ago
(2008)
Bon Iver is the work of
Justin Vernon
. He isolated himself in a remote cabin in Wisconsin for almost four months, writing and recording the songs on For Emma, Forever Ago, his haunting debut album. A few parts (horns, drums, and backing vocals) were added in a North Carolina studio, but for the majority of the time it's just Vernon, his utterly disarming voice, and his enchanting songs. The voice is the first thing you notice. Vernon's falsetto soars like a hawk and when he adds harmonies and massed backing vocals, it can truly be breathtaking. "
The Wolves (Acts I & II)
" truly shows what Vernon can do as he croons, swoops, and cajoles his way through an erratic and enchanting melody like
Marvin Gaye
after a couple trips to the backyard still. "
Skinny Love
" shows more of his range as he climbs down from the heights of falsetto and shouts out the angry and heartachey words quite convincingly. Framing his voice are suitably subdued arrangements built around acoustic guitars and filled out with subtle electric guitars, the occasional light drums, and slide guitar. Vernon has a steady grasp of dynamics too; the ebb and flow of "
Creature Fear
" is powerfully dramatic and when the chorus hits it's hard not to be swept away by the flood of tattered emotion. Almost every song has a moment where the emotion peaks and hearts begin to weaken and bend: the beauty of that voice is what pulls you through every time. For Emma captures the sound of broken and quiet isolation, wraps it in a beautiful package, and delivers it to your door with a beating, bruised heart. It's quite an achievement for a debut and the promise of greatness in the future is high.
26 Modest Mouse - The Moon & Antarctica
(2000)
Modest Mouse's Epic debut, The Moon & Antarctica, finds them strangely subdued, focusing on mortality as well as the moody, acoustic side of their music and downplaying the edgy rock that helped make them indie stars. Not that their first major-label release sounds like a sellout but occasionally The Moon & Antarctica's melancholy becomes ponderous. Unfortunately, the album's middle stretch contains three such songs, "
The Cold Part
", "
Alone Down There
" and "
The Stars Are Projectors
", which tend to blur together into one 17-minute-long piece that bogs down the album's momentum. Individually, each of these songs is sweeping and haunting in its own right, but grouping them together blunts their impact. However, this trilogy does provide a sharp contrast to, as well as a bridge across, The Moon & Antarctica's more vibrant beginning and end. Though it explores death and the afterlife, The Moon & Antarctica's liveliest moments are its most effective. "
3rd Planet
"'s simple, ramshackle melody and strange, moving lyrics ("Your heart felt good"), the elastic guitars on "
Gravity Rides Everything
" and the angular, jumpy "
Tiny Cities Made Of Ashes
" and "
A Different City
" get the album off to a strong start, while the fresh, unaffected "
Wild Packs of Family Dogs
", "
Paper Thin Walls
" and "
Lives
" bring it to an atmospheric, affecting peak before "
What People Are Made Of
" closes the album with a climactic burst of noise. Their most cohesive collection of songs to date, The Moon & Antarctica is an impressive, if flawed, map of Modest Mouse's ambitions and fears.
27 M.I.A. - Kala
(2007)
Kala and Arular are similar in that they are both wildly vigorous and wholly enjoyable albums, generous with blunt-force beats, flurries of percussion, riotous vocals (with largely inconsequential lyrics), and fearless stylistic syntheses that seem to view music from half of the planet's countries as potential source material. But Kala nearly makes Arular seem tame in comparison, magnifying most of its predecessor's qualities as it remains bracingly adventurous. While it certainly sounds like a second M.I.A. album, nothing about it is stagnant. Made in piecemeal fashion while located in several countries, Kala involves a few co-producers: U.K. "dirty house" producer
Switch
is the primary collaborator, while Baltimore club don Blaqstarr,
Diplo
, and
Timbaland
assist M.I.A. on one or a couple tracks each. Further variety is added vocally, not only through M.I.A.'s numerous modes, but also through feature spots from Nigerian
MC Afrikan Boy
and a crew of young Aborigine rappers. Roughly half the album -- including the opening three-track sequence, which incorporates Jonathan Richman's "Roadrunner," samples from two Tamil-language film soundtracks, squawking chickens, (what sounds like) yelping children, and clustered rhythmic devices that boom, stab, clap, rattle, twitter, and sometimes even prance -- is more intense than anything on Arular. The tracks are so full of chaos and jagged noise that it is disarming to reach the relatively relaxed material, especially the two tracks that resemble actual songs. "
Jimmy
" is a rather faithful cover, willfully chintzy strings and all, of a flirtatiously lovelorn neo-disco number from the '80s Bollywood film Disco Dancer. "
Paper Planes
" has a sing-songy float to it, aided by the Clash's "Straight to Hell," though it also appropriates Wreckx-N-Effect's "Rump Shaker" while replacing "zoom-a-zoom-zoom-zoom" and "boom-boom" with sounds from shotguns and cash registers. Like the remainder of the album's best moments, it recalls the late
Lizzy Mercier Descloux
, another artist who made thrilling music by mixing cultures with respectful irreverence. Perhaps some of Arular's detractors knew M.I.A. was capable of this all along
28 Arcade Fire - Funeral
(2005)
Fronted by the husband-and-wife team of Win Butler and Régine Chassagne, the Arcade Fire's emotional debut is brave, empowering, and dusted with something that many of the indie-rock genre's more contrived acts desperately lack: an element of real danger. Funeral' s mourners inhabit the same post-apocalyptic world as
Suede
's Dog Man Star; they are broken, beaten, and ferociously romantic, reveling in the brutal beauty of their surroundings like a heathen Adam & Eve.
"Neighborhood #1 (Tunnels)
", the first of four metaphorical forays into the geography of the soul, follows a pair of young lovers who meet in the middle of the town through tunnels that connect to their bedrooms. Over a soaring piano lead that's effectively doubled by distorted guitar, they reach a Lord of the Flies-tinged utopia where they can't even remember their names or the faces of their weeping parents. Butler sings like a lion-tamer whose whip grows shorter with each and every lash. "
Neighborhood #2 (Laïka)
" examines suicidal desperation through an angular
Gang of Four
prism; the hypnotic wash of strings and subtle meter changes of "
Neighborhood #4 (7 Kettles)
" winsomely capture the mundane doings of day-to-day existence; and "
Neighborhood #3 (Power Out)
", Funeral's victorious soul-thumping core, is a goose bump-inducing rallying cry centered around the notion that "the power's out in the heart of man, take it from your heart and put it in your hand." The Arcade Fire are not bereft of whimsy. "
Crown of Love
" is like a wedding cake dropped in slow motion, utilizing a
Johnny Mandel
-style string section and a sweet, soda-pop stand chorus to provide solace to a jilted lover yearning for a way back into the fold, and "
Haiti
" relies on a sunny island melody to explore the complexities of Chassagne's mercurial homeland. However, it's the sheer power and scope of cuts like "Wake Up" -- featuring all 15 musicians singing in unison -- and the mesmerizing, early-
Roxy Music
pulse of "
Rebellion (Lies)
" that make Funeral the remarkable achievement that it is. These are songs that pump blood back into the heart as fast and furiously as it's draining from the sleeve on which it beats, and by the time Chassagne dissects her love of riding "
In the Backseat
" with the radio on, despite her desperate fear of driving, Funeral's singular thread is finally revealed; love does conquer all, especially love for the cathartic power of music.
29 Björk - Vespertine
(2001)
After cathartic statements like Homogenic, the role of Selma in Dancer in the Dark, and the film's somber companion piece, Selmasongs, it's not surprising that Björk's first album in four years is less emotionally wrenching. But Vespertine isn't so much a departure from her previous work as a culmination of the musical distance she's traveled; within songs like the subtly sensual "
Hidden Place
" and "
Undo
" are traces of Debut and Post's gentle loveliness, as well as Homogenic and Selmasongs' reflective, searching moments. Described by Björk as "about being on your own in your house with your laptop and whispering for a year and just writing a very peaceful song that tiptoes," Vespertine's vocals seldom rise above a whisper, the rhythms mimic heartbeats and breathing, and a pristine, music-box delicacy unites the album into a deceptively fragile, hypnotic whole. Even relatively immediate, accessible songs such as "
It's Not Up to You
", "
Pagan Poetry
", and "
Unison
" share a spacious serenity with the album's quietest moments. Indeed, the most intimate songs are among the most varied, from the seductively alien "
Cocoon
" to the dark, obsessive "
An Echo, a Stain
" to the fairy tale-like instrumental "
Frosti
". The beauty of Vespertine's subtlety may be lost on Björk fans demanding another leap like the one she made between Post and Homogenic, but like the rest of the album, its innovations are intimate and intricate. Collaborators like Matmos contribute appropriately restrained beats crafted from shuffled cards, cracking ice, and the snap-crackle-pop of Rice Krispies; harpist
Zeena Parkins
' melodic and rhythmic playing adds to the postmodernly angelic air. An album singing the praises of peace and quiet, Vespertine isn't merely lovely; it proves that in Björk's hands, intimacy can be just as compelling as louder emotions.
30 Interpol - Turn on the Bright Lights
(2002)
One might go into a review like this one wondering how many words will pass before
Joy Division
is brought up. The music made by both bands explores the vast space between black and white and produces something pained, deftly penetrating, and beautiful. Save for a couple vocal tics, that's where the obvious parallels end. The other fleeting comparisons one can one whip up when talking about Interpol are several -- roughly the same amount that can be conjured when talking about any other guitar/drums/vocals band formed since the '90s. So, sure enough, one could play the similarity game with this record all day and bring up a pile of bands. It could be a detrimental thing to do, especially when this record is so spellbinding and doesn't deserve to be mottled with such bilge. However, this record is a special case; slaying the albatross this band has been unfairly strangled by is urgent and key. Let's: there's another Manchester band at the heart of "
Say Hello to the Angels
", but that heart is bookended by a beginning and end that approaches the agitated squall of
Fugazi
; the torchy, elegiac "
Leif Erikson
" plays out like a missing scene from the
Afghan Whigs
' Gentlemen; the upper-register refrain near the close of "
Obstacle 1
" channels
Shudder To Think
. This record is no fun at all, the tension is rarely resolved, and -- oh no! -- it isn't exactly revolutionary, though some new shades of gray have been discovered. But you shouldn't allow your perception to be fogged by such considerations when someone has just done it for you and, most importantly, when all this brilliance is waiting to overwhelm you.
31 16 Horsepower - Secret South
(2000)
Sin, salvation, deliverance, redemption, the Holy Spirit, divine intervention, and prayer; it's all in a day's work for 16 Horsepower singer/songwriter/multi-instrumentalist
David Eugene Edwards
. On their third album the band works within the unique sound it has already defined. With a voice as windswept, barren, and generally spooky, Edwards unravels 11 mini-sermons with a frightening intensity and emotional edge. When he sings, the ghostly moan that emanates sounds like he's overcome by forces beyond his control. It's that creepy voice, along with sparse but powerful instrumentation and a fire-and brimstone-lyrical slant, that separates 16 Horsepower from the rest of the alt-Americana pack. Seldom have banjos, violins, organ, and bandoneon (an old accordion that helps define the band's unique sound), let alone guitar, piano and, standup bass, seemed quite as intimidating and brooding as in the hands of this band. The songs are texturally diverse, but the dark, menacing atmosphere, especially in the stark banjo-led disc-closing "
Straw Foot
" and the pounding album opener "
Clogger
", is pervasive, giving the disc an ominous feel that rarely lets up. Their unadorned version of the traditional "
Wayfairing Stranger
", with Edwards singing through what sounds like a paper cup, could have come off an old Library of Congress album. Although they're working within a genre they practically define and this album doesn't push them in any radical new directions, Secret South is another worthy entry into the catalog of a band unafraid to explore the shadowy side of spiritual territory with the passion, fervor, and conviction of a backwoods preacher.
32 Radiohead - Kid A
(2000)
Instead of simply adding club beats or sonic collage techniques, Radiohead strive to incorporate the unsettling "intelligent techno" sound of
Autechre
and
Aphex Twin
, characterized by its skittering beats and stylishly dark sonic surfaces, for Kid A. To their immense credit, Radiohead don't sound like carpetbaggers, because they share the same post-postmodern vantage point as their inspirations. As a result, Kid A is easily the most successful electronica album from a rock band -- it doesn't even sound like a rock band, even if it does sound like Radiohead. So, Kid A is an unqualified success? Well, not quite. Despite its admirable ambition, Kid A is never as visionary or stunning as OK Computer, nor does it really repay the time it demands. OK Computer required many plays before revealing the intricacies of its densely layered mix; here, multiple plays are necessary to discern the music's form, to get a handle on quiet, drifting, minimally arranged songs with no hooks. Of course, the natural reaction of any serious record geek is that if the music demands so much work, it must be worth it -- and at times, that supposition is true. But Kid A's challenge doesn't always live up to its end of the bargain. It's self-consciously alienating and difficult, and while that can be intriguing, it seems deeper than it actually is. Repeated plays dissipate the mystique and reveal a number of rather drab songs (primarily during the second half), where there isn't enough under the surface to make Radiohead's relentless experimentation satisfying. But mixed results are still results, and about half of the songs positively shimmer with genius.
33 Tindersticks - The Hungry saw
(2008)
If you were of the opinion that Tindersticks may have gone through some kind of drastic sea change brought on by their five-year hiatus and the absence of founding member and co- architect of their trademark sound,
Dickon Hinchliffe
, you are dead wrong. The band weathered the storm and on their seventh studio album, The Hungry Saw, the three remaining members of the band retain every last aspect of what made the band special (the inventive arrangements, the cinematic sweep of the songs,
Stuart Staples
' distinctive vocals) but also manage to sound rejuvenated and fresh at the same time. The Hungry Saw is hungry, dramatic, and if not exactly urgent, it feels like the work of a band with something to prove. Staples, in particular, brings something extra to both his vocals (clearer than usual and with more bite) and lyrics ("
The Hungry Saw
" has some of his most powerfully visceral words to date). It is one of his best performances in a long career full of them. The arrangements too are given extra care. The horn arrangements by longtime associate Terry Edwards are superb and the strings sound rich and suitably dramatic on the heavy ballads and breezy on the light ones. The addition of
Suzanne Osborne
's wordless backing vocals on the lovely and harrowing "
All The Love
" are a welcome touch of sunshine too. As is the candy sweet melody and acoustic strum of the almost poppy "
Boobar Come Back to Me
". Not that the record is a smile fest by any stretch, there is still enough chill blowing through it to make your teeth hurt. It wouldn't be a Tindersticks record without that, and songs like "
The Other Side Of The World
" have enough sadness coursing through them to satisfy the needs of any gloom junky who has come to count on the band for a quick fix. Indeed, Tindersticks have never failed to satisfy anyone looking not only for sadness but also those looking for albums that make you feel and songs that will stick with you for a long time. The Hungry Saw is classic Tindersticks.
34 TV on the Radio - Dear Science
(2009)
With lyrics and vocals that are just as ambitious and attention-getting as the music surrounding them, TV on the Radio have always had a lot going on in their music. Indeed, Return to Cookie Mountain was so elaborate that topping it would be difficult, so on Dear Science, the band channels its focus into lean, nimble songs with more structure and polish -- and more focus on Tunde Adepimbe's and Kyp Malone's vocals -- than any of TV on the Radio's previous work. This immediacy and crystalline clarity take some getting used to, especially compared to Cookie Mountain's lavish yet organic sound: "
Family Tree
"'s strings, pianos, and plainly worded vulnerability make it one of the band's most accessible songs, but it doesn't feel like anything was sacrificed to make it so anthemic. That feeling only deepens on the self-evidently sexy "
Red Dress
", which uses
Antibalas
' vibrant brass and taut guitars to show-stopping effect. As Dear Science, unfolds, it becomes clear that it isn't so much a radical change for TV on the Radio as it is a slight but significant shift in approach. "
Stork and Owl
", an inspired mix of hypnotically looping samples and flowing, real-time soulfulness, and "
Love Dog
", which boasts some of Adepimbe's most affecting singing since "Staring at the Sun," could have fit easily on earlier albums with a few sonic tweaks. It begins with an epic statement of purpose -- although "
Halfway Home
" is as sleek as it is grand, sprinting towards its end with streaking guitars -- and ends in an embrace with "
Lover´s Day
", a duet with
Celebration
's
Katrina Ford
that turns "I wanna break your back" from a threat to a come-on.
35 Grace Jones - Hurricane
(2008)
After 19 years, Grace Jones finally releases a new studio album, and it's a weird one, nostalgic and timeless in equal measure. Her collaborators (including Brian Eno,
Tricky
,
Wendy & Lisa
,
Sly & Robbie
,
Tony Allen
, and others) set up instrumental backdrops that explicitly recall not only her own early-'80s albums, but also those albums' influence on the later work of
Massive Attack
, Tricky, et al. At the same time, Jones' old lyrical persona -- the androgynous cyber-demon who uses scorn as an erotic weapon -- has been largely abandoned; only on "[track artsit=Grace Jones]Corporate Cannibal[/track]" does that version of her reappear, atop a track that sounds inspired by Massive Attack's "
Inertia Creeps
." Instead, we get a nostalgic, autobiographical Grace Jones, which is interesting and pretty much totally unexpected. The songs "
william's blood
" and "
I'm Crying (Mother's Tears)
" find the now 60-year-old Jones looking back on her childhood in Jamaica, recalling her mother singing in church and comforting her as a nightmare-stricken little girl. Her voice changes on these songs; her accent grows thicker, abandoning the female-Terminator delivery of classic tracks like "
Nightclubbing
" and "
Pull Up To The Bumper
" in favor of a voice that's like a more gravelly Sister Carol. Of course, age has put a few crinkles into her throaty delivery, which helps when she ramps up the aggression on songs like "
This Is
" and the title track (a collaboration with Tricky); she's as scary as ever, when she wants to be. A calculated look back to her glory days and even earlier, Hurricane is possibly Grace Jones' most focused artistic statement and a worthy sequel to her classic early-'80s albums.
36 Spoon - Ga Ga Ga Ga Ga
(2007)
Each song is as carefully and creatively pruned as a bonsai tree, with nothing fussy or superfluous to mar the clean lines of the songwriting or arrangements. This is especially impressive considering that on this album, Spoon works with their widest array of sounds yet. Everything from kotos to chamberlains to horns straight out of Motown are fair game on Ga Ga Ga Ga Ga, but they're used so deftly and judiciously that they never feel like window dressing. The band maps out Ga Ga Ga Ga Ga's territory within the first three tracks. "
Don't Make Me a Target
" is a sleek yet gritty prologue designed to draw listeners in and its seductive pull only heightens the impact of "
The Ghost of You Lingers
" All pounding pianos and fleeting, fragmented verses, the song initially feels like it's all buildup and no release, but this insistent yet incomplete feeling is what makes it haunting and brilliant: its circling thoughts and echoes upon echoes feel like you're chasing the song -- or its subject -- to no avail. Even if "The Ghost of You Lingers" almost perversely avoids hooks, "
You Got Yr. Cherry Bomb
"'s homage to blue-eyed soul delivers them in abundance. Ga Ga Ga Ga Ga's songs are svelte, yet they're far from starved. Interesting details decorate the margins of these songs, whether it's the studio chatter that revs up "
Don't You Evah
" or the fascinatingly fragmented lyrics of "
Eddie's Ragga" ("there ain't no getting over Joanie Hale-Maier")
. Jon Brion pops up bass, chamberlain, and production duties on "
The Underdog
" one of Spoon's bounciest, brassiest nods to classic pop in a long time, and a perfect contrast to the exotic, spooky minimalism of "
My Little Japanese Cigarette Case
"'s shivery kotos and Spanish guitars. Concise and lively ("
Black Like Me
" is as close as the album gets to a ballad), Ga Ga Ga Ga Ga is a remarkable blend of focus and creativity; even if Spoon's modus operandi seems overly regimented on paper, the results are just as elegant as they are fun.
37 Röyksopp - Melody A.M.
(2001)
Chilled-out or downbeat acts swept through the electronic scene during 2001 and 2002, prompting dozens of identikit compilations, all conjuring up images of exhausted clubbers returning home early in the morning and enjoying a cup of tea or a smoke after a hectic night out. And although downtempo electronica had always been largely album-based, most of these trackmasters didn't do much on the full-length front. The Norwegian duo Röyksopp, however, displayed a careful hand with the boards on their 2001 debut Melody A.M.. Röyksopp balances the haunted atmospheres of
Boards of Canada
with the more traditional "songwriting" sensibility of downbeat specialists like
Groove Armada
or
Koop
. The opener is proof enough, with a chunky bassline undergirding the spooky, ethereal refrain from
Bobby Vinton
's "Blue on Blue" recorded by some long-forgotten vocal chorus. There's much of beauty on Melody A.M., very textured and imaginatively produced to sound like few of their contemporaries; it's saying much to even admit that Röyksopp is occasionally the equal of such otherworldly acts as Boards of Canada or Goldfrapp. They seem a bit too indebted to the gauzy synths of '70s soundtracks, but there are a few good exceptions, like the distinctly '80s sense of artificial ethereality to the closer, "
40 Years Back/Come
". Picking up the ball right about where
Air
dropped it after Moon Safari, Röyksopp produced one of the most intriguing downbeat albums of the decennium.
38 Tool - Lateralus
(2001)
After an exhaustive five-year litigation battle between the band and their label management, Tool offer up the latest chapter in their musical self-discovery in Lateralus. Make no mistake, this is a prog rock record, reminiscent of
King Crimson
and Meddle-era Pink Floyd, with a hint of
Rush
mutated with Tool's signature sonic assault on the ears. Lateralus demands close listening from the first piece onward, as it becomes quickly apparent that this is not going to be an album one can listen to and accept at face value. Complex rhythm changes, haunting vocals, and an onslaught of changes in dynamics make this an album other so-called metal groups could learn from. While some compositions seem out of place, others fit together seamlessly, such as the 23-minute song cycle serving as the climax and resolution of the album. However, the album's most disturbing moment arrives at the end, with dissonant electronic noises placed randomly with a drum solo over a phone call to a talk show discussing the secrets behind Area 51, once again serving as a symbolic gesture from the band encouraging people not to take things at face value and to think for themselves. Overall, a solid, well-produced album from a band that never fails to deliver with each release.
39 Elbow - The Seldom Seen Kid
(2008)
In a world where even the generally mediocre likes of
Snow Patrol
can have honest to goodness mainstream pop success, it seems peculiar that Elbow have never broken through beyond a devoted cult following. Exploring the fruitful middle ground between early Radiohead's mopey art rock and
Coldplay
's radio-friendly dumbing down of the same, Elbow makes records built on a balance of things not often found together anymore: strange musical textures alongside immediately accessible pop song choruses, or unexpected left turns in song structure paired with frontman Guy Garvey's warm, piercing vocals. It's no surprise that Elbow are regularly compared to old-school prog rockers like
Pink Floyd
and
Electric Light Orchestra
: they're proof that records can be cool and commercial at the same time, an idea that's not particularly hip in this day and age. Yet a song like "
Grounds for Divorce
," which puts a sharp, wryly funny Garvey lyric against a clanging,
Tom Waits
-like arrangement and throws on one of the album's catchiest tunes for good measure, or "
Some Riot
," which filters a yearning, lovely melody for guitar and piano through so many layers of effects and processing that it can be hard to tell what the original instruments sounded like, isn't afraid to display its accessibility even on its most experimental numbers. At the album's best, including the spacious, atmospheric balladry of the opening "
Starlings
" (imagine if
Sigur Rós
could write a pop song as emotionally direct as [artsit]Keane's "Everybody's Changing") and the potential radio breakthroughs of the soaring, semi-orchestral epic "
One Day Like This
" (complete with choral climax!) and the wistful "
Weather to Fly
," The Seldom Seen Kid is Elbow's most self-assured and enjoyable album so far.
40 Beirut - Gulag Orkestar
(2006)
The best album to come out of Albuquerque since the
Shins
decamped for the Pacific Northwest, the debut album by Beirut (aka New Mexico-born 19-year-old singer/songwriter Zach Condon) bears an immediate resemblance both to Denver's
DeVotchKa
and the current passions of the Athens, GA, crowd formerly associated with the Elephant 6 stable. Like DeVotchKa, Condon is heavily influenced by Eastern European folk music and, to a lesser extent, the mariachi trumpets and Latin rhythms of the desert Southwest: the songs on Gulag Orkestar are lousy with mandolins and similarly plinky members of the string instrument family, accordions, horns, and hand percussion clearly played with dramatic in-studio arm flourishes. But like the Athens folks (some of whom appear here in a supporting role, most notably
A Hawk and a Hacksaw
's Jeremy Barnes), Condon isn't interested in mere approximations of traditional forms. Condon and friends use the folk instruments primarily as really cool-sounding textures, exotic backdrops for Condon's melodic indie folk tunes and impressionistic lyrics. The lyrics, it must be said, are the album's most obvious flaw, clearly the work of a young, romantically inclined teen who has never been to Europe but has seen a lot of foreign art films about, like, Gypsies 'n' stuff. Ignore the clunky lyrics -- easy enough to do since Condon is an unexpectedly appealing singer with a rich, mellifluous voice that, no kidding, recalls the great bel canto crooners of the pre-rock era (along with a little
Nick Cave
) -- and Gulag Orkestar is an infinitely more appealing album.
41 !!! - Myth Takes
(2006)
Of all the dance-punk revivalists, !!! has been the most consistently interesting and challenging, not to mention the group most likely to fill the dancefloor on indie rock night. While their previous album, Louden Up Now, was good enough to vault them to the level of the bands that inspired them (
The Pop Group
and
Liquid Liquid
), Myth Takes firmly establishes them there. It's a different fire that burns here for !!!, mostly setting aside political concerns for fiery dancefloor rave-ups. The band sounds inspired, like they are plugged directly into a wall socket. The first three tracks are like opening a door and being blasted backward by a wall of flame and heat. Nic Offer's vocal chants, asides, and strung-together proclamations are more frantic than ever, and when he turns it down a notch, he sounds nearly sexy (as on "
Must Be The Moon
", a desperate story of sex and lust in the city). He has to be a live wire of energy to keep up with the band, which burns brightly and plays like they have something to prove from beginning to end. This is especially true of Justin van der Volgen, whose bass work underpins the freewheeling walls of chik-ing guitars with a fluid and funky bottom. His production is a masterwork, balancing and blending a kaleidoscope of guitars, drums, percussion, keys, and vocals. The record could have easily sounded like a mess, but he makes it sound alive and raw. When !!! finally slows things down after that initial burst, they do some interesting things -- "
Heart of Hearts
" is a dancefloor filler that manages to sound menacing and rubbery at the same time and "
Yadnus
" is a fun mash-up of glitter drumbeats, tough-guy vocals, chicken-scratch guitars, and sweeping synths. Myth Takes is a thrilling success. Not too many bands even in heyday of the initial wave of dance-punk released records as full of energy, intelligence, and ferocious funk as this.
42 Suba - São Paulo Confessions
(2000)
Brazil's São Paulo is the largest city in South America, home to an estimated 19 million inhabitants. In 1992, this megalopolis ranked as the world's third largest city, coming in behind Tokyo and Mexico City. Within São Paulo's environs there is diversity and disparity, super-modern chic, and profound indigence. On São Paulo Confessions, the Yugoslavian-born Brazilian pianist, producer, and programmer Suba mixed the modernity of techno beats and sampled loops with traditional Brazilian musics. Suba, who previously played piano with
Hermeto Pascoal
and
Marcos Suzano
, collaborated on São Paulo Confessions with percussionist
João Parahyba
and vocalists Cibelle and Taciana. Their live percussion and vocals, in addition to a number of acoustic guitar melodies, add enormous depth to Suba's inventive compositions. Particularly commendable tracks on São Paulo Confessions include "
Vocé gosta
" and "
Antropofagos
", which both feature reverberating street samba rhythms. The eighth track, "
Sereia
" has at its core what sounds like an oscillating electronic cuica. In sum, Suba, who died from smoke inhalation during a fire in his São Paulo apartment and studio, was indeed one of Brazil's most promising exponents of modern Brazilian music. Though his death is undeniably tragic, Suba's inventive and visionary São Paulo Confessions will allow his legacy to live one.
43 Electrelane - The Power Out
(2004)
Electrelane's second album, The Power Out, is also their debut for the esteemed, arty British label Too Pure, the perfect home for a band that resembles so many of the imprint's other acts. The similarities appear early on, with the
Stereolab
-eqsue motorik and French vocals that drive "
Gone Under Sea
" the wobbly-yet-charming singing on "
Birds
" that recalls Pram's Rosie Cuckston, and the intricate interplay of guitars and keyboards on every track that bring to mind th' Faith Healers (and their later incarnation, Quickspace). But these similarities are far from derivative; instead, on The Power Out, Electrelane feel like they're in the tradition of these other messy, angular, decidedly British art-punk bands, so much so that it's hard to imagine the band on any other label. But even though the group perfectly defines the way that so many British art-school bands have sounded since the late '70s, in Electrelane's hands it still seems fresh. The Power Out also seems fresher than Rock It to the Moon, perhaps because, paradoxically, it's more focused than their debut. That's a relative term, though; the noodly, jam-based feel that dominated Rock It to the Moon is still here, particularly on The Power Out's more rock-based songs such as "
Take the Bit Between Your Teeth
" and the closing instrumentals, "
Only One Thing Is Needed
" and "
You Make Me Weak at the Knees
". But overall, the songs are more concise here, giving songs like "
On Parade
" and the lovely "
Enter Laughing
" an immediate, if not exactly poppy, feel. The band finds different ways to channel the ambitions it so boldly displayed on Rock It to the Moon: "Oh Sombra!" is an eerie, passionate song fashioned from a sonnet from Spanish poet Juan Boscan, and "
This Deed
" borrows a line from Nietzsche to fit its appropriately dramatic air. Most striking of all is "
The Valleys
" a choral rock piece that features Chicago A Cappella and Verity Sussman's arresting vocals, and attains a ceremonial, spiritual grandeur that hasn't been seen in many rock records save the Microphones' Mount Eerie. The Power Out manages to be unique without being a radical departure, and it augurs more good things for Electrelane's stint with Too Pure.
44 Amadou & Mariam - Dimanche a Bamako
(2005)
Amadou & Mariam, the blind couple from Mali, have certainly paid their dues over the last 30 years, and it's about time they received their big break. Certainly given the excellent reviews in Europe, Dimanche a Bamako could be it, thanks to the production and participation by the elf prince of world music,
Manu Chao
. He brings a playful lightness to their soulful, bluesy Malian sound, letting in plenty of sunshine, and drawing in a sense of place through the ambience of traffic sounds and snippets of conversation. Chao is also obviously present on several tracks, such as "
Senegal Fast Food
", which offers a bouncy, reggae-styled rhythm so typical of Chao's own records. But even when not so obviously asserting himself, his presence is felt in the space he creates, and the use he makes of Mariam's admittedly limited voice (she's good, but no one will ever mistake her for one of the word's greatest singers), as on "
Beau dimanche
", for example. Lyrically, this is very much an album of love songs, postcards between the couple, but it never veers into maudlin sentiment. Yet there's also a political edge to it, such as with "
La Realite
". Even if you don't understand the words, however, the entire disc is an absolute aural joy, poppy enough to be exquisitely memorable, yet with layers of resonance underneath. Likely to be one of the world music albums of 2005, it can hopefully find the kind of wide audience it surely deserves.
45 Alexi Murdoch - Time Without Consequence
(2006)
It's a heck of a start to a career. Before he had released any material in the States, Alexi Murdoch was championed by KCRW's influential tastemaker Nic Harcourt. (Murdoch moved to LA in the late 1990s.) This led to the release of the Four Songs EP, which led to appearances in Garden State and on the The O.C.. Even arranger
Van Dyke Parks
(
Tim Buckley
,
Harry Nilsson
) became a fan, praising his "imaginative chords." Fortunately, Murdoch's self-produced full-length lives up to that early promise. The
Nick Drake
-inspired "
Breathe
" and "
Orange Sky
" are likely to be familiar to most listeners. Another standout is "
Home
," which shakes up his folky formula with feedback and trip-hop beats. If Time Without Consequence has a fault, it's simply that Murdoch sounds remarkably like fellow Drake devotee
José González
(right down to his spare finger-picking style). One singer-songwriter is from Scotland (by way of England and Greece), the other from Sweden (by way of Argentina), so it seems unlikely that either musician influenced the other. Plus, great minds do think alike. In any case, Murdoch has fashioned a satisfying debut; the true test will be to follow up with an album that reveals a more distinct personal identity. Finally there´s an artist who deserves it to be compared to Drake.
46 Buddy Guy - Sweet Tea
(2001)
Apparently somebody took the criticisms of Buddy Guy's late-'90s Silvertone recordings to heart. They were alternately criticized for being too similar to Damn Right I Got the Blues or, as 1998's Heavy Love, too blatant in its bid for a crossover rock audience. So, after a bit of a break, Guy returned in 2001 with Sweet Tea, an utter anomaly in his catalog. Recorded at the studio of the same name in deep Mississippi, this is a bold attempt to make a raw, pure blues album -- little reliance on familiar covers or bands, no crossover material, lots of extended jamming and spare production. That's not to say that it's without its gimmicks. In a sense, the very idea behind this record is a little gimmicky -- let's get Buddy back to the basics -- even if it's a welcome one, but that's not the problem. The problem is that the production is a bit too self-conscious in its stylized authenticity. There's too much separation, too much echo, a strangely hollow center -- it may sound rougher than nearly all contemporary blues albums, but it doesn't sound gritty, which it should. Despite this, Sweet Tea is still a welcome addition to Buddy Guy's catalog because, even with its affected production, it basically works. Playing in such an unrestricted setting loosens Buddy up, not just letting him burn on guitar, but allows him to act his age without embarrassment (check the chilling acoustic opener, "
Done Got Old
".) This may not showcase the showman of the artist live, the way Damn Right did, but it does something equally noteworthy -- it illustrates that the master bluesman still can sound vital and can still surprise.
47 Alela Diane - To Be Still
(2009)
´To Be Still' is the follow up to Alela Diane Menig's critically acclaimed debut The Pirate's Gospel. ´To Be Still' utilizes a fuller sonic palette in creating the world that Menig's characters inhabit. Although there is more instrumentation on this album, the highlight is still Menig's voice. Menig is quite capable of going from a husky growl to a delicate mew for emphasis that recalls both
Karen Dalton
and
Joanna Newsome
. The music on ´To Be Still' was created between 2007 & 2008 and recorded at her father's home studio in Nevada City, California. The recording process for Alela Diane was a rather low key and family oriented affair. Her father played on the album with several of their shared musician friends. Family friend and visionary singer Michael Hurley guests on "
Age Old Blues
". The album opens casually with a high and lonesome pedal steel on "
Dry Grass & Shadows
" that sets the weary and ghostly tone throughout the album. Most of these songs feel like they could have been written 100 years ago, which is an impressive feat for a songwriter so young. "
White As Diamonds
" and "Age Old Blues" are both spare and mournful. In their simplicity, these songs sound as if they were taken from the Appalachian Mountains. The title track is a calming listen as it yearns for simpler times. As the album progresses, the music and theme becomes heavier both in theme and accompaniment. The moodier side of Alela Diane is evident most notably on "
My Brambles
" and "
The Ocean
". "
Every Path
" seems to be the spectral cousin of "
To Be Still
" as both songs echo the theme of returning to a loved one.
48 Mumford & Sons - Sigh No More
(2009)
English folk outfit Mumford & Sons' full-length debut owes more than a cursory nod to bands like
The Waterboys
,
The Pogues
, and
The Men They Couldn't Hang
. The group's heady blend of biblical imagery, pastoral introspection, and raucous, pub-soaked heartache may be earnest to a fault, but when the wildly imperfect Sigh No More is firing on all cylinders, as is the case with stand-out cuts like "
The Cave
", "
Winter Winds
", and "
Little Lion Man
", it's hard not to get swept up in the rapture. Like their London underground folk scene contemporaries Noah & the Whale, Johnny Flynn, and Laura Marling, Mumford & Sons' take on British folk is far from traditional. There's a deep vein of 21st century Americana that runs through the album, suggesting a healthy diet of
Fleet Foxes
, Arcade Fire,
Sufjan Stevens
and
Blitzen Trapper
.
49 Okkervil River - The Stage Names
(2007)
Okkervil River broke away from the crowded indie rock pack with 2005's superb Black Sheep Boy, a ragged but ornate barroom romp that drank its way to the top of countless year-end lists by finding that thin vein that separates triumph and desperation and hammering as many nails into it as they could in under 50 minutes. Fans used to Will Sheff's visceral, lo-fi caterwauls may be disappointed in the bruised and elegant Stage Names upon first listen, but further spins reveal BSB as more of a stepping-stone than a peak. "It's just a life story/so there's no climax," from the rousing opener "
Our Life Is Not a Movie or Maybe
" sets the tone, and its floor tom gallop and volatile whoops sound like a of My Aim Is True-era
Elvis Costello
. Sheff has proven himself again to be a gifted wordsmith, and Stage Names features some of his finest parlor room romanticisms and slacker-poet observations to date. "
Plus Ones
" a studied rumination on some of popular music's most beloved numerically titled tracks ("96 Tears," "99 Luftballons," "Eight Miles High," "TVC 15," "7 Chinese Brothers," "50 Ways to Leave Your Lover" etc.) adds an unnecessary integer ("Not everyone's keen on lighting candle 17/The party's done/The cake's all gone/The plates are clean"), cleverly illuminating pop culture's insatiable thirst for sequels and remakes. It's a trick that could easily turn trite in less capable hands, but one of the band's many strengths is its ability to mirror Sheff with arrangements that match the earnestness, wickedness and occasional pomp of the lyrics. Those talents are used most effectively on two of the record's other highlights, the soft and broken "
Girl In Port
" and the alternately heartbreaking and hysterical "
John Allyn Smith Sails
" the latter of which chronicles the suicide of poet John Berryman and manages to integrate the Beach Boys' "Sloop John B" so seamlessly that you'd swear it had never existed before. The Stage Names is less of a metaphor for the cinematic lives we wish we could have and more of a reminder that it's us who make the films.
50 Manu Chao - Proxima Estacion; Esperanza
(2001)
The debut from Manu Chao, the former leader of French world-punks
Mano Negra
, leaned heavily on Latin America for its inspiration, but this time around he's obviously been spending time--at least in his head--in the Caribbean. Reggae rhythms abound, and the opener "
Merry blues
" features some wonderfully wonky Jamaican-style brass, while "
Promiscuity
" takes its cue from Trinidadian calypso. Of course, this being Chao, there are plenty of playful touches--from ringing cell phones to speeded-up vocals--and inevitably there are the Latin influences throughout to remind you of what remains close to his heart ("
La Primavera
" in particular is a standout). There's also some recycling from the last album, with two pieces sharing the "King of Bongo" melody, including "
Mr. Bobby
," his tribute to
Bob Marley
. This doesn't have the freshness of Clandestino, however enjoyable it may be. If anything, it seems more of a holding action rather than a giant step forward. But sometimes that's necessary to be able to look to the future.
Kommentare