RSS
Weiterleiten
9. Sep. 2009, 7:38
Fri 14 Aug – Blue Öyster Cult
Third of four 2009 summer show reviews:
Blue Öyster Cult
Set Cleveland on Flame!
This was the longest I have ever waited between purchasing tickets and actually seeing the show: over *eight* months. This show was originally scheduled for December 18th of last year, and when it was canceled, it nearly scuttled the monthly live show streak that I had going from May 2008 to this past February. The reason for the reschedule?
Buck Dharma
fell down the stairs of his house carrying packages. Merry Christmas! (Especially bad because December 18th is D's birthday and the show was our plan to celebrate, so I had to hustle for last-minute replacement plans!) They ended up first canceling the handful of remaining shows for 2008, and then had to cancel some more based on Buck's recovery. By the time he was well enough to play and tour, they were going to be up against their trip to Europe and early summer bookings, so I could hardly believe when I got the notice from the House of Blues that they were re-scheduling for
August
!
I was worried that some of our gang wouldn't be able to make the show this far down the road, especially since August is a much busier time for everybody. But we all made it, and I gotta say: this show was worth every bit of the wait! Especially for
JCV
, who had not only never seen them live, but also wondered if he wanted to. At the time we bought the tickets, he was really just getting stir crazy and looking for a reason to get out of his crazy house. Would it be worth missing some of his son's baseball playoff game?*
If you've never seen BÖC live, you've missed a great deal. You can get quite a bit of pleasure listening to their fantasy-filled, dark, progressive hard rock, but the recorded studio output is just a shadow of the live performances. Listen to some of the live albums - especially
On Your Feet Or On Your Knees
- and you can only begin to get an idea. Many of their songs are intentionally short on the albums, but are always stretched live, and you'll never hear them the same way twice. It's sort of in the vein of a jam band - they're definitely not - but you haven't really
heard
them until you've
seen
them.
I was a bit worried about the lineup. Every prededing time I have seen them,
Allen Lanier
was still in the lineup. Since the last time, though, he's finally decided to hang it up for good and retire from the Cult (for touring purposes, and since the chances of another studio album are remote, he's effectively done). It's not that Allen brings a firey dose of energy to the show. Frankly, he doesn't - all those years of hard livin' with
Patti Smith
I guess have finally caught up with him. But he's been such an integral and versatile part of the band for about four decades that it leaves you wondering how the hole will be filled.
I had heard that
Rudy Sarzo
was playing bass for them since Allen had left. That would be cool! But I wasn't sure if that was just temporarily and still the case. A look at the website at the time made no mention, and the band pic & bio still showed Allen. And if Rudy was on bass, where did Richie Castellano go? He was pretty good on the bass. Who was on keys? And what would they be doing for a third guitar? I had no idea even as of show time, but just trusted that it had all been sorted out to a good arrangement.
And how. This was easily the best show I've seen from these guys. Rudy is in fact still playing bass for them. According to his website, he plays with them whenever needed as long as
Dio
is not recording or touring. Since RJD is all tied up with
Heaven And Hell
for the foreseeable future, this bodes well for BÖC. Richie has moved over to play third guitar, co-lead with Buck, and splits time on the keys with
Eric Bloom
.
Jules Radino
is still on the kit.
This lineup is tight. I had heard that they were not very good when they opened for Skynyrd here last year (what a weird bill), but it must have been an off night because they were definitely on flame with rock-and-roll this time around.
There are two major discoveries here:
(1) Richie Castellano is not just the latest in the long line of bass players that have held that spot since
Joe Bouchard
left in 1986. The kid has serious talent, and it was just waiting to bustout once he move over to guitar. He's good on the bass, but he can really shred.
(2) I no longer think of Rudy Sarzo as just a journeyman, merely "filling a bass slot" for
Ozzy
,
Quiet Riot
,
Whitesnake
, and
Yngwie Malmsteen
(and now Dio). He brings much more to the band than just providing a bass line. Part of that is due to his Latin background and playing style. He is very upbeat on stage, very extroverted with the fans, highly animated with his counterparts on stage, and he adds flourish and spark to the entire performance.
With Rudy in the band and Richie on guitar, this band is rejuvenated. They've got young blood and fire that I did not see when Allen was in the band. I mean this with only the greatest respect for Allen, but this band no longer looks like they're heading into the twilight. They look and sound** fresh, and certainly have many more miles, shows, and years left. I can't wait to see them again.
Setlist:
The Red and the Black
Before the Kiss, a Redcap
Burnin' for You
Cities on Flame
Shooting Shark
(video below)
Buck's Boogie
Black Blade
Stone Of Love
Me262
Then Came the Last Days of May
- as it often is, this was the highlight of the show. They usually stretch this little 3½-minute number from the first album out into a 7-10 minute guitar showcase, but what really impressed the hell out of me is that Buck gave up the centerpiece solo to Richie, and the kid brought the house down!
Godzilla
- this included "Rudy Sarzo highlights": bits of
Metal Health
,
Still of the Night
, and
Crazy Train
Drum solo
Buck's interlude
(Don't Fear) The Reaper
Encore:
Golden Age of Leather
- a very nice surpsie to see/hear this live. I've always loved this song and wanted to see it.
Hot Rails to Hell
Here are some of my favorite shots from the show - see
the photobucket
for more:
Four guitars:
Rudy & Eric: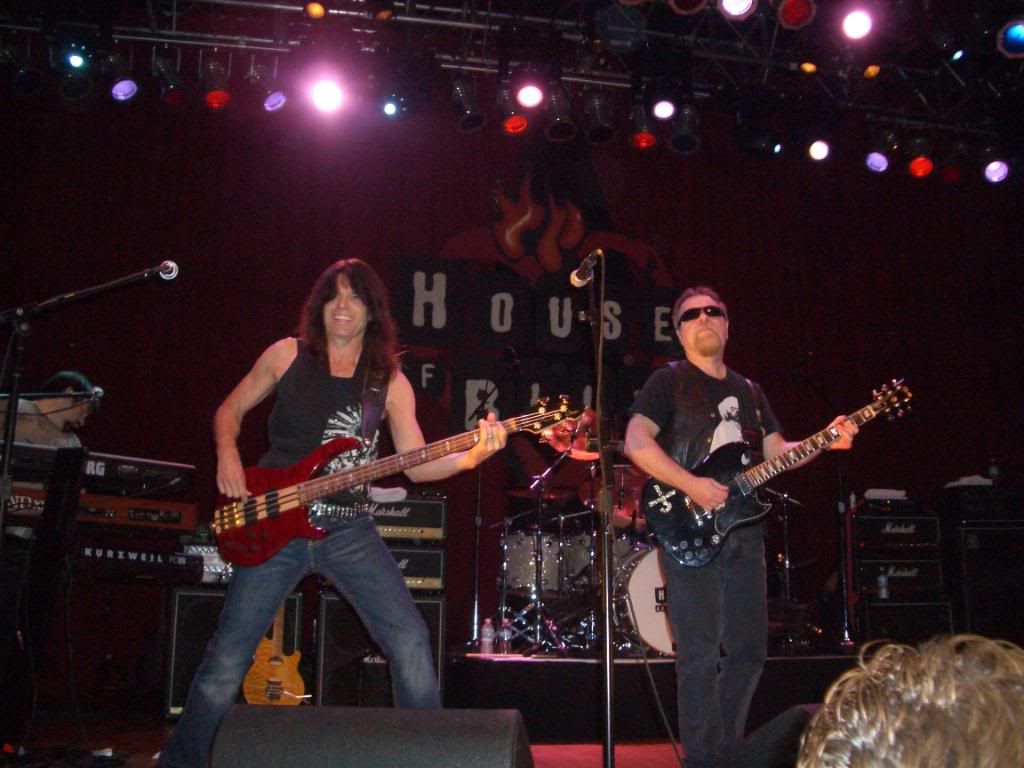 Rudy brings a new energy to the band: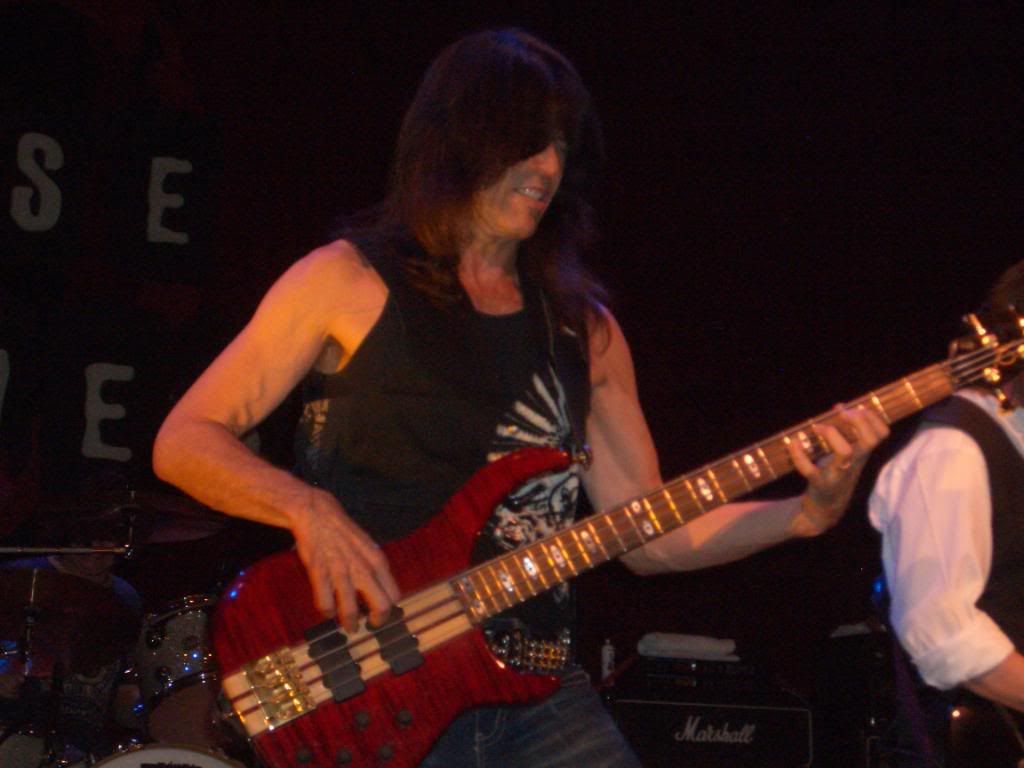 Black Blade:
Richie slays: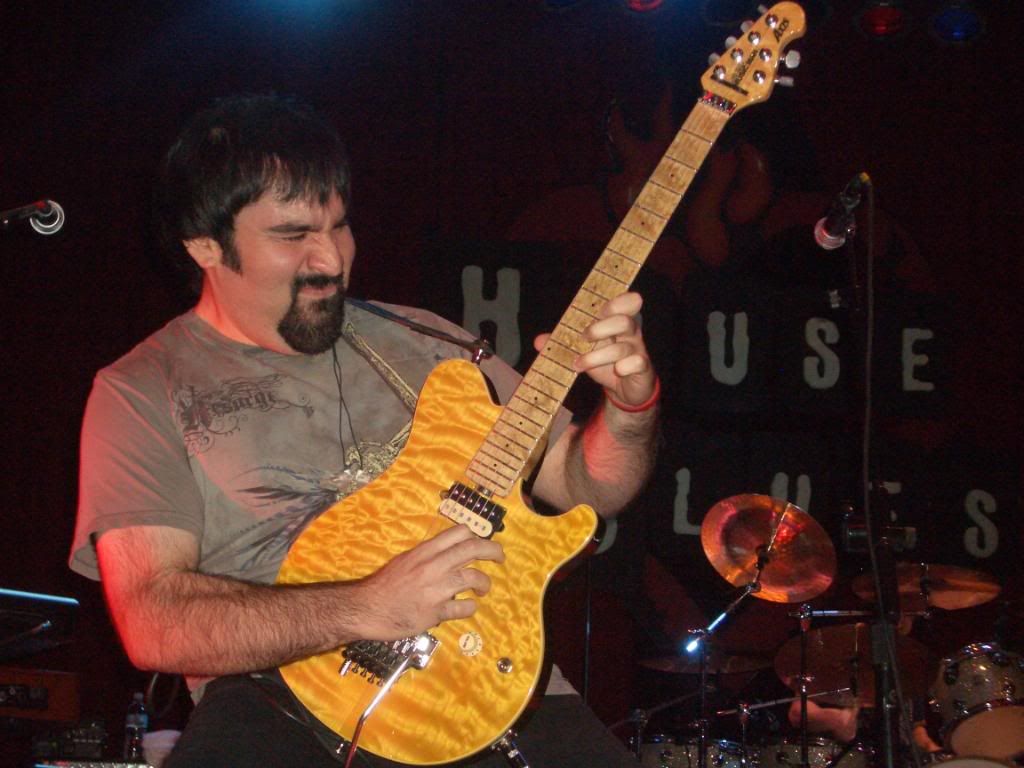 Eric & Buck - check out Eric's sweet guitar - haven't seen that one before:
Video: The only problem here is that I came to the show with a smaller memory card than I usually have in the camera, and didn't account for their tendency to stretch songs live, so I thought I had enough room at the start of the song but it's actually missing the final 50-60 seconds. And so this is the only video I have from this show!
\m/ (ò_ó) \m/
*Hell, yes! He hadn't been this happy after a show in a long time. I think he was impressed with just how good these guys are live after all these years, how good Richie is, and especially happy to see Rudy Sarzo up-close, in-the-flesh!
**My only complaint about this show was the sound, but it had nothing to do with the band. The HOB has a reputation for often having poor sound and hassles for the FOH, so that wasn't a surprise. It wasn't bad enough to ruin the show, but you can hear it when you watch the video. That's not just because of the camera I was using; the sound really was that uneven.
One more thing that barely rates a footnote: there was an opening band for this show. The Tom Fuller Band from Chicago. I have no idea how they got onto the bill. Their material doesn't even remotely mesh with BÖC, and they were easily the worst opening band I have ever seen in the history of going to shows. They actually have a song with the line, "go tell it to the lollipop hill" or something like that - WTF?? I can't understand why BÖC would allow such a disparity. The audience was completely bewildered and bored. At least the five guys on the stage seemed to be enjoying themselves.
Kommentare