RSS
Weiterleiten
8. Mär. 2011, 22:58
Lauryn Hill was brought up in the housing projects of New Jersey. My only experience of this environment is through the book
Clockers
, and the subsequent Spike Lee
film
. This story is tragedy of crack cocaine dealing set in a poverty-stricken, suburban, African-American community. The paucity of choice facing nearly every character is stark, given their lack of resources. However, although
Orange
is such a poor community, both her parents were professionals.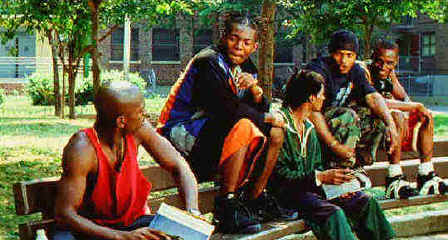 I love her first solo album and have done since it came out (in 1998). It was one of the first albums that I added to my library. For the first few months it was on heavy rotation because last thought there were several artists on the album
Lauryn Hill
.
(Featuring Carlos Santana); Lauryn Hill
and
(Featuring Mary J. Blige); Lauryn Hill
.
In it Hill brings lovely tunes together with sharp raps. She talks about the break up of her old band,
The Fugees
and her personal relationships. She talks of
Wyclef Jean
, her former bandmate and lover; of Rohan Marley, her baby father; and of Zion, her child. Many of the children of
Bob Marley
are musicians, but Rohan is a footballer.
I was going to finish up the journal by remarking that she was the real talent in the band, and that it was by far the best of the three
Fugees
' solo début albums. That was certainly my view before I started researching this journal, and the second half of the statement is true.
However it appears that the album was produced by a collective of musicians with only one getting the credit (cf
wikipedia
). This situation reminds me of
Tuesday Night Music Club
, but at least
Sheryl Crow
's album title was a clue.
Kommentare