RSS
Weiterleiten
13. Mai. 2008, 8:06
Mon 12 May – Atmosphere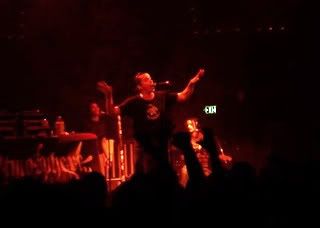 this show was nuts...so many good songs...slug's random comments and bird dance...the jug of ocean spray grapefruit juice..portland was indeed painted gold
atmosphere karaoke was quite entertaining. slug was obviously enjoying himself very much. he didn't even really make fun of the two girls that tried to do
Say Hey There
but forgot all the lyrics after the first verse. the guy who did
Trying to Find a Balance
was sick, and he knew all the fuckin words. someone else did one of a kind, which is another hard one to rap. slug said that portland was the best city so far (better than LA?) but we were only like the 3rd stop. it was also interesting to hear which songs were slug's favorites, like
The Woman with the Tattooed Hands
. he did not think that
God's Bathroom Floor
was a very good one to rap to, and he said he didn't like
Pour Me Another
because he is not down with heavy drinking anymore.
set list
Less One
Puppets
Shoulda Known
Sunshine
Like Today
Guns and Cigarettes
Between the Lines
Musical Chairs
You
Your Glass House
Lyndale Avenue User's Manual
Can't Break
Always Coming Back Home to You
Bird Sings Why the Caged I Know
The Rooster
Little Man
In Her Music Box
Lovelife
Godlovesugly
Shrapnel
part of
Get Fly
Like the Rest of Us
encore:
Hockey Hair
(as requested by ant)
Guarantees
(after ant left)
Not Another Day
slug quotes [paraphrased]:
"i am bigger than syphilis"
"i feel at home in portland. portland is a lot like minneapolis- people drink pbr..people have tattoos..there are a lot of coffee shops...and a bunch of really great independent rappers"
"wow...that just made me cum" (after a good minute of loud cheering from the crowd)
"after the show, let's all go get tattoos!"
Kommentare