DeutschlandZuletzt gesehen: Dezember 2011
1

6

1

9

8

gespielte Titel seit 3. Jun. 2010
825 Lieblingslieder | 2 Beiträge | 8 Playlisten |

1.816 Shouts

Feeds
| | | | | |
| --- | --- | --- | --- | --- |
| 1 | | | | |
| 2 | | | | |
| 3 | | | | |
| 4 | | | | |
| 5 | | | | |
| 6 | | | | |
| 7 | | | | |
| 8 | | | | |
| 9 | | | | |
| 10 | | | | |
| 11 | | | | |
| 12 | | | | |
| 13 | | | | |
| 13 | | | | |
| 15 | | | | |
| 16 | | | | |
| 17 | | | | |
| 18 | | | | |
| 19 | | | | |
| 20 | | | | |
| 21 | | | | |
| 22 | | | | |
| 23 | | | | |
| 23 | | | | |
| 25 | | | | |
| 26 | | | | |
| 27 | | | | |
| 28 | | | | |
| 29 | | | | |
| 30 | | | | |

Feeds
| | | | | | |
| --- | --- | --- | --- | --- | --- |
| 1 | | | | | |
| 1 | | | | | |
| 3 | | | | | |
| 4 | | | | | |
| 5 | | | | | |
| 5 | | | | | |
| 7 | | | | | |
| 8 | | | | | |
| 9 | | | | | |
| 9 | | | | | |
| 11 | | | | | |
| 11 | | | | | |
| 13 | | | | | |
| 13 | | | | | |
| 13 | | | | | |
| 16 | | | | | |
| 16 | | | | | |
| 18 | | | | | |
| 18 | | | | | |
| 18 | | | | | |
| 18 | | | | | |
| 22 | | | | | |
| 22 | | | | | |
| 22 | | | | | |
| 25 | | | | | |
| 25 | | | | | |
| 27 | | | | | |
| 28 | | | | | |
| 28 | | | | | |
| 28 | | | | | |
Über mich

.
Ich wünsche allen meinen Freunden
viel Spaß auf meinem Profil!
I wish a lot of fun on my profile!

.
Meine Musiker

An der Artist Cloud kann man meinen Musikgeschmack
gut erkennen und welchen Musikern mein Herz gehört.

The artist cloud sums up my music taste well and shows
which musicians belong in my heart.
Meine Alben
Meine Empfehlungen

An dieser Stelle möchte ich gute Musiker weiter empfehlen,
die hier bei Last.fm selbst Mitglied sind und anderen
Musikfreunden kostenlose Downloads im mp3 Format
zur Verfügung stellen.
Die Band Fire on Dawson aus Deutschland
mit ihrem Debutalbum Prognative

Die Band Burning Plains aus der Ukraine
mit ihrem Album Empire Is Broken

Die Band I AND NOBODY aus den USA
mit ihrem Album Warm Remixes Family

Der Sänger budiyanto aus Neukaledonien
mit seinem Album BUDIYANTO

Die Band G-Money Federation aus Guyana
mit ihrem Album Money Grammar [Mix Tape]

Die Sängerin Calling Marian aus Frankreich
mit ihrem Album Debut

Die Sängerin Ashelyn Summers aus den USA
mit ihrem Album Sunday Morning
Ich bin ein Flaggensammler



Flaggen sammeln macht Spaß und kann sehr lehrreich
sein. Man lernt die Flaggen der einzelnen Länder zu
erkennen und hat dadurch die Möglichkeit etwas mehr
über das jeweilige Land zu erfahren.

Die verschiedenen Länder selbst zu bereisen ist natürlich
die bessere Art fremde Völker und deren Kultur kennen
zu lernen. Aber in über 200 Länder persönlich zu reisen
ist fast unmöglich.

Das Flaggen sammeln soll dazu beitragen, dass sich
Menschen aus den unterschiedlichsten Kulturkreisen
etwas näher kommen. Wir sollten uns mit gegenseitigem
Respekt begegnen und die Kultur, die Religion und die
Meinungen des Anderen achten.




I am a flag collector



Collecting flags is great fun and can be very instructive.
One learns to recognise the flag of a single country and
thereby has the possibility to know a little bit more about
the respective country.

To travel around to each nation independently is naturally
the best way to know and learn about foreign people and
their culture. But to personally travel to more than 200
countries is almost impossible.

The flag collection should contribute to the fact, that
people from the most diverse cultural circles are getting
closer. We should ourselves, with mutual respect, pay
attention to the culture, the religion and the opinions of
other people we meet.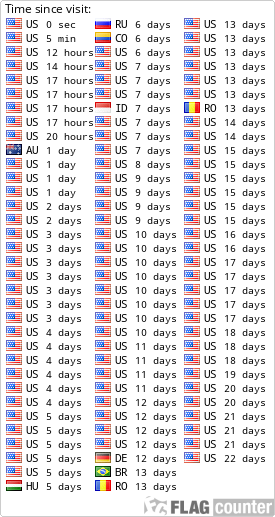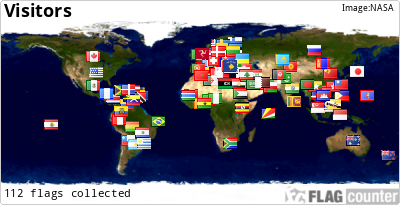 Letzte Aktivitäten