... nosy little fucker, aren't you?!
www.gofascinatesomeoneelse…Zuletzt gesehen: gestern Abend
1

2

6

4

2

8

gespielte Titel seit 29. Apr. 2009
1.123 Lieblingslieder | 328 Beiträge | 4 Playlisten |

0 Shouts

Feeds

Feeds
| | | | | | |
| --- | --- | --- | --- | --- | --- |
| 1 | | | | | |
| 2 | | | | | |
| 3 | | | | | |
| 4 | | | | | |
| 4 | | | | | |
| 6 | | | | | |
| 7 | | | | | |
| 8 | | | | | |
| 9 | | | | | |
| 10 | | | | | |
| 11 | | | | | |
| 12 | | | | | |
| 13 | | | | | |
| 14 | | | | | |
| 15 | | | | | |
| 15 | | | | | |
| 17 | | | | | |
| 18 | | | | | |
| 19 | | | | | |
| 19 | | | | | |
| 19 | | | | | |
| 22 | | | | | |
| 23 | | | | | |
| 24 | | | | | |
| 25 | | | | | |
| 26 | | | | | |
| 26 | | | | | |
| 28 | | | | | |
| 29 | | | | | |
| 30 | | | | | |
| 30 | | | | | |
| 30 | | | | | |
| 33 | | | | | |
| 33 | | | | | |
| 33 | | | | | |
| 36 | | | | | |
| 36 | | | | | |
| 36 | | | | | |
| 39 | | | | | |
| 40 | | | | | |
| 40 | | | | | |
| 40 | | | | | |
| 43 | | | | | |
| 43 | | | | | |
| 43 | | | | | |
| 43 | | | | | |
| 47 | | | | | |
| 47 | | | | | |
| 47 | | | | | |
| 50 | | | | | |
Über mich
First of all, "random" friend requests piss me off. If you send me a request and I've never spoken to you (or seen anything posted from ya) there is every chance I'll just reject or ignore the request. So, if you do wanna be chums (and you're NOT collecting stats), just make a bit of an effort to get to know me first...after all, you might discover that I'm not really "friend-worthy" and you will have wasted your time.
"Likes solitude, more interested in intellectual pursuits than relationships, not revealing, unemotional, rule breaker, avoidant, familiar with the
darkside
, skeptical,
socially uncomfortable
, acts without consulting others,
abrupt
, fantasy prone, appreciates strangeness, more likely to support marijuana legalization, not prone to compromise, hard to persuade, relies on mind more than on others, calm"
- Jung Type Descriptions
Favourite quotations:
"Doubt must follow certitude, as its shadow. it is the smiling face of the spirit"...
"There's nothing more likely to kill the spirit than the repulsion for obscure ideas"...
- Emil Cioran
"One does not become enlightened by imagining figures of light, but by making the darkness conscious."
- Carl Jung
"If an injury has to be done to a man it should be so severe that his vengeance need not be feared."
- Niccolo Machiavelli
"Just remember one thing - you'll meet a lot o' people on your way up... Don't fuck them, cause you'll meet them on your way down, as well!..."
- Ozzy Osbourne
"You cannot love everyone; it is ridiculous to think you can. If you love everyone and everything you lose your natural powers of selection and wind up being a pretty poor judge of character and quality. If anything is used too freely it loses its true meaning. Therefore, you should love strongly and completely those who deserve your love, but never turn the other cheek to your enemy!"
-
Anton LaVey
"Not all those who wander are lost..."
-
J.R.R. Tolkien
Question everything!
Ignorance is NOT bliss!
Science FTW!
"Peace is a lie, there is only passion. Through passion, I gain strength. Through strength, I gain power. Through power, I gain victory. Through victory, my chains are broken. The Force shall free me"...
- The Sith Code

"Once I was but the learner, now I am the Master"
-
Darth Vader
If you only knew the
P'HAUWA
of the Dark Side!... btw,
JOIN
or
DIE!
"Where now the
horse and the rider
? where is the horn that was blowing?
Where is the helm and the hauberk and the bright hair flowing?"
"For Death and
Glory
, foul deeds awake!
Now, for Wrath! Now, for Ruin and a Red Dawn!"
"Forth, and fear no light! Arise! Arise,
Riders
! Spears shall be shaken, shields shall be splintered! A sword day... a red day... ere the Darkness rises! Ride now!... Ride now!... Ride! Ride to ruin and the world's ending! Forth, Eorlingas! DEATH!"
My sins have been measured. I have committed many sins, but Wrath is the mortal sin that will do me in:
Greed - Low; Gluttony - Medium; Wrath - Very High; Sloth - Low; Envy - Very Low; Lust - Very High; Pride - High.
The Dante's Inferno Test has banished me to the Sixth Level of Hell - The City of Dis!
Here is how I matched up against all the levels:
Level | Score
Purgatory - Repenting Believers | Very Low
Level 1/ Limbo - Virtuous Non-Believers | Low
Level 2 - Lustful | Very High
Level 3 - Gluttonous | Low
Level 4 - Prodigal and Avaricious | Low
Level 5 - Wrathful and Gloomy | Very High
Level 6 / The City of Dis - Heretics | Very High
Level 7 -
Violent
| High
Level 8 / the Malebolge - Fraudulent, Malicious | High
Level 9 / Cocytus - Treacherous | High
Level descriptions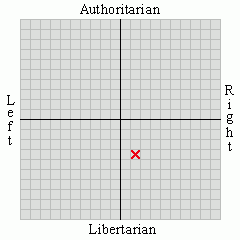 What political ideology do you have?
My Result:
Anarchist
I believe in no government at all. I believe that government is an oppressive force and against the natural rights of man, who are placed under a government by birth rather than by choice. Something like "Social Contract" might work...
Result Breakdown:
64% Anarchist
62% Libertarian
54% Democratic Socialist
54% Authoritarian Capitalist
52% Communist
46% Fascist
"
You Are 72% Cynical
You're a full blown cynic... and probably even skeptical of these results.
You have your optimistic moments, but most likely, you keep them to yourself."
How Cynical Are You?
Current favorite song/video
My eclectic score is currently
91/100
My super-eclectic score is currently
659/1000
my normalized charts
My short and long tail are:
My AEP:
My music taste is 85% acoustic.
[
"Inscription on a well: that which is deep doesn't shine"...
"The Great Suffering doesn't purify as they say, suffering poisons, bends the consciousness, breaks the backbone"...
"Pain isn't mute. It speaks, but only when alone. Pain is mute. But only to those that can't hear the silence"...
"Before being a substantial error, life is a mismatch of tastes that neither death nor poetry can straighten"...
"Philosophy is a cure for sadness. And there are so many that still believe in the profoundness of philosophy"...
"I wonder through the days like a whore in a world with no sidewalks"...
"All the waters have the color of drowning"...
"During the hardest trials, a cigarette helps so much more than the gospels!"...
"For 2000 years Jesus is having his revenge on us for not dying on a couch"...
"The flesh is incompatible with love: the orgasm would turn a saint into a wolf"...
"In voluptuousness, as in panic, we return to the origins: the chimp, wrongfully ostracized, finally lives his moment of glory - just as long as the shout"...
"The art of loving? It's knowing how to combine the temperament of a vampire with the discretion of an anemone"...
"Chopin raised the piano to the statute of tuberculosis"...
"Without Bach, theology would not have a point. Genesis - a fiction. Nothingness - omnipresent. if someone owes everything to Bach, that's god!"...
"Any kind of indignation - from mumbling to luciferianism - marks an arrest in mental evolution"...
"No other time are people so willing to believe you as when you depict yourself in a "bad" way...and no other time you hate them so much for believing you!"...
"A mind full of "cracks" is like an old wall, which allows you to see the world beyond"...
"From the moment you believe you understand it all, you have the face of a murderer"...
"The one that doesn't see death colored as roses are, has a color-blind heart"...
"When we turn pale, the blood withdraws, to keep itself from coming between us and who knows what"...
"Death - the last holy institution that still requires some respect"...
Most of that stuff is by
this guy
- other
quotes
But, what the hell, you gotta have SOME
fun!!!
Speaking of fun,
could anyone ask for more?!
Well, maybe
this
... and
this
!
...
"The sound of perfection"!
Oh, yeah, and last but not least,
Prog-Metal
is serious business!

Like what you saw? Talk to me, before adding me...
Didn't like what you saw? The toilets are first on the left, on your way out...