RSS
Weiterleiten
17. Feb. 2006, 6:20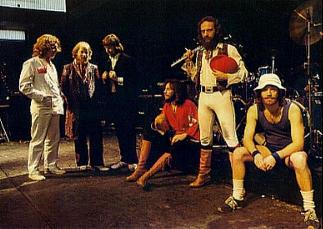 My dad would listen to
Jethro Tull
a lot when I was a kid. I wonder exactly how many times I listened to the
Original Masters
cassette tape. Then a couple of years ago, I bought
Thick As A Brick
after reading that it was the most "progressive" effort of the band. It blew me away, and I listened to that cd repeatedly 2 years ago. Of course
Aqualung
is a classic as well, with great lyrics too.
Ian Anderson
is one of my most favorite singer/songwriters. Everyone acclaims him as a masterful flutist; I agree with them, but I think his prowess on the flute has tremendously helped his musical creativity in other aspects. When you listen to him sing, you can definitely tell that he plays flute as well, because of how his voice flows. His and
Martin Barre
's guitar work is great too. Barrieman Barlow is JT's best drummer imo. Just listening to him on Thick as a Brick is amazing. Jethro Tull is one of the best progressive bands that fuse catchiness with complexity. As my brother would say, the catchiness is the spoonful of sugar that helps the medicine (the complexity) go down.
Skating Away on the Thin Ice of the New Day
is one of the funnest songs ever! Even though this track is only 3:27 long, it is so intricate. I love how the song progressively adds more and more layers so that the last minute is so very rewarding. It's hard to find great happy songs, and this is one of them. I just feel so carefree as though I would indeed like to skate away on the thin ice of the new day! :)
Ian Anderson said that JT's unique sound resulted from the fact that they didn't do drugs like all the other 70's prog bands. And when asked about beating Metallica, for best Heavy Metal album of the year, Anderson replied that they're not even heavy metal; they're heavy wood! JT makes folk rock, so don't let the 'hippie-ness' turn you off to the greatness that is Jethro Tull.
Kommentare