RSS
Weiterleiten
2. Jan. 2006, 23:58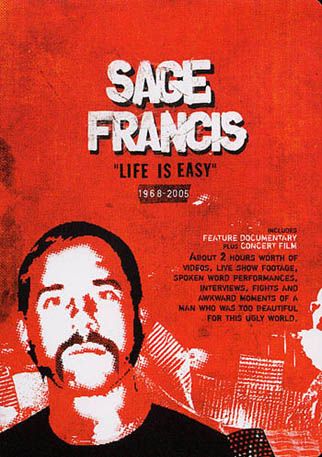 "I had a dream about my mom last night.
She explained to me that she
loves me because I'm her son,
but she doesn't like me as a person."
Not being enough of a hardcore
Sage Francis
fan to actually purchase this but still wanting to watch it I accidentially stumbled upon the dvdrip over at Mininova and proceeded to download it.
*raises right hand* TOTALLY WORTH IT!
An attempt at a serious summary or review seems a bit redundant so I'll just list the random thoughts that went through my head while watching it:
x
How old is
Joe Beats
? He seemed really young.
x
I always imagined that
Dose One
would be an extremely hyperactive person in real life but he looked so mellow sitting in that car.
x
I could never do any of those dance moves without seriously hurting myself.
x
Sole
s hairlength to hairline ratio is amazing. I've always been a fan of his shabby looks. The Münich freestyle battle left me scarred though. I don't know if that's a good or a bad thing.
x
Sages comedic timing is on point. I enjoyed the parts where it's just him talking to the camera the most. The live concert footage on the other hand didn't appeal to me as much.
So.. what do people think of this DVD? Drop a comment if you've seen it.
Kommentare