RSS
Weiterleiten
3. Dez. 2005, 19:02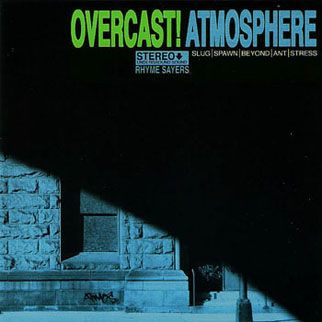 Atmosphere - Overcast! (1997)
Hence forth, step within my psychoanalysis.
Callouses upon my mind make me strain for my lines.
If I were to pick one album which I felt represented me the most as a person I would choose this one. Even though I still hold
Lucy Ford
(the first
Atmosphere
album that I heard) as my favourite I have noticed that with every year
Overcast!
creeps closer to the number one spot. The sound of this cd differs slightly from the rest of their releases (with the exception of
Headshots: Se7en
).
ANT
s production brings a barren minimalistic sound worthy of the bands original name "Urban Atmosphere". It's as much stressed and tired as slow and hungry.
To give some background for those who are not familiar with
Atmosphere
, this is their debut album released in 1997. At this time the group consisted of
ANT
as usual on production but
Slug
shared the emceeing duties with
Spawn
(a.k.a.
Rek The Heavyweight
). People who dislike this album usually point to him as the big weakness, but I disagree. Even though he is noticable inferior to
Slug
he keeps a pretty low profile throughout the record and even provides one of the best moments with his solo joint
Caved In
.
Slug
on the other hand sounds ridiciously motivated and totally rips every track he's on. Listening to him spit early in his career is some of the greatest shit for someone who appreciates this type of hiphop music.
Finally, some comments on specific tracks. There are a few unforgetable songs on here like
Scapegoat
,
Sound Is Vibration
and the cassette exclusive bonus track
God's Bathroom Floor
. Those three are the ones which everyone is familiar with but to me songs like
1597
,
Clay
and
Adjust
are just as classic. If I had to point out something specific that keeps the album from reaching perfections it would be that towards the end the songs kind of go from great to only being good. That's really a minor complaint though, I do recommend this album to everyone. It might not be their most digestible work but it's the most rewarding.
Rating:
90%
Kommentare