Ania, 21, Weiblich, PolenZuletzt gesehen: Mittwoch Nachmittag
6

8

4

7

5

gespielte Titel seit 28. Apr. 2010
141 Lieblingslieder | 45 Beiträge | 0 Playlisten |

183 Shouts

Feeds
| | | | | |
| --- | --- | --- | --- | --- |
| 1 | | | | |
| 2 | | | | |
| 3 | | | | |
| 4 | | | | |
| 5 | | | | |
| 6 | | | | |
| 7 | | | | |
| 8 | | | | |
| 9 | | | | |
| 10 | | | | |
| 11 | | | | |
| 12 | | | | |
| 13 | | | | |
| 14 | | | | |
| 15 | | | | |

Feeds
| | | | | | |
| --- | --- | --- | --- | --- | --- |
| 1 | | | | | |
| 1 | | | | | |
| 3 | | | | | |
| 3 | | | | | |
| 5 | | | | | |
| 6 | | | | | |
| 7 | | | | | |
| 7 | | | | | |
| 7 | | | | | |
| 7 | | | | | |
| 11 | | | | | |
| 11 | | | | | |
| 11 | | | | | |
| 11 | | | | | |
| 11 | | | | | |
Über mich
Addicted to MUSIC. Supernatural. Sons of Anarchy. Doctor Who. The Vampire Diaries. Jensen Ackles. Ian Somerhalder. Chistian Bale. The Lord of The Rings. The Witcher. Stephen King...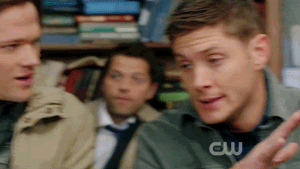 - My name is Dean Winchester. I 'm an Aquarius. I enjoy sunsets, long walks on the beach and frisky women. And I did not kill anyone.
- You think you're funny?
- I think I'm adorable ;)
Sam: Are you... drunk?
Castiel: No! Yes... I found a liquor store.
Sam: And?
Castiel: I drank it.
Dean: I thought the legend said that Morteki only goes after chicks.
Sam: He does.
Dean: Right, well that explains why he went after you, but why me?
Sam: Hilarious.
Letzte Aktivitäten