RSS
Weiterleiten
9. Jan. 2008, 14:29
I found that last years journal was of great interest to me and hopefully you too. For me, it revealed a great widening in my musical taste, and also confirmed many things about many artists for me. I hope this year will set a similar trend, and more new artists being included. Indeed it starts with a great discovery for me:
Monday 31st December - Sunday 6th January
Cat Power
-
The Greatest
Though strictly speaking, Cat Power was someone I have been aware about for a while, this week was the first
time I have really started to listen to her music. I recently received her excellent album
Moon Pix
however this song from her 2006 album, also called
The Greatest
came to my attention via YouTube. I saw footage of her brilliant performance on Later...With Jools Holland, a show I would thoroughly recommend to anyone who can get it. The version from that show remains the best version I have heard, including the album version.
It is a brilliant, lush track, full of backing singers, strings, piano, guitar and drums. It is a wonderfully ironic (perhaps) commentary on success and human achievement. Her message rings true, if perhaps slightly depressingly. Dreams don't always come true. But not even the most morbidly depressing lyrics could detract from the uplifting beauty of this track.
Monday 7th January - Sunday 13th January
Chris Cornell
-
Preaching For The End Of The World
Another awesome track from Chris Cornell's first solo album,
Euphoria Morning
. This track strikes me as Radiohead influenced, with Chris using the top of his range and singing some bizarre lyrics which could have been written by Thom Yorke:
Hello, I know there's someone out there
Who can understand
And who's feeling the same way as me
I'm twenty-four and I've got everything to live for
But I know now that it wasn't meant to be
'Cause all has been lost and all has been won
And there's nothing left for us to save
But now I know that I don't want to be alone today
So if you find that you've been feeling just the same
Anyways, an awesome track, with the awesome (if understated on this track) session drummer Josh Freese. Probably the only drummer to have his own day in Los Angeles and a key to the city.

Monday 14th January - Sunday 20th January
Cat Stevens
-
Father & Son
Such a fantastic song. The lyrics are so brilliant and the performance so impassioned that it is hard not to be moved by this simplest of songs. I have been listening to the fantastic version he sang on his Earth Tour of 1976 (see vid). Apologies for his strange stage presence!
Monday 21st January - Sunday 27th January
Lynyrd Skynyrd
-
Simple Man
The Kings of Southern Boogie turned up the soul for this classic tribute to the simple life. This song just gets to me because of its good message and its simplicity that perfectly reflects the lyrics. It is great, and this is a band that I have listened to a lot recently and I have been mighty impressed. Unlike most fans of the band, I hate
Free Bird
but this is brilliant.
Monday 28th January - Sunday 3rd February
Janis Joplin
-
Piece of My Heart
One of the truly great songs of the sixties. Nothing sounds like Joplin's whiskey soaked rasp which cuts through the typically laid back 60's backing like a knife through butter. IMMENSE.
Monday 4th February - Sunday 10th February
Ryan Adams
-
My Winding Wheel
This man has written some fantastic songs, and this simple song features him and an acoustic and very little else. His voice makes me think of
Lindsay Buckingham
, and I would compare his songwriting talents to those of Buckingham era
Fleetwood Mac
.
Monday 11th February - Sunday 17th February
Kings of Leon
-
Knocked Up
Awesome. Seven minutes of slightly strange lyrics, fantastic (subtle) drumming, and great rock out sections which sound a bit like Pearl Jam and The Black Crowes jamming.
Monday 18th February - Sunday 24th February
John Martyn
-
Spencer The Rover
I almost chose Nirvana's only really good song this month, Heart-Shaped Box, however Martyn's wonderful acoustic guitar playing and amazing voice did it for me. There is a reason he was the first non carribean artist to be signed to the influential (reggae generally) label Island.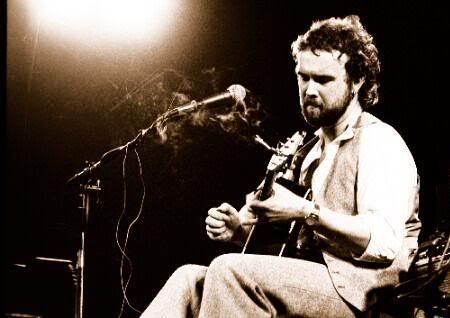 Monday 25th February - Sunday 2nd March
Eddie Vedder
-
No Ceiling
Is there a better song of 1.33 in the world? no, probably not. Were this a little longer it would be a masterpiece. As it is, it is a masterclip to coin a shit word. This is bloody brilliant. As is the soundtrack it is from,
Into the Wild
.
Monday 3rd March - Sunday 9th March
Band of Horses
-
Window Blues
Just beautiful. This band are so bloody good. Another alt-country band I am getting into! Damn is this the beginning of an obsession with all things country?! This song has all the intruments of a country song, the atmospherics of a space rock song and the melody of a brilliant song. No buts, just get the album '
Cease to Begin
' and you shall not be disappointed.
NO VIDEO ON YOUTUBE I AM AFRAID.
Monday 10th March - Sunday 16th
Lambchop
-
The Old Gold Shoe
The alt-country theme continues with the brilliant opening track to Lambchop's '
Nixon
' album. This is a premium slice of chilled out, witty song writing. It is perhaps a tad long, but that does not detract from its infectious but subtle melody that drives itself into your subconscious.
It was a close run in with
Mother Love Bone
's '
Gentle Groove
' and
The Black Crowes
'
Oh Josephine
' off their new album, '
Warpaint
.' It is great to see the Crowes comeback with a great new album, and MLB, despite having only one album, never cease to amaze me with their powerful grunge/glam/classic rock mix which gave them a unique sound.
NO VID AGAIN. Grrr.
Monday 16th March - Sunday 23rd March
The Crimea
-
Bombay Sapphire Coma
Just for that brilliant, epic guitar line after the choral-ly parts. Really liking this album at the mo. Loop a Loop is just such an advert song that I just think they wrote it for that ad!
Monday 24th March - Sunday 30th March
Johnny Flynn & the Sussex Wit
-
Hong Kong Cemetery
On Saturday I witnessed one of the best concerts I have seen, and it happened to be played at my school. The 'Canaries in a Coal Mine' Global Warming event was headlined by an up and coming folk artist Johnny Flynn and his band, The Sussex Wit (signed to Vertigo). I hoped for a good artist, but ultimately left struggling to think of many better. Johnny himself played guitar, trumpet, banjo, mandolin and violin as well as singing, whilst their drummer also played guitar and piano. Johnny's sister sang backing and they had a bassist and a cellist. They were exceptionally gifted. Rather than playing straight folk, the drummer's militaristic beats, as one review put it, gave a whole new dimension to their already fantastic sound. He was a phenomenal drummer.
This track stood out for me as it had such an original sound that sounds at the same time, classic. The sea shanty-esque verses made way for a trumpet part which was very much in the vein of a funeral dirge. The track was absolutely beautiful and everyone in the crowd (disappointingly small by Johnny Flynn, perhaps that was the effect of the, ahem, wonderful group, 'The Audacity') was visibly taken aback by it.
I cannot recommend enough their forthcoming (May) debut album entitled, 'A Larum.' After talking with Johnny I am holding out for a Reading appearance though my hopes are not high.
Anways, enough of my ramblings…the only video available on YouTube is a clip from the song of poor quality so trust me when I say that it does not do it any justice whatsoever.
Monday 31st March - Sunday 6th April
Bright Eyes
-
No One Would Riot for Less
Having seen the line up for this years Reading Festival I have been listening through the music of artists I hope to see. I was pleased to see that
Conor Oberst
(Bright Eyes frontman, songwriter etc) was playing. I had forgotten how brilliant
Cassadaga
is, and having listened through it this song really stuck out for me, initially because of its epic orchestral ending, but after repeated listens, I found that the lyrics were just as interesting. Death is oft dealt with in songs, but I like Conor's style…strong on imagery, without becoming overly clichéd. It is touchingly sung too. Check it out.
Very weird vid!
Monday 7th April - Sunday 13th April
Pearl Jam
-
Off He Goes
I reckon that I listened to this song about 20 times this week. I had never really listened to
No Code
before…I had only listened to it as part of a Pearl Jam epic. This song really is a Pearl Jam masterpiece. It is about a friend who would always let down his friends. As Eddie Vedder said in a live performance in Katowice, Poland… "this is a song about being friends with an asshole" before pointing at himself. An honest song, that focuses on subtle harmony rather than the strongly contrasting dynamics that epitomised the grunge sound. Beautiful, captivating, passionate, subtle…just awesome.
The Katowice Show
Monday 14th April - Sunday 20th April
Rage Against the Machine
-
Settle for Nothing
The announcement of the Reading headliners, and the obsession some of my friends have with this band, led me to listen to them again. I had forgotton just how awesome they are. Radical Left Wing ranting, insane riffs, and an inimitable groove…this music has all the signs of an insane festival band and an awesome summer! Settle For Nothing is one of my favourites as it shows Rage doing what they do this best…building up tension, then letting rip in a cathartic climax of stratospheric proportions. 'Read my writing on the wall!!!!' screams Zach…cant wait for Reading!
Oh and the brilliantly random jazz solo. Awesome.
Monday 21st April - Sunday 27th April
Sufjan Stevens
-
John Wayne Gacy Jnr
Very pretty song. Lovely vocals, instrumentation, everything.
Illinoise
…well I have listened to the album twice but it sounds like it will just get better and better.
Monday 28th April - Sunday 4th May
Nick Drake
-
Saturday Sun
Such a stunning way to end one of my favourite albums. It is Nick Drake, so it is inevitably going to be a little depressing, but it is about the most bright, warm track (pun intended) on the album. The sparse instrumentation on the rest of the album makes this richly layered track come as a little surprise on the first listen, but with hindsight it does seem to be a suggestion of Nick Drake's future work. Wonderful.
Monday 5th May - Sunday 11th May
The Pretenders
-
I Go To Sleep
Yes, love songs/ballads are generally a little weary, but this Kinks cover is stunning. Chrissie Hynde has a beautiful voice, and this song is really made by the great, strong melody.
Kommentare