28, Männlich, Chile
rateyourmusic.com/~Tebymet…Zuletzt gesehen: vor 14 Tagen
5

8

0

5

6

gespielte Titel seit 3. Aug. 2009
1.299 Lieblingslieder | 2 Beiträge | 2 Playlisten |

88 Shouts

Feeds
| | | | | |
| --- | --- | --- | --- | --- |
| 1 | | | | |
| 2 | | | | |
| 3 | | | | |
| 4 | | | | |
| 5 | | | | |
| 6 | | | | |
| 7 | | | | |
| 8 | | | | |
| 9 | | | | |
| 10 | | | | |
| 11 | | | | |
| 12 | | | | |
| 13 | | | | |
| 14 | | | | |
| 15 | | | | |
| 16 | | | | |
| 17 | | | | |
| 18 | | | | |
| 19 | | | | |
| 20 | | | | |
| 21 | | | | |
| 22 | | | | |
| 23 | | | | |
| 24 | | | | |
| 25 | | | | |
| 26 | | | | |
| 27 | | | | |
| 28 | | | | |
| 29 | | | | |
| 30 | | | | |
| 31 | | | | |
| 32 | | | | |
| 33 | | | | |
| 34 | | | | |
| 35 | | | | |
| 36 | | | | |
| 37 | | | | |
| 38 | | | | |
| 39 | | | | |
| 40 | | | | |
| 41 | | | | |
| 42 | | | | |
| 43 | | | | |
| 44 | | | | |
| 45 | | | | |
| 46 | | | | |
| 47 | | | | |
| 48 | | | | |
| 49 | | | | |
| 50 | | | | |

Feeds
| | | | | | |
| --- | --- | --- | --- | --- | --- |
| 1 | | | | | |
| 2 | | | | | |
| 3 | | | | | |
| 4 | | | | | |
| 5 | | | | | |
| 5 | | | | | |
| 7 | | | | | |
| 8 | | | | | |
| 9 | | | | | |
| 10 | | | | | |
| 11 | | | | | |
| 12 | | | | | |
| 12 | | | | | |
| 14 | | | | | |
| 14 | | | | | |
| 16 | | | | | |
| 17 | | | | | |
| 17 | | | | | |
| 19 | | | | | |
| 20 | | | | | |
| 21 | | | | | |
| 22 | | | | | |
| 23 | | | | | |
| 24 | | | | | |
| 24 | | | | | |
| 26 | | | | | |
| 27 | | | | | |
| 28 | | | | | |
| 29 | | | | | |
| 29 | | | | | |
| 31 | | | | | |
| 32 | | | | | |
| 32 | | | | | |
| 34 | | | | | |
| 34 | | | | | |
| 36 | | | | | |
| 37 | | | | | |
| 37 | | | | | |
| 37 | | | | | |
| 37 | | | | | |
| 41 | | | | | |
| 41 | | | | | |
| 43 | | | | | |
| 43 | | | | | |
| 45 | | | | | |
| 46 | | | | | |
| 47 | | | | | |
| 47 | | | | | |
| 47 | | | | | |
| 50 | | | | | |
Über mich
Hi! I'm Esteban from Chile. I live in a southern city called
Temuco
in the
lake district
.
I'm 27 years old/married/teacher/music-lover/a voracious reader/coffe-addict/sometimes gamer/guitar-player and beer-lover
.
I don't practice any sport , but
sometimes
I like to watch them :)
When it comes to music, I'm a huge metal fan but I'm open to listen to other kinds of music, basically because there are genres that have special features and virtuosism,such as: Jazz, Blues, Bossa-Nova and stuff like that, but as you can see in my last.fm collection, I'm a metal/rock music fan. I enjoy listening to Heavy Metal, Power Metal, Progressive Metal, Folk Metal, Melodic Death Metal, Hard Rock, Classic Rock, etc.
Currently, I'm hooked on:
Omnium Gatherum
,
HammerFall
,
Symphony X
,
Husar
,
Toto
,
Rainbow
[18/01/2014]
Sometimes I write reviews in
RYM
. If you have one, just add me as a friend :)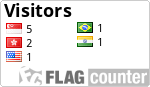 Letzte Aktivitäten