AriElle , 22, Weiblich, Vereinigte StaatenZuletzt gesehen: Januar 2014
4

8

3

8

5

gespielte Titel seit 1. Jul. 2009
| | | | | | |
| --- | --- | --- | --- | --- | --- |
| | | Florida Georgia Line – Dirt | | | 20. Jul., 23:45 |
| | | KJ-52 – Shake Em Up - feat. This'l | | | 20. Jul., 23:40 |
| | | Jesus Culture – Light Of Your Face | | | 22. Jun., 22:50 |
| | | Jesus Culture – Holy | | | 22. Jun., 22:40 |
| | | U2 – Where The Streets Have No Name - New Edit U218 | | | 22. Jun., 22:34 |
| | | Paramore – Proof | | | 22. Jun., 22:31 |
| | | U2 – Magnificent | | | 22. Jun., 22:26 |
| | | U2 – One | | | 22. Jun., 22:21 |
| | | Gungor – Beautiful Things - Live | | | 22. Jun., 22:15 |
| | | Gungor – The Earth Is Yours | | | 22. Jun., 22:11 |
| | | Gungor – I Am Mountain | | | 22. Jun., 22:07 |
| | | Kari Jobe – Stars in the Sky | | | 22. Jun., 22:03 |
| | | Coldplay – Magic | | | 22. Jun., 21:59 |
| | | Coldplay – A Sky Full of Stars | | | 22. Jun., 21:54 |
| | | Love & The Outcome – He Is With Us | | | 22. Jun., 21:50 |
Mehr anzeigen

Feeds
| | | | | |
| --- | --- | --- | --- | --- |
| 1 | | | | |
| 2 | | | | |
| 3 | | | | |
| 4 | | | | |
| 5 | | | | |
| 6 | | | | |
| 7 | | | | |
| 8 | | | | |
| 9 | | | | |
| 10 | | | | |
| 11 | | | | |
| 12 | | | | |
| 13 | | | | |
| 14 | | | | |
| 15 | | | | |

Feeds
| | | | | | |
| --- | --- | --- | --- | --- | --- |
| 1 | | | | | |
| 2 | | | | | |
| 3 | | | | | |
| 4 | | | | | |
| 5 | | | | | |
| 6 | | | | | |
| 7 | | | | | |
| 8 | | | | | |
| 9 | | | | | |
| 10 | | | | | |
| 11 | | | | | |
| 12 | | | | | |
| 13 | | | | | |
| 13 | | | | | |
| 13 | | | | | |
Über mich


"Paramore was a band, Paramore is a band, Paramore will be The band."
-Hayley Williams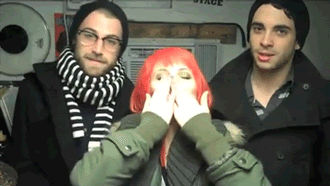 Musically blessed with a voice to sing my passion for life!
Oh Father
Oh Father
Oh Father
MY JESUS
Father, Well I am ready
Won't you let it begin?
Cause I am here now,
I want to dance in
the mighty palm of your hand.
This outro for Let the Flames Begin is so powerful live I LOVED it!
Without Music my life means nothing!

As you can tell I listen to various genres, but I mostly pursue vocalizing in the hard rock/punk/grunge/symphonic genre.
In other words, I love to sing music full or pure and raw emotion. Which as an artist, I can connect to on a deeper level. I sing pretty much everywhere, except for randomly out in public. Okay, I take that back because I'll jump up and get stoked if I hear one of my favorite songs playing when I'm out and about shopping. I have been leading Worship with my band for about 2 years going on 3! I'll admit when you first approach me, I might come off as being shy. So unfortunately, I am. However, when I'm in the Lord's presence on stage, I'm a totally different person and my God-given talent shines through.
My Musical Inspiration
Hayley Williams, where do I even begin?
Her voice is UNBELIEVABLE!
If I ever got to sing a duet with her it would be the best day of my life!
1) She has inspired me for as long as I can remember to always stay true to myself.
2) To not fall in love with guys for all the wrong reasons.
3) HEADBANGING IS CRUCIAL!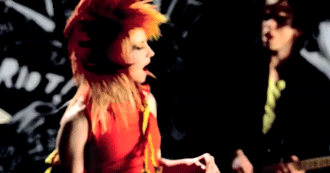 I'm a 21 year old High School Grad, yeah go Class of 09!
I'm currently attending community college, and later will transfer as a Music Major, to further pursue my career as a Worship Leader and Musician! I pray that someday God will bless me with the desires of my heart and awesome band mates!
I can't think of anything else I would want to do with my life, than to sing my heart out for the one who has Blessed me with my voice and my breath of LIFE in CHRIST who gives me STRENGTH!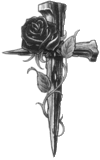 This is the tattoo I want to get on my left ankle in the future!
(Preferably by the one, the only, and talented Miss Kat Von D!)
To always remind myself that Jesus suffered and died on the cross for my sins!
"SIN HAD LEFT A CRIMSON STAIN. HE WASHED IT WHITE AS SNOW."<3

PARAMORE AND RELIENT K CONCERT MAY 15TH 2010 BEST B-DAY PRESENT FROM MY BBFS EVERRRR! <3
Letzte Aktivitäten