RSS
Weiterleiten
10. Jun. 2008, 16:15
A few days ago I glanced over a list of the films the music of which won an
Academy Award for Original Music Score
, just out of curiosity, as I wanted to know what films were nominated in the year 2000 when
John Corigliano
's "
The Red Violin
" was the winner. What I found out, what must have been painfully buried deep in my little heart, was the crucial fact that the most gorgeous
Rachel Portman
WASN'T the winner with her phantastic music for "The
Cider House Rules
"! Don't get me wrong, I love Corigliano's score, but, I mean: WHAT? IMPOSSIBLE!
That was the point when I started to have a closer look at that list and it was absolutely horrible. That experience, of course, is quite individual and subjective, depends on taste and blablabla, and although I always say to others
"de gustibus non est disputandum"
I decided that THIS is enough!
I decided furthermore to create a new personal tag for me with which I will mark all of those filmmusic scores that I think deserve the golden boy, whether they actually received it - or not. And thus "
this truly deserves the academy award
" was born...
Here are links to the other journal entries belonging to this (still shamefully incomplete) series:
Part 2 (2000-1991)
Part 3 (1990-1981)
2008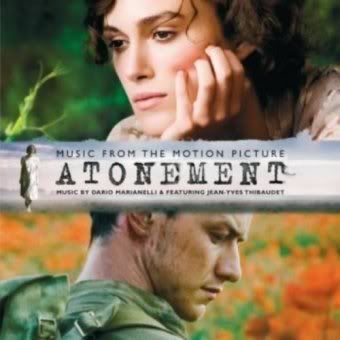 This was the year, I think everybody has it still in mind - AND SHOULD INDEED, that saw the winning of the absolutely phantastic composition of "Atonement" by
Dario Marianelli
, a choice that would have been 100% my own. Although
Marco Beltrami
and
James Newton-Howard
did wonderful jobs with "3:10 to Yuma" and "
Michael Clayton
" I really believe that Marianelli's work is just outstanding.
2007
This was truly disappointing. To be perfectly honest, I have not the slightest idea why
Gustavo Santaolalla
was chosen for the award for "Babel" the year
Alexandre Desplat
,
Philip Glass
and
Javier Navarrete
were also nominated - for scores which I think are by far way much better. But although "
Pan's Labyrinth
" is wonderful and lovely and I also like "
Notes on a Scandal
" quite a lot I have to chose Desplat's "
The Queen
", as it was, in my opinion, simply the best.
2006
Another HORRIBLE year for me! As in the following year (and as I just wrote) was
Gustavo Santaolalla
the composer who received the Oscar, this time for "
Brokeback Mountain
". Puh, the movie is nice, but why does everyone seem to be so mad about it? And the music, this twelve minute long cute playing with the guitar or whatever it was, interrupted by all those country songs...? My god, where those people deaf or just mad? "
Pride & Prejudice
" was nominated and did NOT win?! UNBELIEVABLE!
2005
Ah, just wonderful. 2005 saw five absolutely excellent compositions of the highest order, and the jury chosed one of the most phantastic scores I've ever heard to be the winner. With the rivals being
John Debney
's "
The Passion of the Christ
",
James Newton-Howard
's "
The Village
",
John Williams
's "
Harry Potter and the Prisoner of Azkaban
" and
Thomas Newman
's "
Lemony Snicket's A Series of Unfortunate Events
", truly the best that year was
Jan A.P. Kaczmarek
's "
Finding Neverland
"!
2004
This wasn't easy for me. The first moment I was seriously thinking that
Danny Elfman
's "Big Fish" would be a better choice than
Howard Shore
's "
The Lord of the Rings: The Return of the King
" because I like it so much, but that would be quite ignorant, as Shore's music for this part of the trilogy is just brilliant.
2003
Oh, this, my dear friends, is the year of the most crucial mistake of all times in the history of awarding filmmusic. The score, that received the Oscar this year, was "
Frida
", composed by
Elliot Goldenthal
. I enjoyed watching the movie quite a lot, and I also think that the music fits the visuals, and neither do I think that the music is bad nor do I dislike it... But it is ABSOLUTELY FEEBLE-MINDED to award it with the f*cking Oscar the same year
Philip Glass
' divine masterpiece "
The Hours
" is competing.
Seriously, that is one of the most breathtaking pieces of music you will EVER hear, and they gave that statue to Mister Goldenthal??? NO!
2002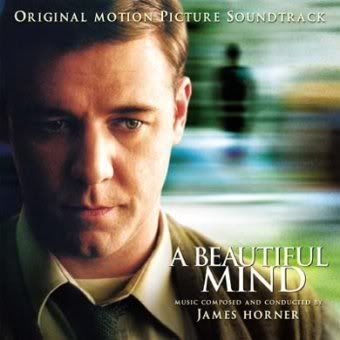 The choice in 2002 was also quite bad, and I can't understand it. The winner was
Howard Shore
's "
The Lord of the Rings: The Fellowship of the Ring
", which is a good score, and I remember me being quite enchanted and loving those wagnerian motives that were used (I hated the theme for the hobbits though, as I abhor the hobbits...), but this is NOTHING compared to the phantastic work done by
James Horner
with "
A Beautiful Mind
", which deserved the award so badly...
2001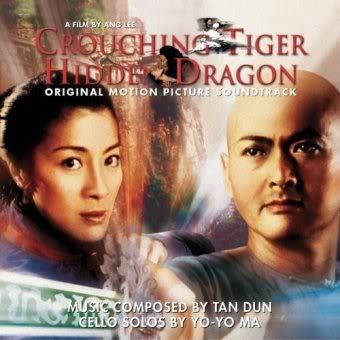 I was quite satisfied with the choice for 2001. I like the music for
Hans Zimmer
's "
Gladiator
", but mostly because of the collaboration with
Lisa Gerrard
I think, and the score isn't remarkable enough in my opinion, whereas I think of
Tan Dun
's music for "
Crouching Tiger, Hidden Dragon
" as absolutely wonderful. Of course such a choice can never be 100% fine with me when that means to ignore the nomination for my darling composer
Rachel Portman
, who was a rival with her pretty score for "
Chocolat
". But although I love this music I sorrowly have to admit: Tan Dun's is just better in this case...
This is it for now. I'm done with tagging to the year 1960 I think, and I will try to continue tagging my favorites to the very beginning in the year 1935. Of course that means a lot of listening for me, as not every single score is known to me, so I'm sure this will take quite a lot of time.
However, I will try to write the next entry with the years 2000-1991 within the next week.
Feel free to comment, and write whatever you want, I'm open for harassement and baiting...
You can continue with
Part 2 (2000-1991)
if you like.
Akzeptierte Übermittlungen
Filmscores and Soundtracks
,
Existentialism NOW!
,
Mindfuck
,
The Readers
,
20th Century Classical
,
europa
,
For the Love of Film.....Music
,
Music for Films
,
Philosophers
,
Composers
,
Soundtrack
,
Film Noir
,
A group dedicated to Philip Glass
,
The Movie Group
,
Late Night Cruising Sensations
,
Polyglots
,
Soundtracks and other moody music
,
Angelo Badalamenti
,
i love soundtracks
,
Movie Score Addicts...
,
Sound of the Universe
,
Meryl Streep
,
Genius Loci
,
Zbigniew Preisner
,
Musiques Emotionnelles
,
Daniel Robert "Danny" Elfman
,
Library Lust
,
Jane Austen
,
Ω Radio
,
SP Music Club
,
René Aubry
,
Dario Marianelli
Unbestätigte Übermittlungen
Yann Tiersen
,
Contemporary Classical
,
Movie Music
,
John Williams
,
Literature
,
Tea
,
Dirus, A, Um Contemplare
,
Michael Nyman
,
European Nobility
Kommentare