| | | | | | |
| --- | --- | --- | --- | --- | --- |
| | | Slowtide – Young Love | | | 2. Feb., 14:19 |
| | | Slowtide – Young Love | | | 2. Feb., 14:16 |
| | | Slowtide – Young Love | | | 2. Feb., 14:03 |
| | | klangraum – The Dream (Instrumental) | | | 2. Feb., 14:00 |
| | | Slowtide – Young Love | | | 2. Feb., 13:49 |
| | | klangraum – The Dream (Instrumental) | | | 2. Feb., 13:46 |
| | | Slowtide – Young Love | | | 2. Feb., 13:42 |
| | | klangraum – The Dream (Instrumental) | | | 2. Feb., 13:39 |
| | | Eels – On the Ropes | | | 2. Feb., 13:36 |
| | | Ray LaMontagne – Drive-in Movies | | | 2. Feb., 13:31 |
Mehr anzeigen

Feeds

Feeds
Über mich
In real life I can be friendly, helpful and big hearted but on the football pitch it's always personal to me - I'm really nasty then! Just don't meet me on a football pitch and everything will be fine. Apart from this I like writing, reading, (watching) football, playing table tennis, taking photographs, traveling and being nasty on a football pitch. Ah well, and listening music... I think, I like that, too.
Last.FM Milestones
1st track: (16 Oct 2008)
Doves - Caught By The River

1000th track: (01 Dec 2008)
The Killers - Sweet Talk

2000th track: (30 Jan 2009)
Medwyn Goodall - Eagle Spirit

3000th track: (20 Oct 2010)
Falco - Untouchable

4000th track: (08 Jun 2011)
Keane - A Bad Dream

5000th track: (31 Jul 2011)
City of Prague Philharmonic Orchestra - Not Through My Realm

6000th track: (15 Nov 2011)
The Beatles - Revolution

7000th track: (19 Jan 2012)
Pink Floyd - What Shall We Do Now?

8000th track: (11 Jun 2012)
Chris Rea - Josephine

9000th track: (23 Nov 2012)
The Police - Every Little Thing She Does Is Magic

10000th track: (18 Dec 2012)
In A Split Second - Glen Affric

11000th track: (29 Jan 2013)
The Beatles - The Long and Winding Road

12000th track: (25 Aug 2013)
Roger Hodgson - I'm Not Afraid

13000th track: (10 Oct 2013)
The Alan Parsons Project - Mammagamma (Instrumental)

14000th track: (15 Nov 2013)
James Blunt - I'll Take Everything

15000th track: (25 Dec 2013)
Roger Hodgson - Give Me Love, Give Me Life

16000th track: (04 Feb 2014)
Jim Johnston -

WWE: Voices (Randy Orton) (feat. Rich Luzzi of Rev Theory)



17000th track: (10 Mar 2014)
The Doors - The End

18000th track: (20 Apr 2014)
The Police - Synchronicity I

19000th track: (25 Jun 2014)
Pink Floyd - Time

20000th track: (26 Jul 2014)
The Alan Parsons Project - Psychobabble

Generated on 26 Jul 2014
Get yours here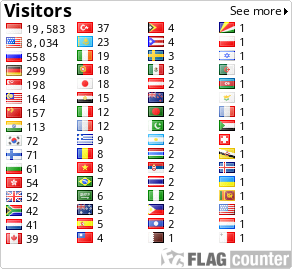 Letzte Aktivitäten