Miej wyjebane, a będzie ci dane, Männlich, Polen
www.filmweb.pl/user/amig186Zuletzt gesehen: gestern Abend
1

2

5

5

6

gespielte Titel seit 27. Jun. 2009 (zurückgesetzt am 3. Dez. 2011)
470 Lieblingslieder | 707 Beiträge | 0 Playlisten |

838 Shouts

Feeds
| | | | | |
| --- | --- | --- | --- | --- |
| 1 | | | | |
| 2 | | | | |
| 3 | | | | |
| 4 | | | | |
| 5 | | | | |
| 6 | | | | |
| 7 | | | | |
| 8 | | | | |
| 9 | | | | |
| 10 | | | | |
| 11 | | | | |
| 12 | | | | |
| 13 | | | | |
| 14 | | | | |
| 15 | | | | |
| 16 | | | | |
| 17 | | | | |
| 18 | | | | |
| 19 | | | | |
| 20 | | | | |
| 21 | | | | |
| 22 | | | | |
| 23 | | | | |
| 24 | | | | |
| 25 | | | | |
| 25 | | | | |
| 27 | | | | |
| 28 | | | | |
| 29 | | | | |
| 30 | | | | |
| 31 | | | | |
| 32 | | | | |
| 33 | | | | |
| 33 | | | | |
| 35 | | | | |
| 36 | | | | |
| 37 | | | | |
| 38 | | | | |
| 39 | | | | |
| 39 | | | | |
| 41 | | | | |
| 42 | | | | |
| 43 | | | | |
| 44 | | | | |
| 45 | | | | |
| 46 | | | | |
| 47 | | | | |
| 48 | | | | |
| 49 | | | | |
| 49 | | | | |

Feeds
| | | | | | |
| --- | --- | --- | --- | --- | --- |
| 1 | | | | | |
| 2 | | | | | |
| 3 | | | | | |
| 4 | | | | | |
| 4 | | | | | |
| 4 | | | | | |
| 4 | | | | | |
| 4 | | | | | |
| 4 | | | | | |
| 10 | | | | | |
| 10 | | | | | |
| 10 | | | | | |
| 10 | | | | | |
| 10 | | | | | |
| 10 | | | | | |
| 10 | | | | | |
| 10 | | | | | |
| 10 | | | | | |
| 10 | | | | | |
| 10 | | | | | |
| 10 | | | | | |
| 10 | | | | | |
| 10 | | | | | |
| 10 | | | | | |
| 25 | | | | | |
| 25 | | | | | |
| 25 | | | | | |
| 25 | | | | | |
| 25 | | | | | |
| 25 | | | | | |
| 25 | | | | | |
| 25 | | | | | |
| 25 | | | | | |
| 25 | | | | | |
| 25 | | | | | |
| 25 | | | | | |
| 25 | | | | | |
| 25 | | | | | |
| 25 | | | | | |
| 25 | | | | | |
| 25 | | | | | |
| 25 | | | | | |
| 25 | | | | | |
| 25 | | | | | |
| 25 | | | | | |
| 25 | | | | | |
| 25 | | | | | |
| 25 | | | | | |
| 25 | | | | | |
| 25 | | | | | |
Über mich
Visiting this profile grants you +1 Luck. You are therefore less likely to be hit by a car within the next 24 hours.
Come back every 24h for more.
Counter installed 30.06.2009 at 18:34 GMT+1
Memorable quotes and stuff
Derek: So, the good news is you're in.
John: What's the bad news?
Derek: I'm in.
Morris: Oh, wow. Is this your car?
Camy: No. It belongs to the guy I killed and stuffed in the trunk.
John: Are you good at math?
Camy: Yes.
John: Wanna do mine?
Camy: Yes.
Sara: Andy Goode rebuilt his chess computer.
Camy: You should have killed him when you had the chance.
Sara: And I'm surprised it took you this long to bring that up!
Camy: I'm busy doing John's homework.
Charley: From the outside, you're like...like a picture. And here you are now, carving up this guy...
Camy: He wasn't a guy. He was a scary robot!
Charley: Yeah, he was a scary robot. And you...you're a very scary robot.
Cromartie: So let's take attendance then...(...) Cameron Phillips...Cameron?
Camy: Here.
Cromartie: Reese...do we have a John Reese?
John: (raises hand)
Cromartie: Excellent...(draws gun and fires)
Sara (to Camy): Were you going to kill that cop? No, don't answer. I don't wanna know.
Sara: So, how was your first day at school?
John: Well, no one tried to kill me, she didn't kill anyone, so not bad for a start, I think.
Jodie: Hey, where are you heading?
Camy: I don't know.
Jodie: Good.
Camy: Why good?
Jodie: 'Cause you're coming with me!
Camy: Do I have a birthday?
John: I dunno, were you born?
Camy: I was built.
John: Then maybe you have a build...day...
Jessie (in sub): What's the matter, never been 20cm away from your Maker before?
John Henry: He doesn't know that you're not Savannah's mother. That you're nobody's mother.
Catherine: Are you threatening me, John Henry?
John Henry: I could tell Mr Ellison...
Catherine: Well, that would be very unfortunate. Mostly for Mr Ellison.
Camy: I don't understand why it's so important to find her. She's dead!
Sara: That's because you don't value human life.
Camy: But she's not life, she's just bones and meat...
Sara: ...
Camy: Was that bad to say?
Galaxhar: Now we're all going to die! And there's nothing you can do about it, Su-san!
Suze: I wouldn't be so sure. And the name is Ginormica!
B.O.B.: I may not have a brain, gentlemen, but I have an idea!
Missing Link: So what's your name? (...) You know, what do people scream when they see you coming? Look out! Here comes...! (dramatic pause)
Suze: Susan...
B.O.B.: Suuuusaaaaan! Ooh, I just scared myself. That is scary.
Joe: Mr Blonde, Mr White, Mr Blue, Mr Orange, Mr Brown...Mr Pink
Mr Pink: Why do I have to be Mr Pink?
Joe: 'Cause you're a faggot, ok?
Banshee pilot: In space, everyone can hear me scream. Cuz...I'm the banshee. Get it?
Jimmy (looking at car renovated by Vince and Jules): I can't believe this is the same car!
Mr Wolf: Well, let's not start sucking each other's dicks just yet.
ED-209: Put down your weapon. You have twenty seconds to comply.
Guy: (tosses his gun to the ground)
ED-209: You now have fifteen seconds to comply.
Blackadder: Yes... the Renaissance was just something that happened to other people, wasn't it, Baldrick?
Umberto Robina: Look at him! All dressed up like that! What is this, ladies night? You some kinda tough guy, you dress like a woman, you got panties like a woman too, huh?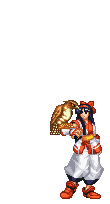 Mah cute avatar xD
Letzte Aktivitäten