RSS
Weiterleiten
23. Jan. 2009, 22:10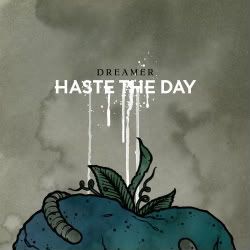 With last years release, Pressure The Hinges, Haste the Day made a massive transition. They made a noticeable changed in style, thanks largely in part to their new vocalist, Stephen Keech. Dreamer takes these changes even further with an incredible amount of refinement over Pressure The Hinges. Dreamer outshines every single other release this year and, if not for Slipknot's All Hope Is Gone, would rank number one. I seriously doubt one could find a finer example of metalcore.
Dreamer is considerably heavier than Pressure The Hinges, and all of Haste the Day's other releases for that fact. The band stated that Dreamer would be their most brutal album yet, and that statement certainly held true. Not only are the instrumentals heavier, Stephen shows major improvement with his screaming. Evidence of this can found found throughout the entire album, but most noticeably "Sons Of The Fallen Nation" and "Porcelain". "Sons Of The Fallen Nation", one of the albums heaviest tracks and many highlights, effortlessly blends powerful emotion, with blistering aggression and intensity. Stephen's vocal maturity is evident from the first few second, but come the breakdown, where he aggressively spits "Sever the head of the snake!", its in your face. "Porcelain" takes it a step further, where Stephen brings things to a boil with his incredibly abrasive and aggressive growling throughout the entire track.
The entire album is simply amazing, but it does have its share of stand-outs, among which are the previously mentioned "Sons Of The Fallen Nation" and "Porcelain". Others include track four, "Resolve", who's intro, among the best on the album, is simply breathtaking, and "Haunting", who's vocal work and technical guitar work will leave you wanting more. Also worthy of mention is album closer "Autumn". Originally found on Haste the Day's first release, That They May Know You, "Autumn" is an excellent acoustic track that drips with emotion and what can be perceived as sadness. While excellent, "Autumn" makes for an awkward way to end the album, snuffing the albums momentum that would have been perfectly brought to a close with "Porcelain". Aside from that one slight error, the album is flawless.
I have read many complaints online of the production of the album, mainly claims of "It doesn't sound as heavy as Pressure The Hinges". I lack an understanding of how one can possibly think that. PTH's production is certainly impressive, but Dreamer's is not worse, if the same caliper. The technical guitar-work sounds nice and crisp, as "Resolve" and "Mad Man" prove, without surrendering any of the heaviness and overall impressiveness that PTH's production offers.
Top Picks
: Haunting - Resolve - An Adult Tree - Sons of the Fallen Nation - Porcelain
Tracks
1. 68 - 10/10
2. Mad Man - 10/10
3. Haunting - 10/10
4. Resolve - 10/10
5. An Adult Tree - 10/10
6. Babylon - 10/10
7. Invoke Reform - 10/10
8. Sons of the Fallen Nation - 10/10
9. Labyrinth - 9/10
10. Porcelain - 10/10
11. Autumn - 7/10