Moderator:
AsteroidB-612
Gruppenstatus:
Offen
Gegründet am:
12. Feb. 2006
Beschreibung:
A group for fans of Tahiti 80 and their music.
A group for fans of Tahiti 80 and their music.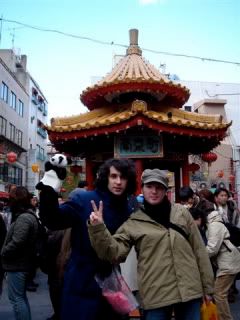 -o-
Welcome to Tahiti 80 Fans:
Tahiti 80 Fans
- The Group
Leader:
AsteroidB-612
The Golden Rule:
Please be courteous and respectful - no hateful messages of any kind. Besides that, feel free to do whatever you like.
Mederic Gontier (guitars, vocals, keyboards)
Xavier Boyer, (lead vocals, guitar, keyboards, piano and bass.)
Pedro Resende (bass, keyboards, programming, percussion, vocals)
Sylvain Marchand (drums, percussion, keyboards, piano)
Taking their name from a souvenir t-shirt given to singer Xavier Boyer by his dad back in 1980, these four Parisians have found some truly inviting ways to carve great pop from melancholy and longing. Boyer and bandmates Mederic Gontier, Sylvain Marchand and Pedro Resende, have been a band since 95, and together, they have managed to grab the attention of most of Paris, Japan (where the album has gone Gold having sold over 120, 000 copies, and has catapulted the band to the number 1 spot in the International album chart) and the USA (where the album has already sold around 35,000 copies).
Xavier and bassist Pedro met back in 1993 at the University of Rouen and connected via their love of music. Both were heavily entrenched in their love of 60s pop, particularly British artists, such as The Beatles, Zombies, and especially, The Kinks, as well as their contemporaries such as Olivia Tremor Control, Gorky's Zygotic Mynci, the Cardigans and Eggstone. The two musicians recorded some demos together, pulled guitarists Mederic into the fold in 94, and then drummer Sylvain Marchand completed the lineup the following year. Tahiti 80 went on to self-produce an EP entitled 20 Minutes in 1996, which did well in France garnering some initial press interest in the band. Subsequent output and association reflected a rare like-mindedness amongst bandmates.
Theirs is an approach to making pop music that encompasses their aforementioned affinity for the timeless, gleaned from the record collections of older siblings, uncles, etc as well as todays pervading electronic pulse beat. Xavier says, "That's one of the great aspects of today; you can like Big Star and the Chemical Brothers. We like to think that, in a way, we go back to the beginning again, adding contemporary elements like electronic sounds and, I hope, some personality." Perhaps the bands "personality" is more about their obscure fascinations. For example, Xavier is obsessed with 60s Irish crooner Joe Dolan, who with his band the Drifters, recorded a minor pop hit called "The Answer To Everything." He says of his enchantment, "I collect everything Joe has done, for the sleeves and sometimes for the music! It 's amazing! He looks like a red-headed Lou Ferrigno." In addition, there are the palpable obscure influences of such artists as The Left Banke (Tahiti 80 do a cover of Desiree on their Yellow Butterfly EP) and The Buckinghams, fairly unfamiliar to most of the bands ravenous fan base, but certainly revered by many an audiophile.
From Revolution 80Links Relating to Tahiti 80:
-o-
Tahiti 80 currently has a new CD out called "Fosbury".You can buy Tahiti 80 music at Amazon
Enjoy!
Gruppencharts hören
Alle Mitglieder anzeigen
Letzte Aktivitäten
laudafarias ist dieser Gruppe beigetreten.

Juni 2013

Brahmatma hat diese Gruppe verlassen.

April 2013